A powerful new flashlight from Acebeam, the E75 combines a small compact body, with a high performance Quad LEDs, with custom reflector to give unrivalled output, yet remains well suited to EDC thanks to the modest size.
Powered via a single rechargeable 21700 Li-ion battery, the E75 offers 6 power levels ranging from 1 lumen, all the way up to 4500 lumens, with a range of 260 metres With a run time of 26 days (moonnlight 1 lumen mode).
Two versions are available, a Cool white emitter and a High CRI Neutral white.A new body design has superior grip thanks to the fine knurling on the body, and the flat base it ideal for tail standing, or with it's magnetic feature can be used to attach to metal surfaces, making it a useful working light.
A type C charging port offers convenient charging, and it has a large switch for quick and easy UI operation. Also included in the design are an array of LEDs surrounding the switch, these act as both battery and charge level indicators.
IP68 rated for water and dust resistance and it's made using aircraft grade heat treated aluminum alloy, and can survive in water depths of up to 2 metres. It's drop tested to 1.5 metres.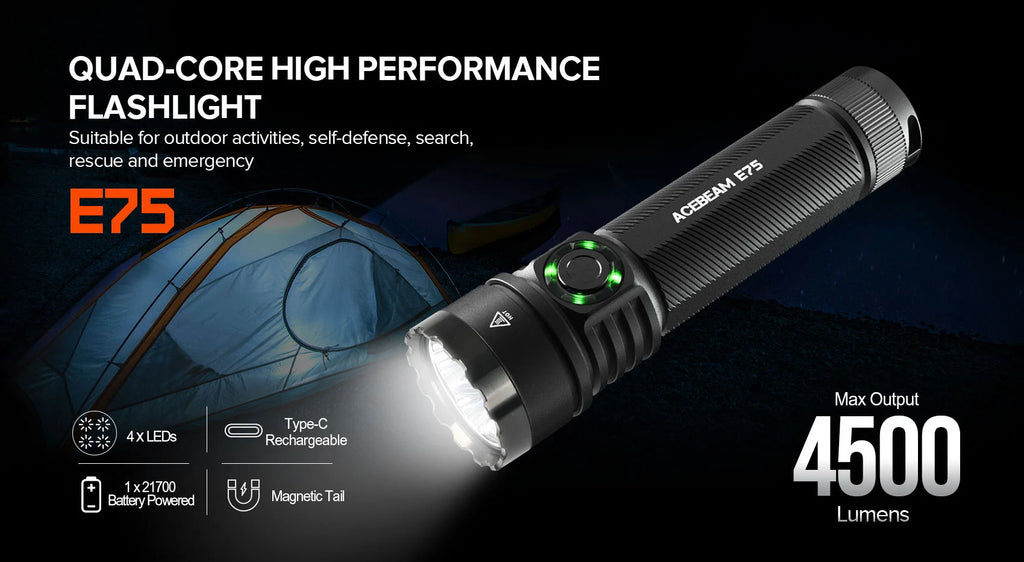 Choice of Cool or High CRI Emitters  with 6 Power levels
With 6 power levels available in this model you have a large scope to adjust the output to your needs from up close lower levels to the blazing Turbo output. A mixed beam profile with a candela of 16900cd (Turbo 4500 lumens).
Acebeam have 2 emitters available (Quad LED design), Cool White (6500K), and a Nichia 519A (5000K). The Neutral White is close to daylight and has a high CRI index of 90, with a top output of 3000 lumens, still powerful, but with better color reproduction. The cool white has the higher power of 4500 lumens, giving increased range too up to 260 metres. Users have a choice on their own preference.
A moonlight mode is included as is a strobe for emergency signalling.Using a type C port is built into the flashlight body, and provides a common and fast way to charge the battery. The 2700 Li-ion cell is a high capacity 5000mAh, giving excellent run times and extended use between charges.
Single side switch UI with LED battery level check
A good sized single switch is on the side of the flashlight, with a single and easy to pick up UI. A single press for On/Off, with Push/Hold to cycle levels and shortcuts to Strobe, Turbo, and Moonlight modes.
4 LEDs surround the switch giving you a clear indication of the power levels (goes from Green to Red/Flashing Red). And charge levels too, with Red charging, Green fully charged. Simple as very easy to see quickly, you will always know how the battery is holding up and plenty of warning if it's low.
The E75 has a crenulated black bezel made from Stainless Steel, it's strong and ideal for defence or as an emergency glass breaker.
And a magnetic base gives flexibility as a working light source.
Quality aluminum alloy for this flashlight, it's drop tested to 1.5 metres, IP68 2 metres submersion, you can be confident the Acebeam will keep working even in poor weather conditions.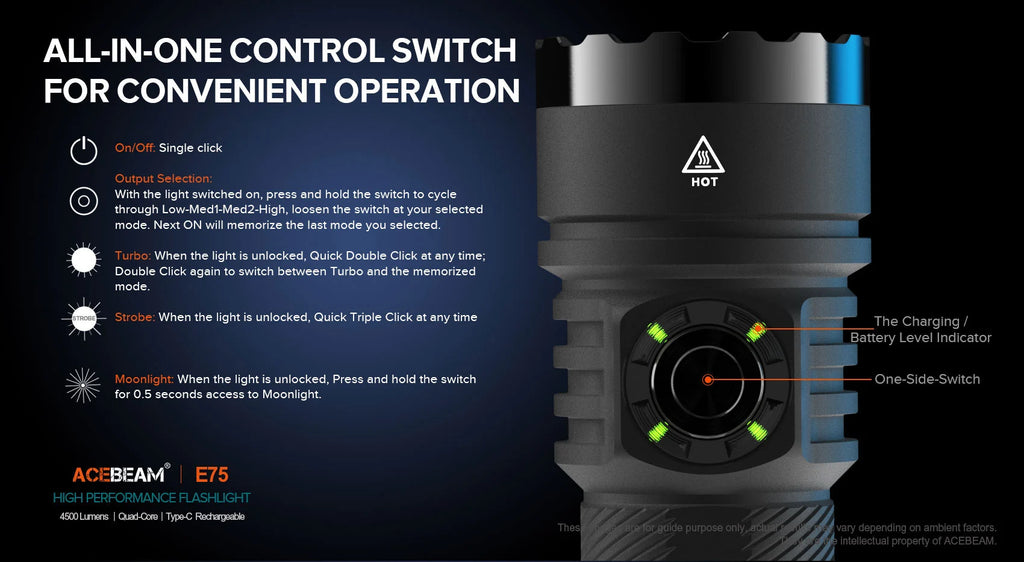 Acebeam E75 Key features
> Turbo output of up to 4500 lumens, with Quad LEDs and a range of 260 metres
> Choice of Cool White (6500K) or High CRI Neutral White (5000K) Emitters
> 6 Power levels with mode memory and Strobe mode
> 4 LEDs for battery warning indicator, and charge LED indication
> Run time up to 26 days (1 lumen)
> High capacity 21700 rechargeable Li-ion battery (5000mAh)
> Fine body knurling for superior grip
> Singe switch for simple UI
> Magnetic base
> Type C charging built into the flashlight
> Stainless steel strike bezel
> Hard anodized aero grade aluminum body, and anti reflective coatings on glass cover
> Drop tested to 1.5 metres, and IP68 water resistance rating (2 metres submersion)