This unique model from Astrolux has a clever 2 in 1 design which lets you use it as both a lantern and flashlight.
Available in two colors Black and Green.It features a magnetic base so you can use it attached to metal obvious as make shift working light.Or clip it to a bag or hat thanks to the removable stainless steel double clip.
A diffuser is supplied too so you can use it more effectively as a camping lantern, spreading out the light source more evenly.For such a small light it's output is impressive, with a top level of 1020 lumens, it can reach up to 101 metres range and also has a strobe built in.
Power is via a Li-ion 14500 battery, and it is compatible with normal AA cells (with a reduced power output).Weather and dust resistant to IPX6 for use in all conditions.
It's a nice compact size making for a useful EDC carry too, at just 103.6mm x 26mm x 20mm (length x head x body diameter), and 51g weight without a battery.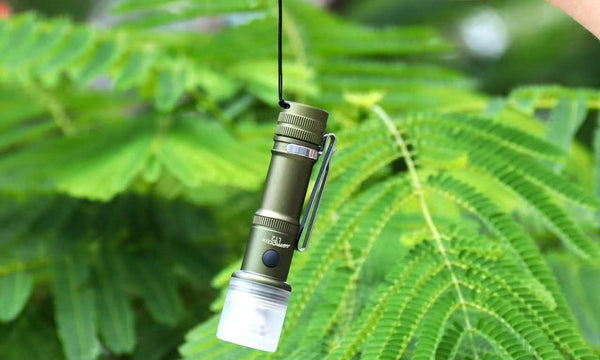 Compact yet powerful beam with diffuser for camping/lantern use
At the highest level the output from this small LT2 (Lumiled HL2X LED) is more than you could expect, it runs up to 1020 lumens and can reach over 100 metres. But it's the dual power compatibility which makes it very useful to have around for a compact EDC or camping/work light.
Using either a 14500 Li-ion battery, it can also use the widely available and cost effective AA cells (1.5V) Alkaline or Ni-MH. Perfect for a back up source or for spare power.
The supplied (glow in the dark) diffuser spreads out the light and gives a more relaxed flood beam, at 360 degrees it can illuminate a wide area, or possibly be used as a working light.
As the base is magnetic it can be useful for working on a car or at work or any metal objects you can attach it to.
Single switch UI with Ramping mode
The single button UI is quick to pick up for users, offering shortcuts to Turbo, and Strobe, it also lets you use the LT2 in ramping mode, just long press to adjust the light level up and down – release when you reach the output you want.
A voltage check lets you accurately see the battery level, and it also has a lock-out function.USB C charging port is built into the body, and it has charging indicators (Red/Green).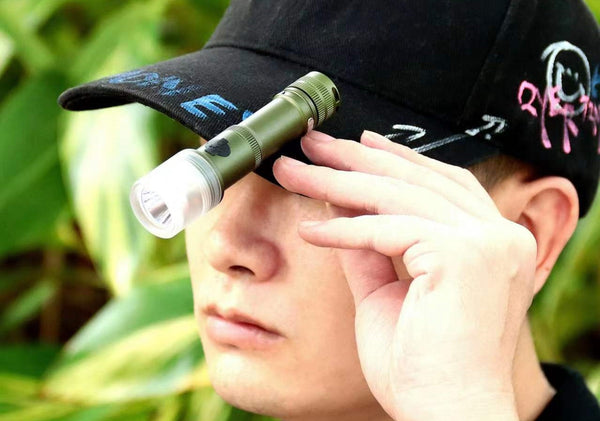 Astrolux LT2 Key Features
> 2 in 1 camping lantern and flashlight with a top output of 1020 lumens
> Beam range up to 101 metres
> Compact EDC size -  103.6mm x 26mm x 20mm, and 51g weight
> Dual power, 14500 Li-ion battery or AA 1.5V
> Choice of colors, Black or Green
> Type C charging port with cover, with charge level LED
> Ramping levels, Voltage check and Lock-out
> Stainless steel double clip
> Magnetic base
> Glow in the dark diffuser
> Double clip for cap/bag/pocket attachment
> Aluminum alloy body with tempered glass cover
> IPX6 water resistant, impact tested to 1 metre