A counterattack of the darkest hour,
The God of the blade of light that pierced the night fell from the sky.
Like finding a new way to sail in the desert,
As in the rebirth of a wound,
Take the bull by the horns with real strength.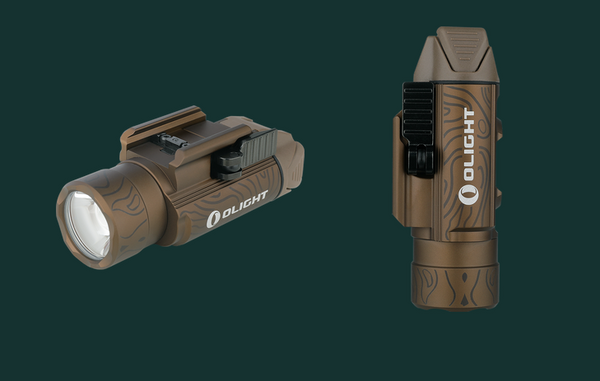 Olight PL Pro Desert TrekFeatures:
> Desert undertones
> Highlight the strong military style
> Hormone MAX
> Laid out with irregular lines
> The hanging lamp under the handsome tactics is more artistic and layered
The tactical equipment of a tough guy should be like this.
> PL Pro is equally outstanding in terms of performance
> Tactical dual-use wide adaptation
> Powerful strength defines high quality tactical lights
Specification:
> Weight 92 G, body length 83 mm;
> Compatible with GLOCK and Picatinny rails;
> Bare-handed quick installation and disassembly design;
> Up to 1500 lumens, long range 280 meters;
> 3 modes of tactical lighting, constant lighting and flash;
> Can be connected to the magnetic wire control switch, support remote control;
> Magnetic charging is convenient and fast, and it is charged by MCC magnetic line.
Olight Baldr Mini Shooting RiftFeatures:
> Innovative pattern design
> Bring a new three-dimensional visual experience
> Airframe simulation gunshot crack effect
> Achieve three-dimensional imagination in a two-dimensional world
> Ultra Compact Rechargeable Tactical Light
> Green laser + white light 2 in 1
> Accurate targeting in assisted combat
Specification:
> Weight 87g, body length 57mm;
> White light, green laser, green laser + white light 3 modes;
> Easy 1 second installation or separation of sliding rails;
> White light up to 600 lumens, range up to 130 meters;
> Suitable for GLOCK rail and Picatinny rail;
> Both sides of the tail press have the same function, taking into account the habits of left and right hands;
> Magnetic charging is supported at the bottom, with low battery red light indication.