In June,
Fenix E18R V2.0
was officially launched! What about E18R V2.0 is worth pursuing by
Fenix
friends? It has a body of 67 mm, a brightness of 1200 lumens, and a magnetic tail.
Small stature, big energy
Fenix E18R V2.0 is only 67 mm long, smaller than the thumb, and weighs only 56 grams (including batteries), which is very convenient for daily carrying and storage.
Although it is small, it can burst out with a brightness of 1200 lumens and a range of 146 meters. Compared with its predecessor E18R, the brightness has increased by 60% and the range has increased by 7%. When you go out for outdoor activities, the brightness is enough to cope with the potholes under your feet, illuminate the stairs and stairs, and you can walk as freely at night as during the day. It is really "small stature and big energy".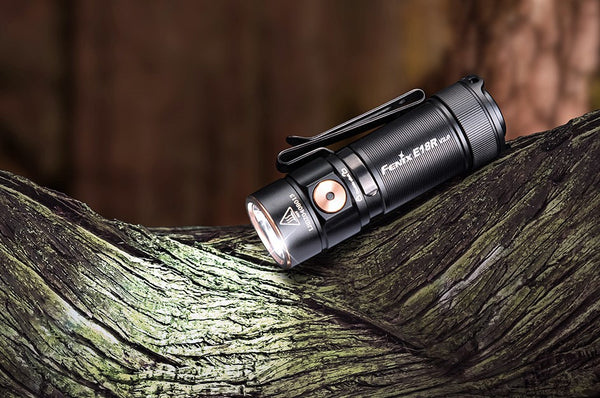 Battery life of 200 hours on a single charge
The E18R V2.0 is powered by a Fenix ARB-L16-700P power battery, which is fully charged and lasts 200 hours in 1 lumen mode in moonlight gear. Based on 10 hours of daily use, the battery life is up to 20 days! At the same time, the brightness effect of 1 lumen is soft and not dazzling, which is a very friendly brightness gear whether it is night lighting at home or night lighting in tents.
Five levels of brightness, multiple uses
Although E18R V2.0 is so small, it has five brightness levels: 1 lumen in moon level/30 lumens in low brightness level/150 lumens in medium brightness level/350 lumens in high brightness level/1200 lumen in extremely bright level/1200 lumen in flash level, whether it is commuting, getting up in the middle of the night, circuit maintenance, or finding items, camp lighting, flash warning. It's easy to deal with.
In addition, the tail of E18R V2.0 has magnetic attraction, which can be adsorbed on the surface of metal substances, freeing your hands and allowing you to work freely. The tail part is flat as a whole and can stand upside down on a plane for illumination and serve as a desk lamp; The utility model has the function of a two-way holding clip, can be used at both the front end and the back end, can be clipped on a backpack, a waistband and clothes, is convenient to carry, and can also be clipped on the brim of a hat to change the headlamp in seconds, thereby instantly freeing both hands. No matter how it is used, it is convenient.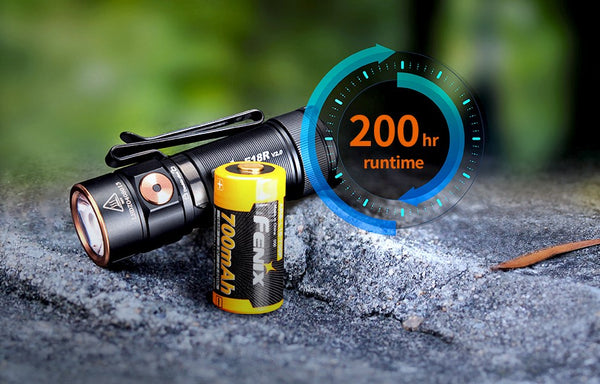 Upgraded charging mode, using TYPE-C charging
Compared with Fenix E18R, which uses magnetic attraction charging, E18R V2.0 uses TYPE-C charging, which has strong versatility. Adapt to the data lines of most mobile phones and electronic products, so that it can be charged conveniently without carrying a special charging line, and it can be fully charged in only 1 hour and 20 minutes.
Multiple protection, professional performance
Fenix E18R V2.0 is designed with double anti-touch, double click to lock/unlock, and can also rotate the clip to the top of the button to achieve physical anti-touch. The intelligent temperature control system developed by Fenix is adopted, and the integrated control circuit of input current and real-time temperature is applied to realize temperature regulation and control, which greatly reduces the hot degree of flashlight. Coupled with the all-metal fuselage, after 1.5 meters anti-drop test and 2 meters underwater immersion test, the performance is still very good!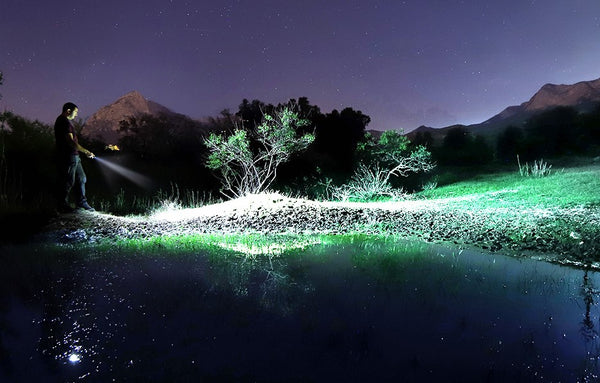 For the advent of TK22TAC, the current market is very good, what kind of surprise and experience will it bring to you in the future?For more information, please click:
Fenix E18R V2 EDC Flashlight
.
.