When it comes to cycling, we can always feel free and unrestrained, as if as long as we ride a bicycle, we can cross mountains and lakes and gallop freely all the way! However, when we enjoy the beautiful scenery of outdoor cycling, we must not ignore the principle of "riding safety first". When it comes to safety, professional car lights are undoubtedly necessary equipment.
Fenix
's high-brightness, long-endurance, high-performance
bicycle light BC26R
can help you solve most of your night riding problems!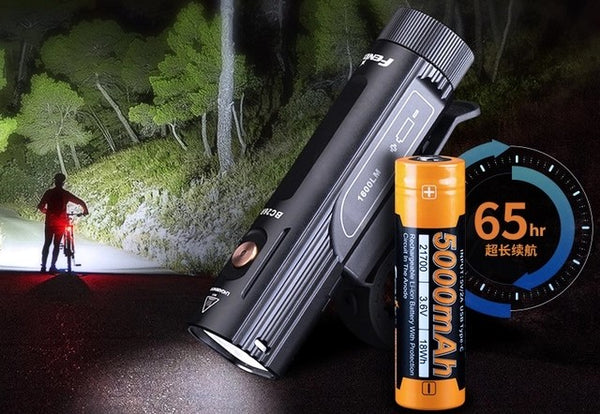 01 Ultra-high brightness, lateral coverage
BC26R, a brand new lamp made by Fenix, a professional lighting brand, has an ultra-high brightness of 1600 lumens and a projection distance of more than 100 meters. Even if you ride at a speed of more than 30km/H, as long as you light it, you can easily see the road conditions in the distance and ensure the safety of riding.
At the same time, the horizontal lighting angle of BC26R headlights can reach 100 degrees, which ensures that cyclists can see the road more than 2 to 3 times wider, and when there are obstacles or bends ahead, they can make left or right avoidance, covering all kinds of road vision perfectly.
02 Long endurance, no fear of long-distance riding
The duration of daily night riding activities in cities is about 2 to 3 hours. With the normal consumption of batteries, it is reasonable for a qualified bicycle lamp to last more than 4 to 5 hours continuously. For long-distance cycling in the mountains and forests, we need to consider a longer endurance to cope with the night riding environment!
The BC26R is equipped with replaceable batteries and Type-C charging design, equipped with a 5000mAh 21700 battery, fully charged, the battery life can reach 65 hours (50 lumens)!
When illuminated with 200 lumens of medium brightness, the range can reach an astonishing 18 hours, which means that even if your distance is as long as 500 kilometers, according to the calculation of 150-200 kilometers per day and 6 hours per day, it can continue to accompany you for three days, so that you can go forward without worrying about lighting.
Before departure, be sure to check the power, bicycle lights set up a humanized power management function, the remaining power eye-catching reminder! Have a pretty good idea, travel to be able to feel at ease!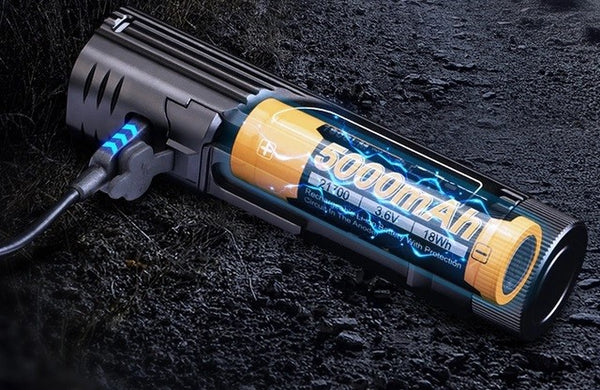 03 Double warning, stable and safe
Regardless of the city streets with complex conditions or the rainy and foggy sections in the mountains and forests, the bicycle lamp is made of nylon and glass fiber material, which is stable, even if the road is bumpy and the situation is changeable, it is still stable and does not shake. The lighting design and flashing mode on both sides can warn the left and right vehicles and pedestrians in front of them at all times, and guard the safety of riding.
04 One lamp for three purposes, two seconds for disassembly
The headlight and helmet light can be switched at any time according to the demand. With the helmet bracket, the headlight can be changed into helmet light in one second, or it can be removed and held, which is very convenient. The bicycle light adopts the design of quick disassembly, one press and one push, two seconds to complete the disassembly, and directly turns into a comfortable high-brightness flashlight. The light rotates with the line of sight, giving more choices for night riding lighting.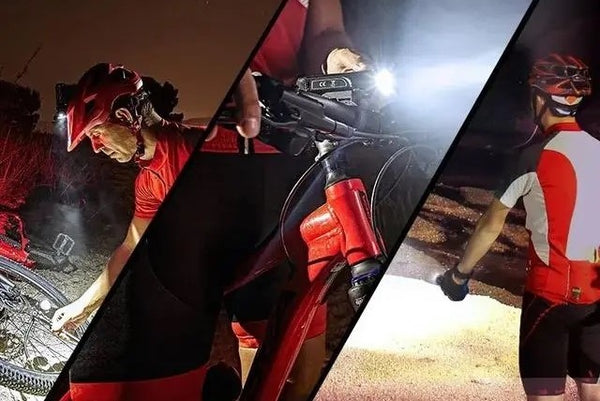 05 Professional performance, born for harsh environment
All-metal one-piece solid body, which can prevent falling at a height of 1.5 meters, coupled with IP68 waterproof and dustproof ability, can not only completely prevent dust and soil from entering, but also effectively resist the splash of rainstorm or strong water flow. It can run strong even in a storm.