Fenix Power Bank Flashlight
Comes Out! Fenix's
power bank
flashlight is called E-CP, Charge Pal-Charging Partner. The design of mobile power supply combined with flashlight (flashlight power bank two-in-one) is both a light source and a power supply, which can provide powerful and lasting lighting protection, but also largely solve the anxiety of modern mobile phone power failure.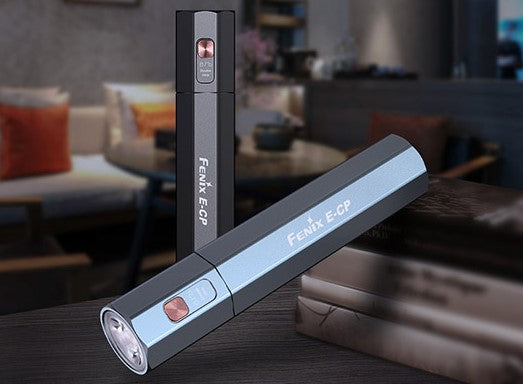 01 Eliminate the anxiety of power failure
E-CP high-performance power bank flashlight, light source and power supply, is a flashlight, but also a power bank, 5000 mAh large capacity power to give you a steady stream of peace of mind. When the blackout comes, are you still looking for candles or holding up your mobile phone to illuminate? That's too OUT! The Fenix E-CP flashlight has a flat tail and can be used upside down as an indoor lamp. The house is full of sweet light and the nightlife is non-stop when the power is off!
18W two-way fast charging, timely replenishment: about 43% of Android phones can be charged in 30 minutes; Built-in Type-C charging port, fast charging design takes only 2.5 hours to fully charge!
02 Highlight long distance illumination, long endurance
The mobile phone's own flashlight is not only not bright enough but also extremely power-consuming, so it is not the wisest choice to use the mobile phone's flashlight at night! Fenix E-CP has a luminous flux of 1600 lumens, a maximum range of 222 meters, and a choice of up to five gears, which can be easily dealt with by walking, home maintenance, camping hiking, flash defense and so on.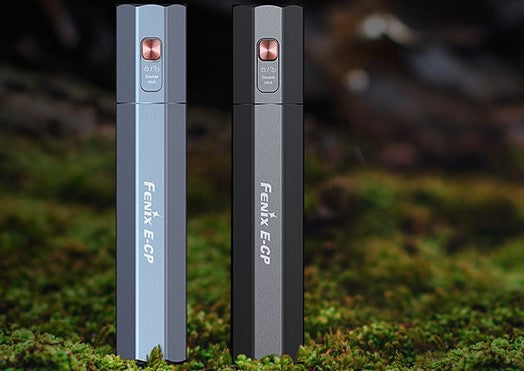 03 The design is ingenious and the appearance is outstanding
Designers for E-CP design, in addition to the use of ultra-light aluminum alloy to create anti-fall performance, in the design of the fuselage also uses the human body science feel fuselage design and polygonal body, anti-roll, anti-skid, no fear of hand sweat; Matte texture, compact body, smart lines, one hand hold and one press, easy to light up, holding feel is excellent!
In addition, E-CP uses innovative advanced double-choice color matching, a total of two colors, including light, quiet, elegant and advanced Morandi blue, classic, mysterious, calm and deep obsidian black, no matter which color, it is more outstanding!
04 Intelligent temperature control, refuse high temperature
E-CP is also equipped with intelligent temperature control design, using Fenix's new utility patent-self-developed intelligent temperature control protection system, through the comprehensive control of current and real-time temperature, to ensure that the flashlight temperature does not exceed 60 degrees, to avoid the risk of scald.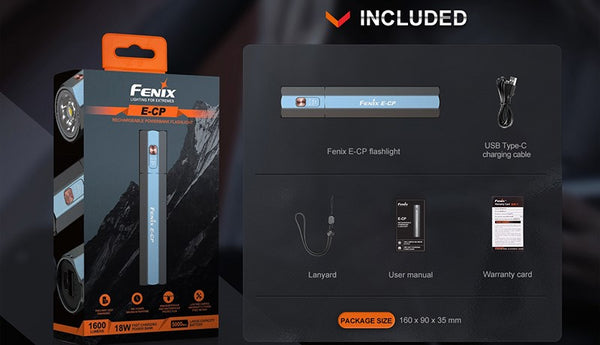 05 Not afraid of failure, durable for a long time
E-CP is equipped with double-click locking function, which can be put in the bag without fear of accidental touch, thus preventing the waste of electricity and accidents. In addition, the powerful IP 68 waterproof and dustproof performance can not be simply satisfied, E-CP is also equipped with waterproof design in the charging port!
E-CP is exquisite and compact, but it has passed the 1.5-meter anti-drop test properly. The body is made of aluminum alloy, and it is precisely processed by multiple technologies. The body is strong and lightweight, and it is completely fearless of falling!
Fenix E-CP, an energy bar that combines beauty and strength, can share places where power bank can't reach. Where the phone doesn't light up, it does. To learn more, click
Fenix E-CP.