A new addition to the ever growing range of flashlights from Fenix. The PD40R V3.0 has a number of useful enhancements compared to the PD40R V2.0, including a longer range beam, SOS mode and a newly designed control ring with better grip for single handed operation, and improved body fins for better heat dissipation.
The Turbo output of 3000 lumens has a range of 500 metres, and a strobe and SOS mode. Another 3 levels are available.Powered by a high capacity 21700 rechargeable battery ARB-L21-5000 V2.0 (5000mAh), via the type C port with charging indicator on the body of the Rechargeable flashlight.
Fenix are using their premium type HAIII hardened anodized finishing, and an all metal aluminum alloy CNC maachined body. Built to last the rigours of daily use in all conditions.
It is rated to IP68 for weather resistance, and has a drop test/impact resistance of 1 metre.Size is 143mm x 34mm x 26mm (length x head diameter x body diameter), with a weight of 198g (including battery).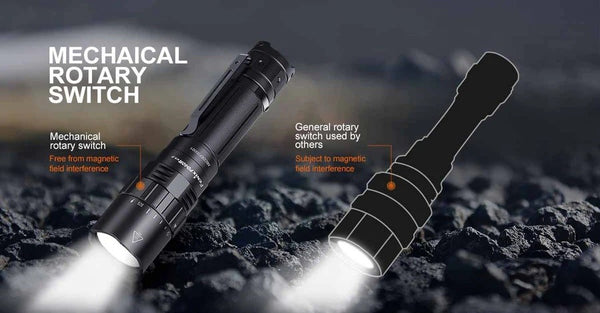 500 metres range with a Turbo output of 3000 lumens
This mode is using the Luminus SFT70 LED (around 6500K color temperature) rated at a candela of 60954cd, and can reach as far as 500 metres (Turbo 3000 lumens), making this an excellent compact thrower.
There are 4 power levels, a low of 30 lumens, medium of 350 lumens, and a high of 1000 lumens, and the highest Turbo output of 3000 lumens. Two strobe modes are included an SOS (350 lumens) and a normal rapid strobe (3000 lumens).
Using a rechargeable Li-ion 21700 battery, run times are up to 89 hours (low 30 lumens) A built in USB C port for fast charging, and it has an LED indicator letting you know when the cell is charging and when it is fully charged. A port cover protects it from dirt and water when not in use.
6 Modes Rotary selector switch for rapid and simple UI
The newly designed tactical ring, offers a notable improvement in grip compared to the previous model (2.0,) this time the raised edges ensure even in wet conditions, that you can easily turn it to select the various outputs and modes, even one handed. With a click position for each setting and stronger stops just before the Turbo/SOS mode, you can feel where the selector is thanks to the smooth magnetic mechanical design it ensures rapid and simple operation for users. The operation is also not effected by any magnetic items nearby.
Fenix have a fine knurling pattern on the body for secure grip, a stainless steel clip, with a crenulated bezel shape and hardened glass cover, with anti reflective coatings for maximum light transmission.
The high quality anodized aluminum alloy body has an IP68 rating (drop tested to 1 metres), dustproof and waterproof, it's a reliable flashlight for use in all types of weather and conditions.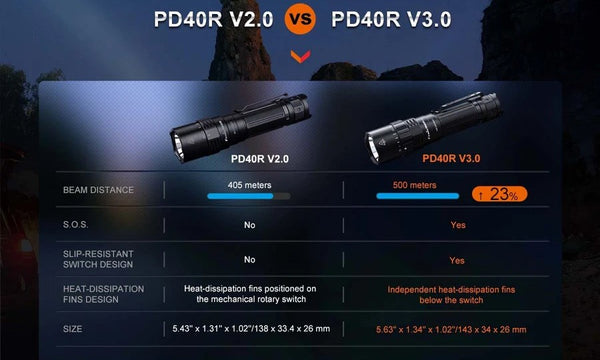 Fenix PD40R V3.0 Key Features
>  Up to 3000 lumens output (Turbo) with a long range beam of 500 metres, candela of 60954cd
>  Updated Magnetic rotary control switch with 6 positions
>  2 Special strobe modes – Strobe and SOS
>  Powered via a high capacity rechargeable 21700 battery (5000mAh)
>  Run time up to 89 hours (low 30lm mode)
>  Improved thermal heat dissipation thanks to the larger grooves on the body
>  Compact size: 143mm x 34mm x 26mm (length x head diameter x body diameter), weight of 198g with 21700 battery
>  Can be used with the Fenix AOD-M diffuser for a spread out 360 degree beam (optional extra)
>  Tail stand capable
>  Type C charging port with dirt/dust cover, and charge/battery level LED indicator
>  Anodized aluminum alloy body for strength and wear resistance, CNC precision machined body with crenulated bezel and hardened glass cover
>  Drop tested to 1 metre with IP68 weather resistance for water and dust resistance (2 metres underwater) for use in harsh weather conditions