Tactical pen is known as the fighter plane of the pen industry, which can become a small toy for
EDC
enthusiasts to play with, as well as a "bodyguard" accompanying them. The tactical pen originated in the United States. In the early years, the tactical pen was the favorite of the American army or private bodyguards. It could be written in leisure time and attacked in wartime. Nowadays, because of its good concealment, it can be carried with you and is convenient for daily defense, and it has gradually become a tool for daily self-defense of the public.
Following Fenix Aluminum Alloy Tactical Pen T5,
Fenix's second T6 Tactical Pen
2.0 was launched 4 years later!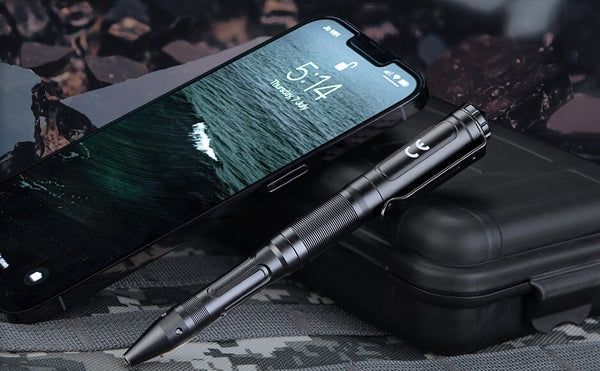 Automatic pen, record new inspiration at any time
With a length of only 140 mm and a weight of 33 grams, the T6 is small and exquisite, and it is easy to carry with its own clip. This upgraded T6 Halberd 2.0 can rotate the pen body with one hand, automatically take out and retract the core, write anytime and anywhere, and do not miss any moment of writing inspiration when exercising outdoors.
At the same time, there is a regular thread in the middle of the penholder, which not only has a decorative function, but also increases the overall grip and has a good anti-skid function.
The nib is inlaid with ceramic beads, and the nib is equipped with metal for double defense.
The tip of the pen is inlaid with a ceramic bead, which can be held upside down in case of emergency and escaped with one blow. It has both defensive ability and concealment. Moreover, because the ceramic bead is a super-hard substance, it has the functions of high hardness, good toughness and wear resistance, and its service life is longer.

In addition, the T6 tactical pen is equipped with Schmidt 6.8CM metal refill, which is hard and not easy to break, and can also be used for attack and defense.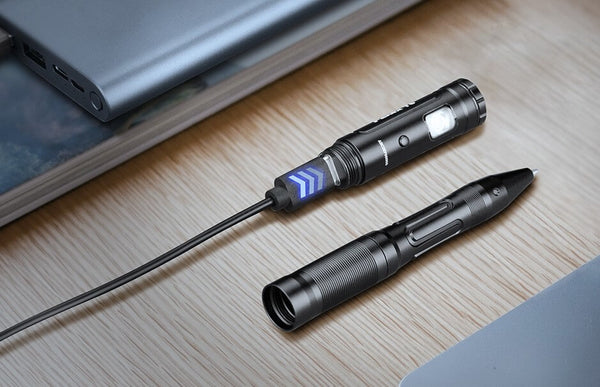 No fear of the dark with EDC lighting
T6 tactical pen is not only "capable of both literature and martial arts", but also has EDC lighting function, which is equivalent to a small EDC lighting flashlight. It uses a single-cycle mode of single-click shift. By clicking the switch, you can adjust the brightness in three gears (low, medium and high), with a maximum brightness of 80 lumens and a maximum range of 18 meters. The pen has a built-in 100mAh lithium polymer battery and a hidden Type-C charging interface, which provides split charging and supports low-brightness, medium-brightness and high-brightness lighting. Whether it's outdoor lighting, task lighting, indoor lighting or office lighting, bring the T6 so you're not afraid of the dark.
What is more intimate is that the EDC small flashlight also has a power indicator to remind you, so that you can have a good idea and travel at ease.
Such a 3-in-1 tactical pen is a small toy to play with in leisure time, a small emergency flashlight in time, a small self-defense equipment in wartime, and the material is made of A6061-T6 aluminum alloy, the surface is treated with HAIII hard anodizing anti-wear treatment, coupled with IP66 protection level and 1 meter anti-drop protection, it can be used for lighting, stable and reliable performance. Is one of your EDC must choose.