This lightweight and compact headlamp is ideal for multiple tasks including camping, or as a working headlamp.
It's also quite affordable, yet still manages to incorporate some useful features.
Made from ABS and silicone the main White COB output in high can last up to 4 hours, with the lower level offering up to 8 hours run time. With an integrated Red light which can be static or flashing, helping to preserve night vision, or for signalling.
Using the built in motion sensor (which can be turned off as well), you can simply wave in front of the array to turn it on or off.It features a good quality detachable headband with light reflective dots, with a secure rotating bracket for accurate light angle (0 to 60 degrees)
A type C charging port with a 4 stage power level indicator. A large capacity 1200mAh battery ensures long run times.It's a lightweight headlamp which is only 110g or 3.88oz (including battery), and is rated to IP65 weather resistance for dust and waterproofing.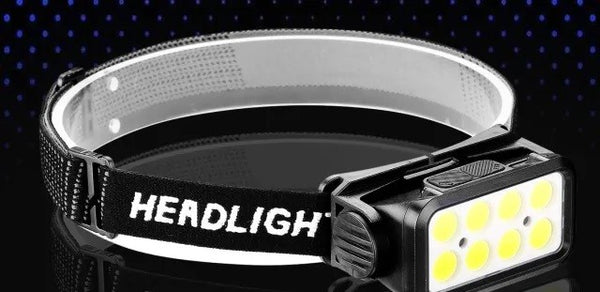 5 Modes with White and Red LED outputs and dual button UI
For the white output 3 modes are available, the high mode, a low mode for up close use, and a strobe mode. The red output has 2 modes, a static red for when you wish to use the headlamp at closer distances without disturbing people or compromising night vision, and a flashing mode.
These 5 modes should cover most users needs.
Two buttons give direct control over the K53, the left one controlling the intellisense (motion sensor), and the right hand one the main operation. It's a simple headlamp to use and thanks to the motion sensor, it can be operated hands free if required.
USB C port is on the underside and provides recharging on the unit quickly and efficiently, and you will clearly be able to see how much capacity is left with the 1-4 level battery indicator.
The wide even beam is in part due to the COB design (chip on board), it also helps to keep the overall weight and cost down, providing users with a comfortable and very well priced, yet versatile headlamp for many tasks.
Garberiel K53 Key Features
> 5 Power levels with 3 White output modes (high/low/strobe) and 2 Red modes (normal/flashing)
> Motion sensor build in for hands free operation
> Run time up to 8 hours (low/white mode)
> Wide beam profile with COB design
> Lightweight design 110g (3.88oz)
> High capacity rechargeable battery 1200mAh
> USB C charging port
> 4 level battery indicator
> Dual switches
> Comfortable removable/adjustable headband with secured bracket (60 degree angle adjustment)
> Durable ABS/Silicone materials
> IP65 Water/Dust resistance