Using a combined total of 9 LEDs the H9 offers an impressive output of 10,000 lumens in turbo mode, with a good distance beam too reaching up to 447 metres.
Unlike many flashlights, the Haikelite offers both stepless dimming and preset levels, giving users a choice of operation, and how much output they require.
Power is supplied via either a 21700 or 26800 cells (not supplied), this gives users a choice of batteries to use with the H9. With the built in Type C charging port, it's possible to charge the flashlight in around 3 hours from flat to full.
A sturdy body design with square knurling ensures a solid grip, a stainless steel bezel and high quality finishing, which is using heat treated 6063 aluminum alloy and rated to IPX7 weather resistance, ensuring reliable use even in difficult weather conditions.
H9 is fairly compact too for such a high power output, at 122mm x 53mm x 34mm (length, head, tail), and has a weight of 217g (without battery).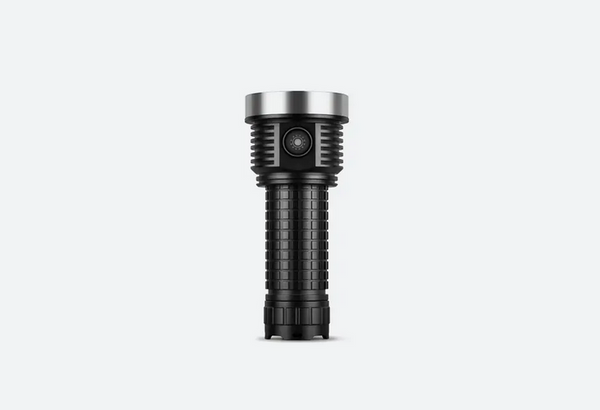 9 x Samsung LH351D LEDs with High CRI range of 447 metres
Using the array of Samsung LEDs the H9 can hit it's top turbo level of 10,000 lumens, yet it can also offer improved color rendition thanks to the high CRI, which is also using a natural (close to daylight) 5000K color temperature.
Other power levels are available (choice of stepless or pre-set power levels), if 10,000 isn't needed you can also use the stepped modes with 4000 lumens, 2000 lumens, 1000 lumens and low levels to preserve power.
H9 also features 3 strobe modes, a normal strobe, SOS and beacon. These can be used in an emergency or for signalling.
Charging is done via USB C, and it supports fast charging protocols at 5V up to 3A, 9V 2A, and the Huawei 5V 4-5A too. Rapid charging is possible with this model greatly reducing waiting times. Low voltage protection is built in, ensuring that cells remain in good health, with an automatic cut off at 2.8V to prevent battery damage.
A battery level indicator/charge level is built into the side switch, this glows red when charging and turns to blue when completed.
Large side switch with choice of Stepless or Pre-set levels
The H9 has a well placed large switch for quick operation, this features a very simple UI allowing you to switch modes (stepless or pre-set) just by a triple press. The usual press/hold/release for the ramping level adjustment, a rapid double press for turbo mode. Very simple and easy to use, and it also features a lock out setting too (push/hold for 3 seconds to lock or unlock).
Users can pick the mode that suits their needs best, stepless allows fine adjustment of the output to your exact needs, where as the pre-set levels are faster to change and offer more user convenience.
Haikelite are using some nice quality materials in this flashlight, hardened aluminum alloy for the main body, a tempered glass cover with anti reflective coatings, and a strong stainless steel bezel. Deep grooves on the head help deal with thermal management which is important for such a high performance flashlight. IPX7 weather resistance ensures solid operation in harsh environmental conditions such as heavy rain/storms.
This model is ideal for users who want a high output flashlight, in more compact and easy to carry form factor, at a very appealing price point.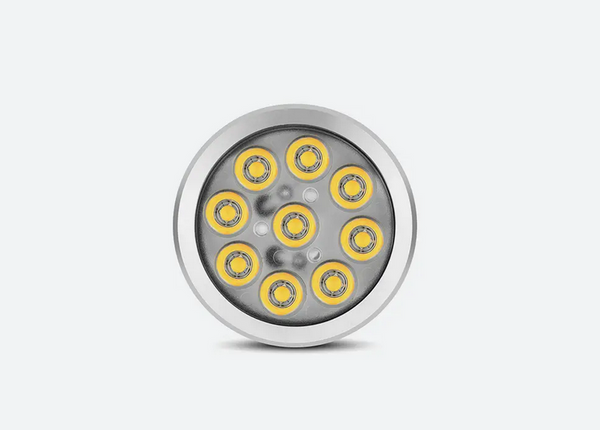 Haikelite H9 Key Features
> 9 x Samsung LH351D LEDs for a huge 10,000 lumens output and a Candela of 50,000cd
> Range up to 447 metres
> High CRI 5000 Kelvin color temperature
> Choice of Stepless or Stepped/Pre-set levels
> Dual power source, can use 21700 or 26800 cells
> 3 strobe modes, normal, SOS and beacon
> Low battery voltage cut, thermal protection
> Small form factor:  122mm x 53mm x 34mm (length, head, tail), weight of 217g (no battery)
> Large side switch with simple UI and built in battery level/charge indicator
> Type C charging port with support for fast charging protocols -  5V 3A, 9V 2A, and the Huawei 5V 4-5A. Flat to full recharge possible in 3 hours
> Lock out mode for transportation
> Rugged 6063 hardened aluminum body, tempered glass cover with AR coatings, and stainless steel bezel
> Ultra low internal resistance copper/alloy silver plated spring
> IPX7 weather resistance