This rugged and compact LED light has multiple uses, at work, around the home or camping. Available in Green or Khaki colors. Offering a top level of 1500 lumens power the Klarus has a total of 6 modes including 4 power levels and a Red/SOS mode.
There are 5 color temperatures from a warm 2700K up to a cool 6500K with a Red LED light too. Using a clever 180 articulated/rotation design you can quickly adjust the angle of light to suit the task at hand.
Case design also have a standard ¼" tripod thread, and a magnet/hook for attachment to items such as a car or other metal objects, with the hook being useful.
The built in rechargeable Li-ion battery is rated to a high capacity of 13500mAh, with a run time of up to 158 hours, and can also be used as a power bank in an emergency.
Klarus are using a high quality ABS material for a strong and durable body, It's been rated to IPX5 waterproof, and low temperature down to -20 degrees Celsius
The WL3 is 98mm x 48.5mm x 112mm (width x depth x height) Weight is 481g including the battery.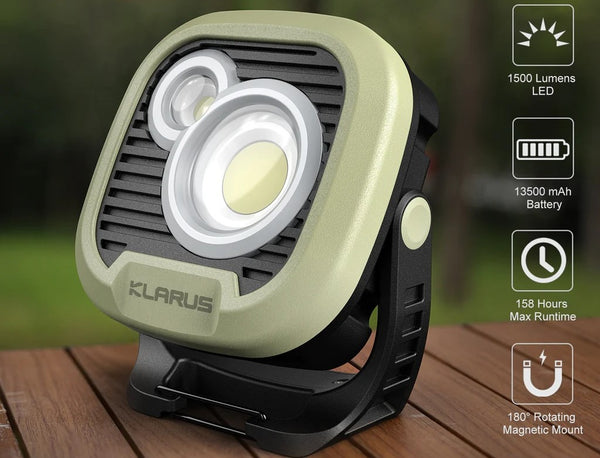 4 Levels with 5 Color temperatures and a rotating magnetic mount
The range of color output is from a warm 2700K, 3500K, 4500K and a cooler 6500K. Warmer light gives improved color reproduction, where as the cooler output has increased intensity and range.
There is a built in Red LED too, positioned just above to the left of the main LED.
It's easy to see how much power is left in the unit with a 4 stage LED indicator. USB C charging is present and it has a type A port for use as a power bank, useful for charging a phone or other device when out and about. Input and output supports quick charge from 5V 3A up to 9V 2A. A full charge can take the unit from empty to full in about 5.5 hours.
Klarus have also integrated a standard ¼" thread into the base so that the light can be mounted on a tripod, this gives even more versatility particularly when using it as a working light source.
The base is made from thick ABS plastic and is resistant to shock and damage as is the main body. Using the 180 degree rotation design and built in magnet, makes it possible to articulate it into a position where you can change the light direction.
A metal hook is built into the bottom part, simply pull it out to create a secure attachment to a tend or other item. When finished simply push it back into place when it locks in position.
All 3 of these features ensure you have a light which is useful not only for camping or home use, but as a working light in the garage or on a building site or other project.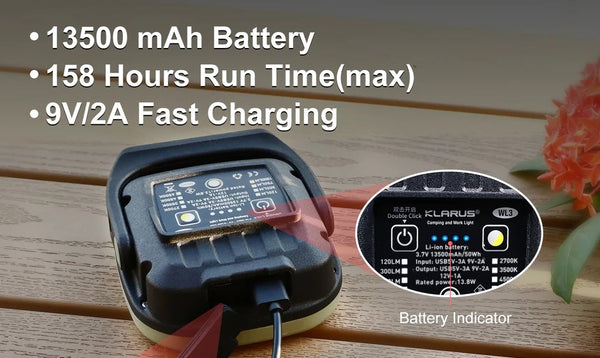 > 4 Power levels with a top output of 1500 lumens
> Built in Red/SOS mode
> 4 color temperatures and Red output (2700K - 6500K)
> Compact body design: 98mm x 48.5mm x 112mm (width x depth x height) Weight of 481g
> 4 stage battery level indicator
> ¼" Tripod thread with magnetic 180 degree rotating base
> Fold out metal flip for attaching the light
> Run time up to 158 hours
> Tested to work in low temperatures: -20 degrees Celsius
> Powered by a built in high capacity rechargeable Li-ion 1350mAh battery
> Type C charging with power bank and type A output port
> Supports quick charging up to 9V 2A (input and output)
> Useful for camping, in the garage or workshop or around the house
> IPX5 Waterproof with durable tough ABS body resisting marks and impact from drops