This palm sized model from Lumintop combines a small form factor with 4 high CRI LED's with a top output of 1000 lumens. It can reach up to 120 metres and has 4 lower power levels with a run time of up to 6 days (Eco mode 10lm).
Using a 21700 rechargeable Li-ion battery for power (battery can be purchased separately). Lumintop have been able to combine a smaller body, which is able to run for longer times thanks to the benefit of using the 21700 cells.
The body also have built in Type C port for charging the cell, and a magnetic base for attaching to metal surfaces, making the Apollo a versatile work or general purpose flashlight.
A high quality heat treated aluminum body is rated to IP68 (2 metres submersion), drop tested to 1.5 metres. The size is 105.5mm x 30.5mm x 25.4mm, and a weight of just 80g (no battery).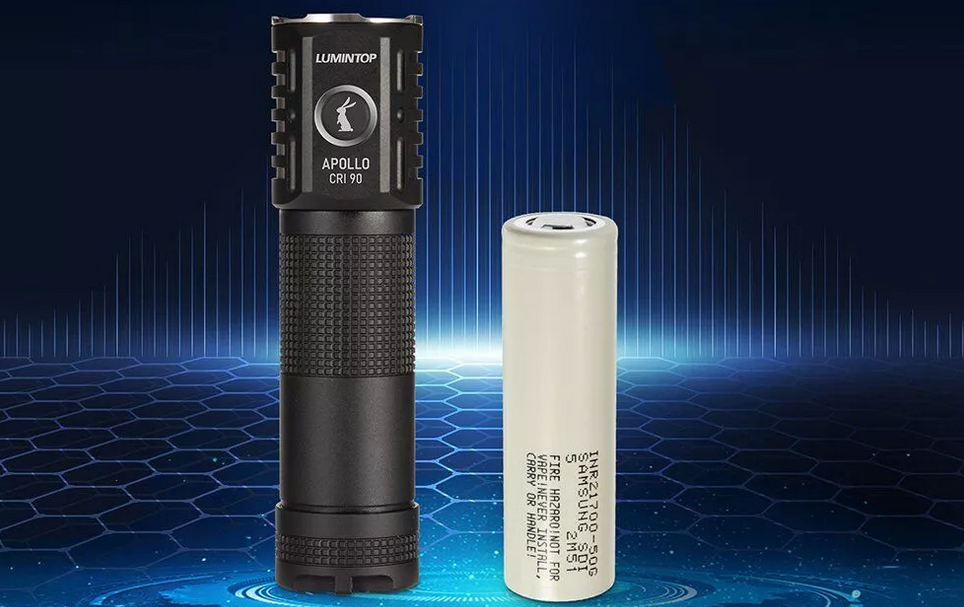 4 High CRI LEDs with 5 Power Levels and 2 Strobe modes
Lumintop have fitted the Apollo with 4 x Osram GW PUSTA1.PM LEDs; and using a TIR optical lens over each one, provides a very even wide beam with excellent area illumination (Candela 3625cd). The CRI rating of 90> gives more accurate color rendition and a more natural appearance that many users prefer over a traditional cool white LED output.
5 power levels give an even spread of output, from the 10 lumens in the Eco mode, to 100/300/600 lumens for Low/Med/High. Turbo is rated to 1000 lumens and can reach up to 120 metres in range.
The Eco mode has an impressive run time of 6 days, thanks to the higher capacity of 21700 batteries. And with 2 strobe modes included, a standard strobe and SOS for emergency signalling.
Tail cap is magnetic and can be attached to other metal ferrous and magnetic items.
Electronic Side Switch with Intuitive UI
With a large easy to find side switch, Lumintop are using a very straight forward UI as with most of their flashlights, very simple to remember. A single press for On/Off, press and hold cycles the levels, and you also have shortcuts to Turbo and SOS (double and triple press). A long press from Off takes you to the ECO mode and you can also engage a lock-out function to prevent accidental activation of the flashlight.
The common Type C charging port has a protective flap to prevent dirt and dust entering it. The switch is also backlit for a charging/battery level indicator.
The Apollo can be submersed under water for 2 metres for up to 30 minutes, with it's IP68 rating, for dust and water protection. Lumintop also drop tested it to 1.5 metres. This well made flashlight can withstand daily use thanks to the hardened aluminum alloy body material. A stainless steel bezel protects the lens and can be used for self defense or as a glass breaking tool.
It's small size makes it an ideal EDC flashlight and for camping and general use.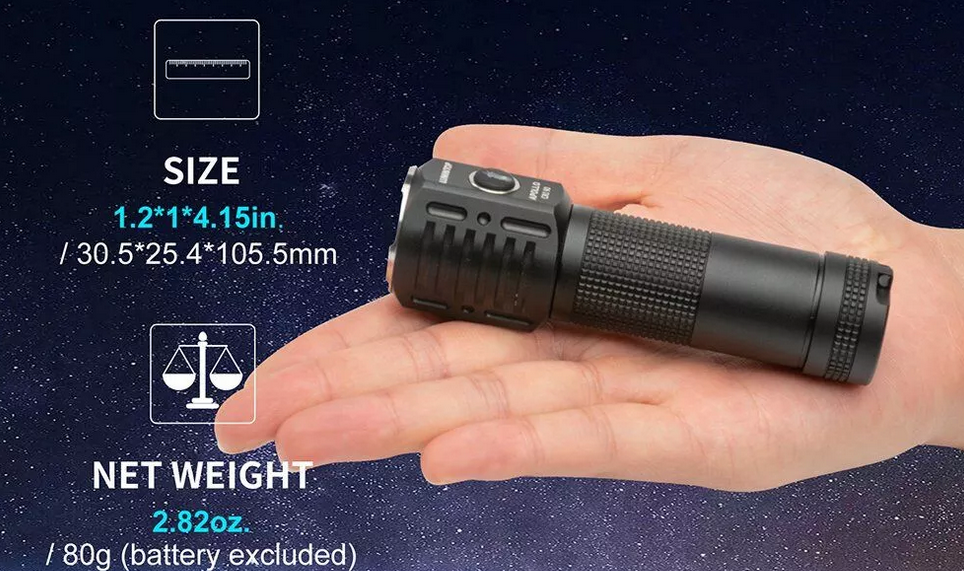 Lumintop Apollo Key Features
> Small size: 105.5mm x 30.5mm x 25.4mm, and a weight of just 80g (no battery)
> 1000 lumens maximum output with 5 power levels and a range of 120 metres, and a candela of 3625cd
> 4 x Osram High CRI (90>) LEDs for improved color reproduction
> 2 Strobe Modes, Normal Strobe & SOS
> Magnetic Base
> Intuitive user interface with single side switch with lock-out mode, and shortcuts to Turbo/Eco/Strobe
> Up to 6 days run time (Eco mode 10lm)
> Accepts 21700 Li-ion rechargeable batteries (not supplied)
> Type C charging port with charging/battery level indicator
> Heat treated Aluminum alloy body – drop tested to 1.5 metres with IPX68 weather resistance rating for 2 metres submersion (for up to 30 minutes)
> Stainless Steel Strike Bezel