A new model from Lumintop, this time catering for the EDC market with a more refined and pocket friendly design.
The Apollo V2 runs off a 21700 Li-ion battery (accepts flat top unprotected and protected cells), giving enhanced run times up to 6 days (Eco mode 15 lumens).It has a built in USB-C port with fast charging and a charge level indicators.
A large easy to find side switch with lock-out function and battery level warning.The base of the flashlight is magnetic so you can attach it to metal objects and use it as a possible working light around the house, at work or in a garage.
A total of 5 power levels up to 1300 lumens power, with a range of 160 metres. The flashlight also features SOS/Strobe modes.
It's IP68 rated for water submersion of up to 2 metres (30 minutes) and drop tested to 1.5 metres, and features a high grade aluminum alloy body with stainless steel bezel.
Lumintop's compact design for the body is perfect as an EDC carry, with a size of 105.5mm x 25.4mm x 30.5mm (length x body x head diameter), and a weight of 80g (excluding battery).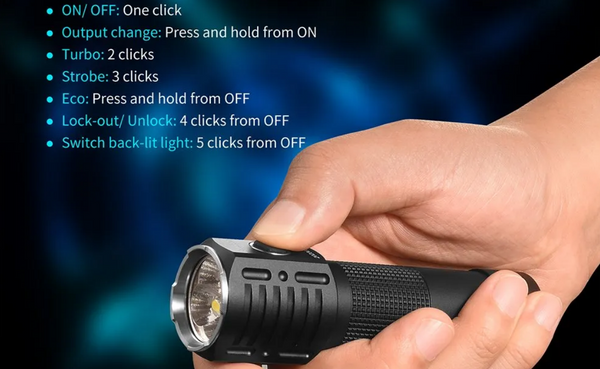 5 Power Levels with a range of 160 metres and a Turbo output of 1300 lumens
Using an array of 4 x Osram LEDs, and newly designed reflector, Lumintop have made the Apollo V2 a versatile flashlight. Ranges from Eco mode 15 lumens (for up close use), into the medium levels of 150lm and 400lm, with the high mode of 800 lumens and turbo of 1300 lumens.  It's a wider beam on this model, with a Candela of 6375, able to light up a wide area. Yet even on Turbo it can still reach up to 160 metres into the distance.
Additionally Strobe/SOS modes are present.
Using the 21700 battery it's both common and very popular. The Lumintop also can use the unprotected (shorter flat top) versions, or the longer protected cells. When you do need to recharge the battery, a convenient built in type C charging port, with power level indicators makes it quick and a simple process.
Large side switch with easy to use UI
Thanks to the flat edge body style, the side switch is easy to find, and it also prevents rolling.
This switch has a great UI, single press for On/Off, and quick access to Strobe and Turbo (3 and 2 clicks), long press for the Eco mode and a backlit switch option (to help find it in the dark this can be turned On/Off). We also have a lock-out function to prevent accidental operation.
Heat management is enhanced with grooves around the head, helping to ensure the heat generated is dissipated effectively. And the body material has fine knurling to help with grip.
The Apollo V2 is rated to IP68 (under water for 2 metres 30 minutes) and impact tested to 1.5 metres. It's a great option for those who want a small form factor flashlight, with the higher capacity 21700 battery type.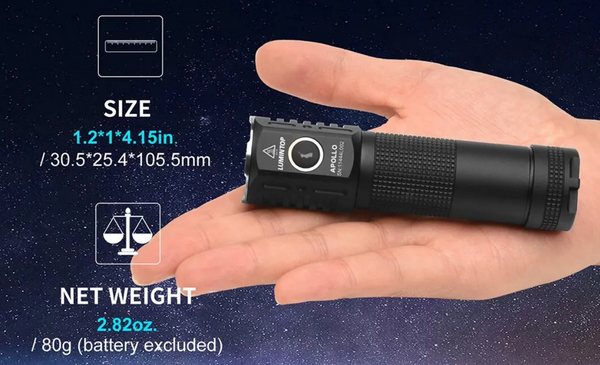 Lumintop Apollo V2 Key features
> 4 x Osram LEDs with 5 power levels and a top output of 1300 lumens, and a range of 160 metres
> 2 strobe modes (Strobe/SOS)
> Small EDC size: 105.5mm x 25.4mm x 30.5mm (length x body x head diameter), weight 80g (no battery)
> Takes rechargeable 21700 Li-ion cell, Protected or Unprotected sizes
> Fine knurled body for improved grip, stainless steel bezel
> Magnetic base
> Battery level/check indicators
> Run time up to 6 days (Eco mode 15 lumens)
> Single back lit side switch, with mode memory, simple UI and lock-out function
> Anodized aluminum body, with anti reflective coatings on glass cover
> Drop tested to 1.5 metres, and IP68 water resistance rating (2 metres submersion for 30 minutes), dustproof design.