A very practical and useful addition to their flashlight range, Wuben have designed the L1 flashlight to offer not one but two light sources.
The L1 version has a SST-40W LED main LED coupled with an Osram P9 side one.An L1 CRI has the same SST-40W, but this time a Nichia 519A for the side output.
Main LED can output as high as 2000 lumens, with a longer range beam of 304 metres distance. With the side one up to 1000 lumens (Osram P9), with a wide beam angle to light up a larger area.
Being able to use the side output and rotating the head around 180 degrees makes for a very versatile flashlight, for home or at work, where you can position the light source where you want it to be. Wuben also integrated a magnetic tail cap/base so you can attach it to metal objects.
Dual switch interface gives you direct and simple control over the modes/levels.Built in type C port for fast charging, with a high capacity rechargeable 21700 battery (rated to 4800mAh). It also has a power bank function.
A tough anodized aluminum body is rated to IP68 for water/dust resistance (2 metres submersion for 1 hour), the design is also shock proof (drop tested to 1.5 metres) making it suitable for use in harsher working environments too.
The L1 is pocket friendly in size too, with measurements of 128.2mm x x 28mm (5.04" x 1.10") length x head. And is 170g (5.99oz) without the battery.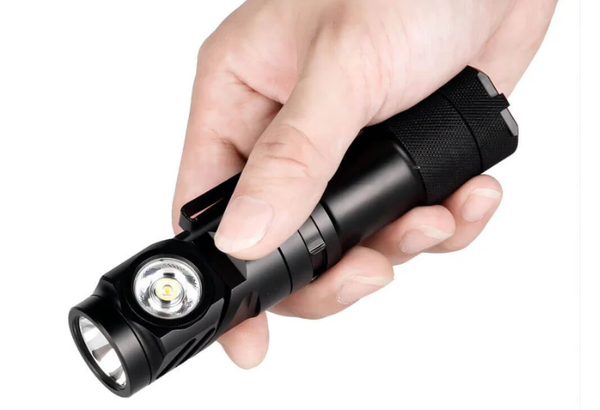 Dual output for Throw and Floodlight beams
With two variations for the side light a standard version and high CRI, users have a choice of output. With the high CRI being warmer and better for color reproduction, compared to the cooler white Osram P9 which has a higher intensity/output. The Luminus SST-40W for the main LED can hit up to 2000 lumens and the head can be articulated around 180 degrees facing forward when you need to.
4 Power levels are available for the main (longer range) LED, from a low of 35 lumens up to the Turbo of 2000 lumens. Two special modes are present a Strobe and SOS.
The flood beam/side LED has 3 levels a high of 1000 lumens (Osram P9), or 600 lumens (Nichia 519a).
A large capacity 21700 battery provides power (4800mAh), and can run for up to 90 hours (low 25lm flood). With the type C port for charging, it can also be used as a power bank for phones and other devices. Fast charging brings the battery from flat to full in as little as 2.5 hours
Twin buttons for direct and simple operation
By using separate buttons for each beam pattern, you can get direct access to the setting/level you require quickly, and the user experience is easier to pick up, compared to a single switch design. A mode memory is also present, so you can turn on and it will return to the last setting for each of the beam profiles.
Two color LEDs provide charge/low battery indication, so you are always sure of how much power is left in the rechargeable 21700 battery.A strong removable clip can attach to pockets/jackets and work tops.
And Wuben have also made the base magnetic so you can attach it to metal objects, useful at work or if using it on a car.
High build quality is present, with type III hard anodized aluminum body, hardened lens glass with anti reflective coatings. With drop testing to 1.5 metre, and IP68 water resistance (up to 2 metres for 1 hour), this tough flashlight is not only powerful, compact and versatile, it's also a unique all in one solution for users who need the benefits of multiple light sources, and the flexibility of an articulating head.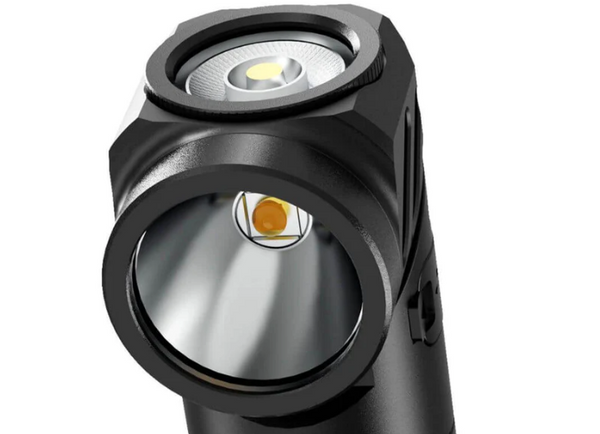 Wuben L1 Key features
> Combination of Dual LED output with Spotlight and Floodlight beam patterns (up to 2000 lumens spot and 1000 lumens floodlight)
> Choice of Cool or High CRI floodlight LED (Osram P9 or Nichia 519A)
> 180 degree rotating head for perfect placement of light source
> Small size of 128.2mm x x 28mm, with a weight of 170g (without battery)
> Range of up to 304 metres (main LED Turbo 2000lm)
> Run time up to 90 hours (Low 25lm flood LED)
> High capacity rechargeable 21700 battery (4800mAh)
> Dual switches for direct control of each beam, with mode memory
> Magnetic base & removable clip
> Charge and Power LED indicators
> Type C charging port with fast charging and power bank functions (full charge in around 2.5 hours)
> Hard anodized aluminum body for superior wear resistance
> Drop tested to 1.5 metres, and IP68 water resistance rating (2 metres submersion)