This impressive new model from Jetbeam offers some unique features for a long range flashlight.
With a Turbo output of 6800 lumens, Jetbeam M64 has a huge range of around 1200 metres, making it an ideal companion for search and rescue or security and law enforcement. The M64 is powered via 2 x 21700 rechargeable Li-ion batteries, which feature built in Type C charging ports directly on the cells.
Jetbeam have also integrated a fresh new body design, using high grade heat treated aluminum, with deep grooves on the head to ensure maximum heat dissipation. It's been rated to IPX8 waterproof, with submersion of 2 metres, and drop tested to 1 metre.
The M64 has a size of 248.5mm length, with a head diameter of 63.5mm, and a tail diameter of 29.6mm. It's weight is 435g (without batteries)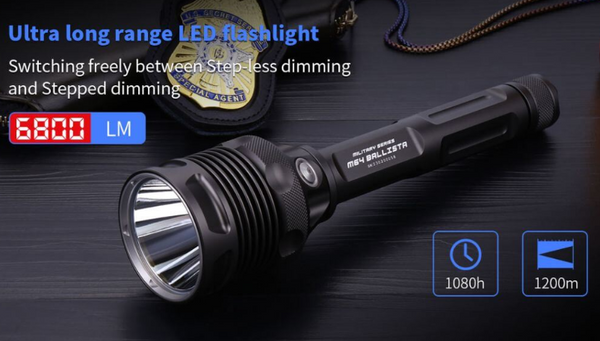 Long throw beam of 1200 metres with an output of 6800 lumens
Using a Luminus SBT-90 LED and ultra smooth reflector, Jetbeam have managed to create a powerful flashlight with a high candela of 360,000cd, at the top output of 6800 lumens it reaches as far as 1200 metres. There are 6 power levels available from a super low 1.5lm in ECO mode, then 100lm, 500lm, 1200lm and 2700lm available giving an even spread of power. But in addition to this, they have also included a stepless mode, where the user can adjust the power output to their own needs, this gives an output from 1-100% power. Run time is up to 1080 hours (ECO mode)
There are 3 special modes for strobe, SOS and beacon.
Power is via 2 x 21700 batteries which are rated to 5100mAh capacity, these batteries each have their own integrated USB C charging port, (cable supplied), so you can easily charge them via any power source such as a wall adapter or power bank, solar panel etc.
Easy UI Side Switch: Choice of Stepped or Stepless Modes
Jetbeam are well known for their simple and intuitive user interface on their flashlights. The M64 continues this tradition. With quick access to Turbo and ECO modes (double press for Turbo, single long press ECO). It's also possible to switch ramping pre-set power levels with a 4x press of the switch. An easy to remember long press can secure the flashlight with a lock-out. It wont take long to get used to using the M64. As expected a mode memory is also present.
The well positioned side switch also serves as a power level indicator. A solid green shows the full power charge, with a flashing green, static red, and flashing red. 4 levels in total and easy to see the battery status as it is shown clearly when the flashlight it turned on.
It's ergonomically designed model, which is not only comfortable but made with flat edges in some areas to prevent rolling, deep head grooves extend the run time whilst reducing heat.
This M64 is a great choice for law enforcement/security or search and rescue operations, where a longer range beam is needed. Yet it is also able to provide a well balanced beam with some spread helping you see not only further but wider than some search lights.
High grade HAIII Military hardened anodizing ensures a long lasting finish and durable body. With impact resistance to 1 metres, and IPX8 weather resistance. This powerful flashlight from Jetbeam will provide many years reliable service.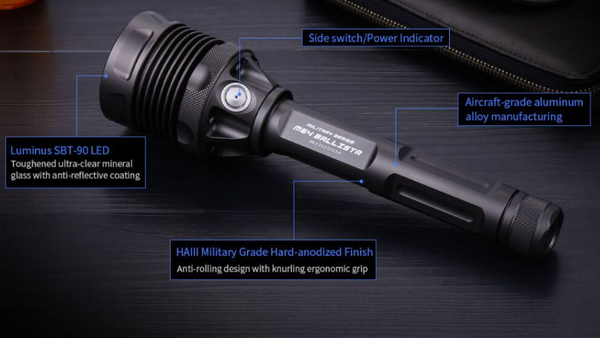 Jetbeam M64 Key Features
> Ultra Long range 1200 metre beam, with a powerful 6800 lumens Turbo output
> Luminus SBT-90 LED with a smooth reflector for maximum range/output, hardened anti reflective coated glass cover
> 248.5mm length, with a head diameter of 63.5mm, and a tail diameter of 29.6mm. Weight of 435g (without batteries)
> Choice of Stepped or Ramping modes, with 6 levels stepped, and 1-100% output in stepless/ramping
> 3 Special models: Strobe, SOS, Beacon
> 4 stage battery level indicator
> Run time up to 1080 hours (ECO mode)
> Powered via 2 x 21700 (5100mAh capacity each) batteries with built in type C charging ports
> Simple UI via a single side switch, with quick access to ECO, Strobe modes, and Turbo
> Features a lockout to prevent accidental activation
> High quality HAIII anodized aluminum body
> IPX8 Waterproof, drop tested to 1 metre