Need a quality rugged
headlamp
that is able to shine brightly while running on AAA batteries, has several beams and can be used without touching it? No, it's not a magical headlamp, is the
Klarus
HC1-S, triple headlamp.
Made out of high quality, reliable and rugger polymer construction, the Klarus HC1-S is also light as a feather, and will withstand all the elements, thanks to its corrosion resistance and IPX8 waterproof rating.
Face darkness in all scenarios, thanks to its 3 beams: white spotlight, white floodlight AND red light. So, whether you are walking your dog near your house, hiking, signaling your presence during an emergency on the side of the road, or just enjoying some weekend DIY activities, the HC1-S will always have your lighting needs covered with its 3 beams.
Thanks to its bright LEDs, the HC1-S is able to squeeze enough energy out of the 3, inexpensive and readily available AAA batteries, to produce 300 lumens of max output, and shining far: up to 72 meters away from you.
Use the light of the distance beam for inspecting long range objects or illuminating pathways far away from you, thanks to the concentrated spot beam.
Enjoy the diffused proximity light of the flood beam, great for items and objects that are near you.
And finally, preserve your night vision and signal effortlessly your presence in the event of an emergency thanks to the red LED emitter.
Face heavy rain and pressurized water with your HC1-S on your head, with its double O-ring, making it IPX8 waterproof.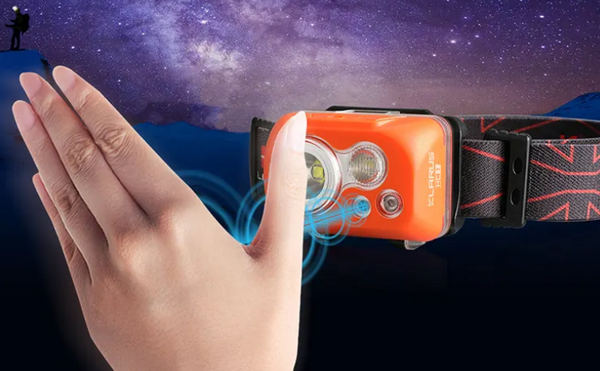 Forget you have it with you due to its weight, 68 grams only, and its compact size, measuring just 64 mm in length, 43 mm in heigh and 38 mm in depth.
Not only is the HC1-S featherweight, but is also very comfortable to keep on your head, thanks to the elastic and ventilated headband.
Amaze your friends and family with a magic gesture: turning your Klarus HC1-S on and off without touching it, thanks to its motion sensor that is able to detect movement in front of the light between 7 and 15 mm away from it.
Direct the light exactly where you need it, thanks to the wide adjustable tilt angle: from 0 to 60°.
whether you are looking for your next lightweight climbing, running, cycling, fishing or hiking light, the Klarus HC1-S is a choice you will not regret, but recommend to all your friends and colleagues.