Enough with the EDC,
keychain lights
, I need a working light? Oh, the
Klarus
RS10 you mean?
Let's welcome the Klarus RS10, a multi functional spotlight flashlight. With a design that recalls the classic and reliable shape of the 1'000'000 candles working lights, the Klarus RS10 brings all the updates you need to end your 2022 and start your 2023 prepared for darkness. Carry the RS10 everywhere with you comfortably, thanks to the handle integrated in the body, made out of durable ABS; and lay it safely everywhere, thanks to its wide and stable base and tripod compatible insert.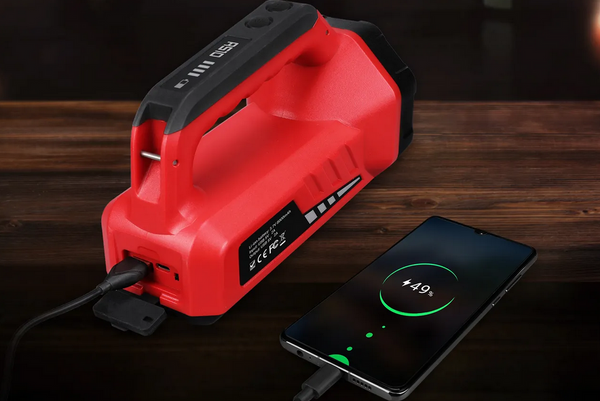 It's bright red color will make it easier to see even in the darkness.
Designed to operate as a spotlight, the RS10 has an incredible max distance of illumination of 532 meters, thanks to the deep smooth reflector and the Luminus SST40W LED, producing a uniquely focalized beam, ideal for long range illumination. But wait! The RS10 also has a separated, dedicated flood light, to fit your close range encounters with the darkness.
Recharge it everywhere on the run, thanks to the USB-C port on the body RS10, you will not even have to bring with you a special cable, to charge the large 8000mAh lithium ion battery. This large battery will serve you not only to power the RS10, as it also doubles as powerbank; charge your devices using the USB-A port while on the run at a fast charging speed of 5V 2A.
Forget complicated interfaces, the RS10 is a no nonsense working light, with 3 modes for the spot light (low, medium, high), 2 modes for the flood white light (med, high) and 2 modes for the flood red light (med, flashing), all controlled by 2 simple electronic switches located on the handle of the light, right as your hand rests.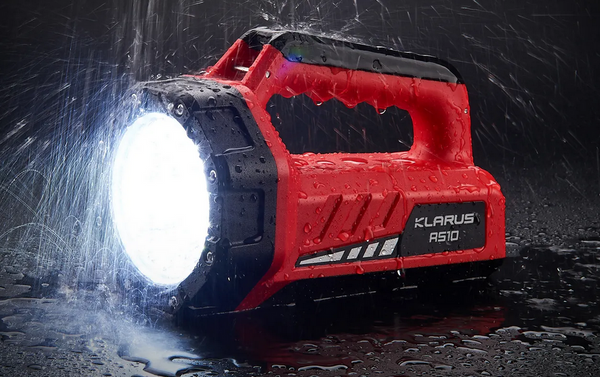 Compact enough to still be easily moved around and used, the Klarus RS10 measures just 108 x 200 x 131 mm.Under the heat of the summer sun, or the rain of the autumn, you have to go to work, and the RS10 will reliably side you in all your working days thanks to the IPX6 rating.
So, whether you are looking for your next reliable working light for your mainteinance job or Night patrol , or a rugged outdoor lamp, or just a light to keep in the house in the event of emergencies and power outages, the Klarus RS10 is defenetly a great choice!