Lumintop Lighting, one of the renowned makers of high-quality flashlights, recently announced the release of its latest product, the Lumintop Thor1 Gyro LED flashlight. This new addition to the Lumintop lineup is the LED variant of the Thor1 Gyro LEP flashlight and boasts a powerful 480-lumen output. It features a unique spin gyro design that allows for easy control and adjustment of the light beam. From hiking, camping to everyday carry, the flashlight is ideal for a wide range of applications. 
Compact and Portable
An ideal flashlight must be compact and portable for easy use and operation. And while designing Thor1 Gyro, Lumintop Lighting did not leave any stone unturned as far as portability and compactness are concerned. Furthermore, the unique spin gyro design also allows for easy control of the flashlight. Still, with that design, it can easily fit inside your pocket, backpack, and even your hand. With the Thor1 Gyro, you're never short of options.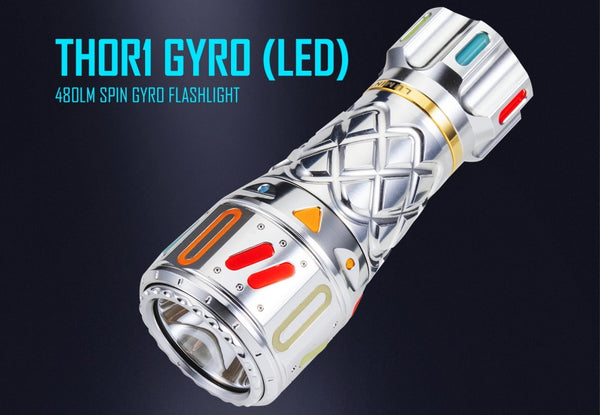 Further, the flashlight only weighs 118 grams without the battery and measures 96 by 36 by 25.5 in size. So it's never a big deal moving around with the Thor1 Gyro. The head can also be a lifesaver when used as a compression device. During emergencies, one can use it to provide first aid and help to relieve stress and anxiety. It's also beautiful and eye-catching, thanks to the turbo glow bars on both ends. 
480 Lumens Maximum Output and a Beam Distance of 405 M
Capable of delivering an incredible output of 480 lumens, the flashlight fits various lighting demands, i.e., hiking, camping, searching, etc. There is also the police flash and extra strobe mode. The beams can travel about 405 meters on the highest setting. 
Easy Operation
Unlike several other flashlights, the Thor1 Gyro flashlight features a rear e-switch. For ON and OFF operations, fully press the switch. To change the output, simply turn ON the flashlight and then half-press. To switch to strobe mode, two quick half presses from ON do the work. To move to PoliceFlash, after turning ON, half-press six times.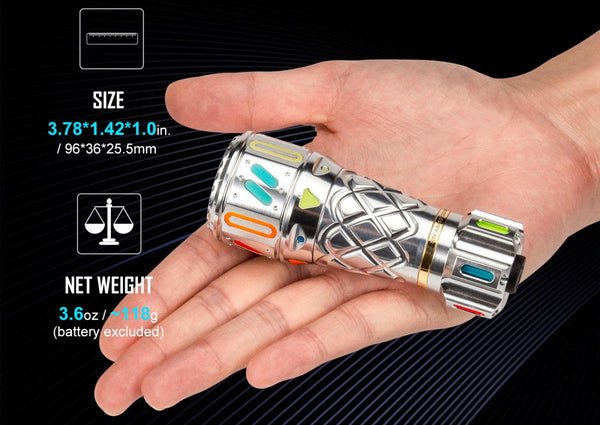 Operates on an LI-ION Battery
First, the flashlight runs on a single 18350 Li-ion battery which is rechargeable and has a very high capacity. Because it can be recharged, the flashlight is environmentally friendly and economical. For proper compatibility, the company recommends the use of the Lumintop 18350 Li-ion, which features a built-in USB-C charging port. It's worth noting that the recommended Lumintop 18350 Li-ion battery is never part of the package. So you buy it separately after you've bought the flashlight. 
Other Specifications
Impact Resistance; 1 meter

Power; maximum of 6 watts

Waterproof; IPX-8, operates underwater, maximum distance of 2 meters. 

Light Source; Osram KW CSLNM1.TG LED

Intensity; 41000cd (max)

Battery; one 18350 Li-ion battery which comes separately