A very stylish and unique design flashlight, this model from Lumintop is quite unusual in the features packed into it.
The Petal flashlight has two sources for output, a LEP which is rated to 250 lumens top output, yet it can reach as far as 1056m! Around the LEP are an array of 6 LEDs which provide auxiliary output up to 300 lumens, or in combination with the LEP up to 500lumens. And with some additional strobe/police flashing modes.
Lumintop also added some RGB tail lights and Turbo glow bars and bezel ring making this a very distinctive looking flashlight and very different from many on the market.Petal can be powered via an 18350 battery (available separately), this can give run times up to 2 hours (LEP at low 60lm) or 3 hours with the Auxiliary LEDs (40lm).
It's rated to IP68 weather resistance and can be submersed in water to 2 metres depth, has type III HA heat treated finishing with a drop test rating of 1 metre.Quite tiny in size, at just 96mm x 32mm x 25.5mm (length/head/tube), it's 102g without a battery.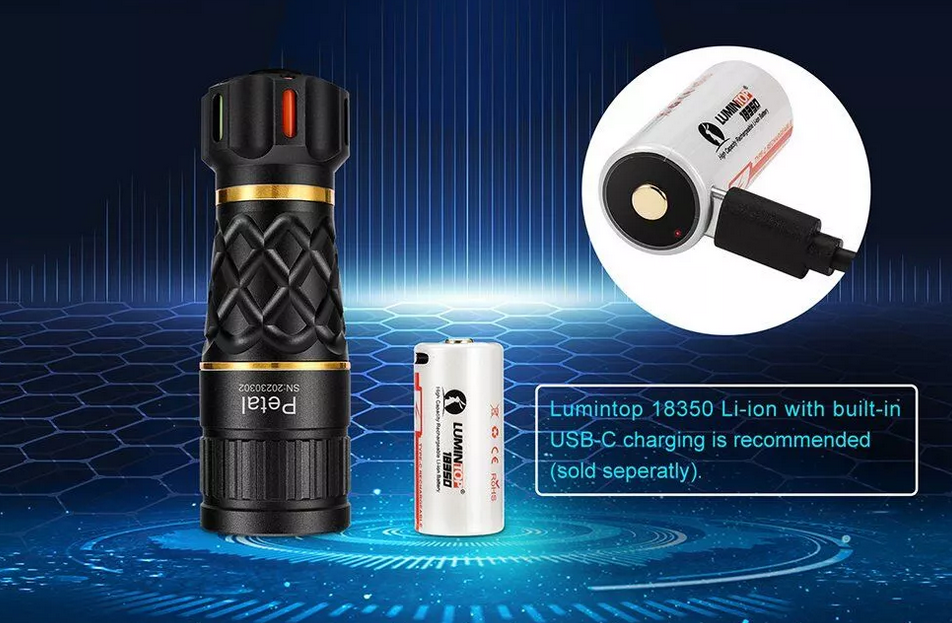 Dual Output LEP and LED with a LEP range of 1056m
By using a LEP and LED combined in a single body, the Petal becomes more versatile than many flashlights. The LEP (laser excited phosphor) can reach impressive ranges thanks the concentrated output which is quite different to a normal LED flashlight.
LEP has two outputs the high of 250 lumens can reach up to 1056m, and the low level of 60 lumens is available too. At the top setting the candela of 279,000 gives a concentrated beam with minimal spill.
LED mode has 6 emitters surrounding the LEP, with two levels 300 lumens and 40 lumens. Or you can combine the LEP and LEDs for a total output of 500 lumens! By using both in a single flashlight, you get a more versatile and flexible output suitable for longer or closer up activities.
Strobe and Police modes are also present, and Lumintop have included some super looking Turbo glow bars, bezel ring glow and RGB tail lights for a stunning look.
Tail Switch for one handed operation
A single switch/button UI gives you full control over the Petal, yet remains intuitive and quick to use. It is easy to see and feel by touch alone.
Lumintop also have made the style of the body very unusual yet appealing in appearance. The diamond shaped knurling gives improved grip, with the gold plated brass rings give a luxurious appearance contrasting with the black body color.
Powered via a single 18350 battery, these can be purchased separately, with ones available with type C ports built in (for convenience or for users without a battery charger).
By using a high quality aluminum alloy body material, the Petal is tough enough to survive a 1 metre drop, and can be underwater for 2 metres depth (30 minutes) thanks to the IP68 rating.
This model from Lumintop is a great looking flashlight, but also a practical one due to the small pocket friendly form factor, dual output LEP/LED and simple operation. Ideal for camping, hiking or as an EDC carry.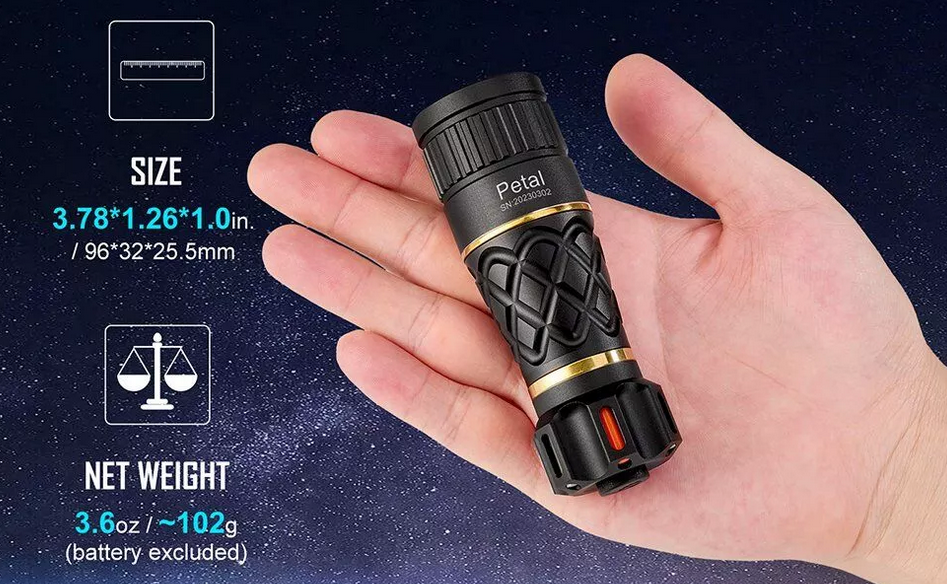 Lumintop Petal Key Features:
> Dual output LEP and LED – LEP has a big range of up to 1056 metres, with 2 power levels (250/60 lumens), 6 x LEDs with 2 power levels 300/40 lumens
> Can be used with combination beam of LEP and LED for an output of 500 lumens
> Compact size:  96mm x 32mm x 25.5mm (length/head/tube), with a weight of just 102g (no battery)
> Run time up to 3 hours (LED 40lm) or 2 hours (LEP 60lm)
> Turbo glow bezel ring, with Turbo glow bars and RGB tail lights for a stunning look
> Strobe mode with Police flashing mode
> Diamond shape knurled body with gold plated brass rings
> Simple UI with tail switch
> Compatible with 18350 batteries (not supplied)
> Anodized aluminum (Type III HA)body resists marks and damage
> IP68 Rated with 2 metres water submersion, dust proof,  and 1 metre drop tested