This powerful new model from Lumintop has an impressive output, but also combines a very high capacity rechargeable Li-ion battery, for extended run times.
With a top output of 13000 lumens, the GT46 can reach up to 700 metres in range, with 6 power levels and 3 special modes for Strobe/SOS/Beacon.
By using a large 46800 Li-ion battery, this cell offers much higher capacity then standard size batteries. A huge 15000mAh, which is equivalent to 5 x 18650 cells at 3000mAh. With a size of 80mm height x 46mm diameter. It's a convenient solution for this model. It also offers impressive run times up to 45 days (moonlight 2 lumens).
It's IPX8 rated for water submersion of up to 2 metres and drop tested to 1 metre. It features a high grade aluminum alloy body with stainless steel bezel.
Lumintop are using a "Soda Can" design for the body, a solid choice for comfort and carrying. With a size of 145mm x 52mm x 68mm (length x body x head diameter), and a weight of 350g (excluding battery).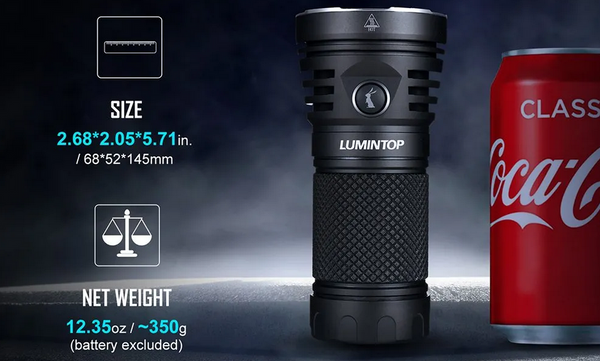 Up to 700 metres range with 6 power levels, and a top output of 13000 lumens
The SFP55 LED, combines with a specially designed reflector, has a beam intensity of 122500cd. Capable of hitting 700 metres, at the Turbo output of 13000 lumens.
An additional 5 levels are also included, giving users a wide range of outputs. A high 2 mode of 7000 lumens, high 1 of 3500 lumens, a medium of 1500 lumens, a low of 300 lumens and finally a moonlight with a super low 2 lumens, ideal for up close activities where high power isn't required.
3 Special models are present, from the standard Strobe, an SOS and Beacon – useful for emergency signalling.
Using the 46800 battery with it's huge capacity of 15000mAh, means you can go for longer between charges, even in the low mode of 300 lumens you can run the flashlight for around 20 hours, enough for 2 nights continuous use without having to charge the cell. When you do need to recharge the battery, a convenient built in type C charging port, with power level indicators (1-4 LEDs), makes it fast and easy. With a charge rate up to 3 amps, it also has the expected over discharge/charge protection for safety.
Single backlit side switch for easy operation
The backlit side switch conveniently lets you locate the flashlight in darkness (it can be turned off it not needed), and also provides a lower battery warning.
UI is straightforward and simple, with a single press for On, and changing levels, with direct access to Moonlight and Turbo, a battery level check and a lock-out to avoid accidental activation.
Heat management is enhanced with deep grooves around the head, helping to ensure the heat generated is dissipated effectively.
A fine knurling pattern ensures a solid grip on the flashlight, and the build quality is up to the high levels Lumintop are known for. Using a hardened heat treated aluminum body, with stainless steel bezel. The GT46 is rated to IPX8 (under water for 2 metres) and impact resistance of 1 metre. This impressive model  is quite unique, with it's high capacity battery, and relatively compact form factor.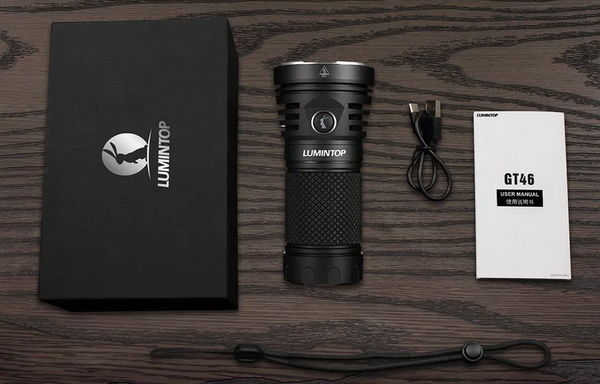 Lumintop GT46 Key features
> SFP 55 LED with a Turbo output of 13000 lumens and a range of 700 metres
> 6 Power levels and 3 strobe modes (Strobe/SOS/Beacon)
> Textured reflector with candela of 122500cd for an even beam profile
> High capacity rechargeable Li-ion 46800 battery (15000mAh) with Type C charging port
> Fine knurled body for superb grip, with deep head grooves for improved heat management
> Up to 3A charging speed on battery
> Soda Can size profile: 145mm x 52mm x 68mm (length x body x head), weight of 350g (no battery)
> Run time up to 45 days (moonlight 2 lumens)
> Single back lit side switch, mode memory, with battery check and lock-out function
> Hard anodized aluminum body, with stainless steel bezel and anti reflective coatings on glass cover
> Drop tested to 1 metre, and IPX8 water resistance rating (2 metres submersion for 30 minutes)