At just 3.66 inches long and weighing only 12.5 grams, the Open Mini is one of the smallest flashlights in Olight's product line. Despite its compact size, it delivers a powerful beam of light with a maximum output of 2,500 lumens. The Open Mini also features a greater beam distance making it ideal for illuminating a wide area.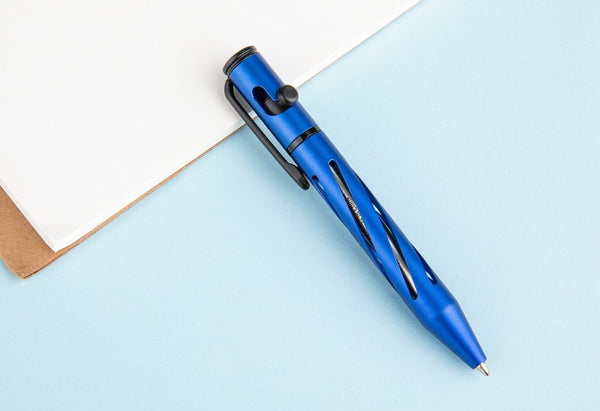 The flashlight has a built-in clip that can be attached to clothing or gear for easy access. A short bolt action EDC ballpoint pen, the clip allows the Open Mini to fit even inside your shirt pocket. It also has a lanyard hole for added convenience. The flashlight is constructed from aircraft-grade aluminum and has a durable hard-anodized finish, making it resistant to scratches and corrosion. The aluminum body also features impressive dynamic hollow helixes, which increases grip and functionality.
Multipurpose
The multipurpose flashlight features a blue body ring and an ornate copper tail which gives it a fresh and dynamic look. This makes it blend with most environments and can be suitable for most occasions and functions. Furthermore, the customized refill writes smoothly and doesn't cause a lot of ink blots. Also, it won't run out of ink until it finishes about 800 meters of line. The L-type bolt action pops out and retracts the pen. This multipurpose device will serve you for years as a flashlight, a pen, and even as a security device. Remember there's also a convenient clip that helps it to clip securely to your notebook once you're done using it inside the office. 
For lighting modes, the Open Mini has three different levels of brightness, as well as a strobe mode for emergencies. It can be easily switched between modes with a single button on the side of the device. The Open Mini is powered by a single AAA battery, which is included with the flashlight. Now, Olight, being committed to sustainability, has included a battery-saving feature in the Open Mini. The flashlight will automatically shut off after 30 seconds of inactivity to conserve battery life. 
The Open Mini is also water-resistant, with an IPX-8 rating, making it suitable for wet conditions. It is also impact-resistant, with a drop resistance of up to 3.3 feet. These features make the Open Mini a reliable choice for outdoor activities and emergencies.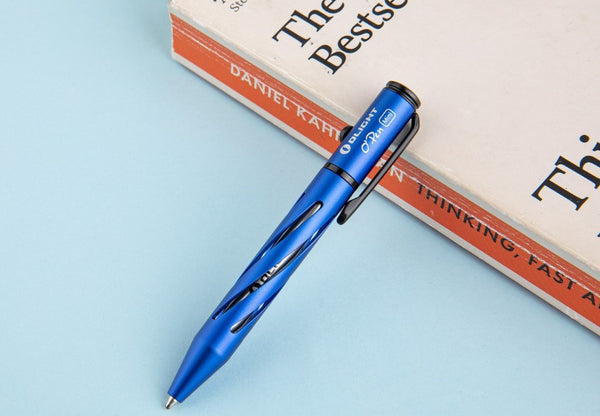 More Information
Dimensions; The flashlight measures 93.0 mm in length and 9.8 mm in body diameter. 

Weight; Open Mini weighs about 12.5 grams, and it can fit even inside your shirt pocket. 

Body Material; The body has been constructed using strong aluminum alloy; thus, it's impact resistant. 

Use; It can be used in various environments, i.e., outdoors, office, EDC, and household. 

Warranty; Olight's industry-leading 2-year warranty backs the Open Mini.

Pocket Clip; The flashlight features a convenient pocket clip that helps you clip the pen/flashlight to your pocket, backpack, or notebook. 

Strong and Stylish; The aluminum body is tough and water resistant. It also offers a dynamic hollow and stylish look.