Aimed at users who want a compact and lightweight headlamp, the NU21 is only 44g (1.55oz) in weight, and with a small size of 60.1mm x 33mm x 25.5 (2.37" x 1.30" x 1.00"). It can be used for many activities including camping, and work. However it is ideal for running due to the simple design and small body shape.
It's available in 3 attractive colors, Arctic White, Midnight Shadow, and Speed Yellow.
The NU21 has plenty of power too with a top output of 360 lumens (main LED) with 4 power levels in total, and the Red LED has 2 levels. It can reach as far as 58 metres (360lm main LED), and have a run time up to 37 hours (6lm Ultra low). It also has USB C charging with a good capacity 500mAh built in rechargeable cell.
A high visibility slim headband has reflective/glow in the dark properties.The Nitecore is impact tested to 1 metre, with a weather resistance rating of IP66, so you can use the headlamp in all weather conditions including heavy rainfall. The body is made from durable polycarbonate material, and should ensure many years of use.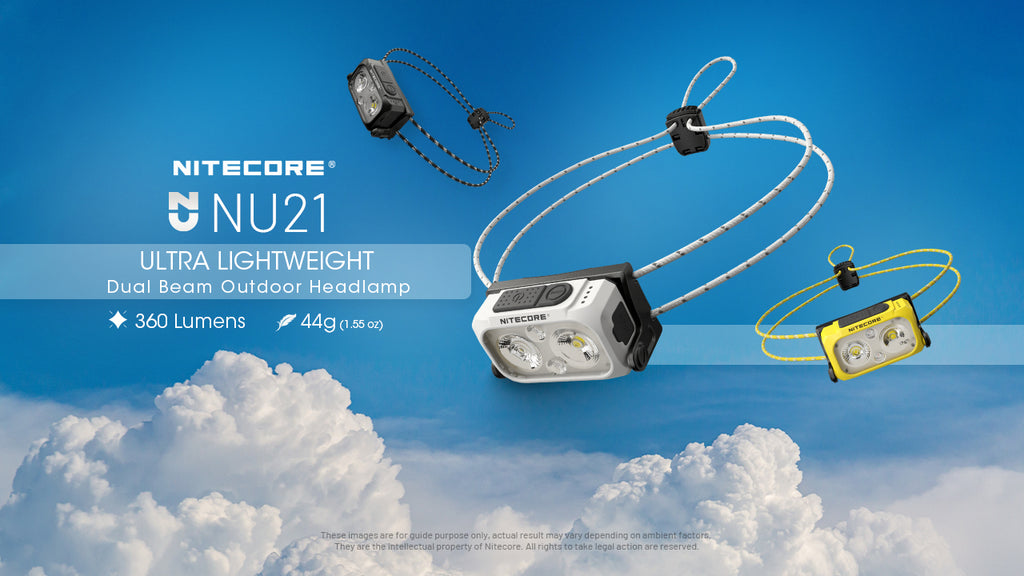 Dual LED Output with4 Power Levels and a Red Auxiliary LED
The main white LED has 4 levels from the highest output of 360 lumens (range 58m), a mid of 170lm, a low of 60lm and finally an ultra low output of 6 lumens for extended run times. Two special modes are present, an SOS and Beacon (both 360lm), with the Red LED rated for 5 lumens (constant), and a slow flashing mode of 10 lumens. The Red LED also helps preserve power and some users find it more effective in helping preserve night vision.
USB C charging is available, this widely used port is very common these days, and combined with the 4 level battery display lets you see quickly how much power is left in the cell.
Dual button UI with lock out mode
Nitecore have gone with their well known dual button interface for this model. The large power button has a textured surface making it easy to find by touch, with the small mode button having a round shape. The mode switch also lets you check the battery level, or switch the output between White/Red. Power button, Turns On/Off and adjusts the output. A very easy UI to pick up, and it also has a lock-out mode for transporting, preventing accidental activation.
Nitecore have tested the NU21 to IP66 water and dust protection, with a drop test of 1 metre. It's made from strong polycarbonate, which resist damage/marks and cracking when dropped.
It's lightweight and small form factor make it idea as a carry everywhere headlamp, yet it's powerful enough to be useful for many activities and has good battery endurance for it's compact size.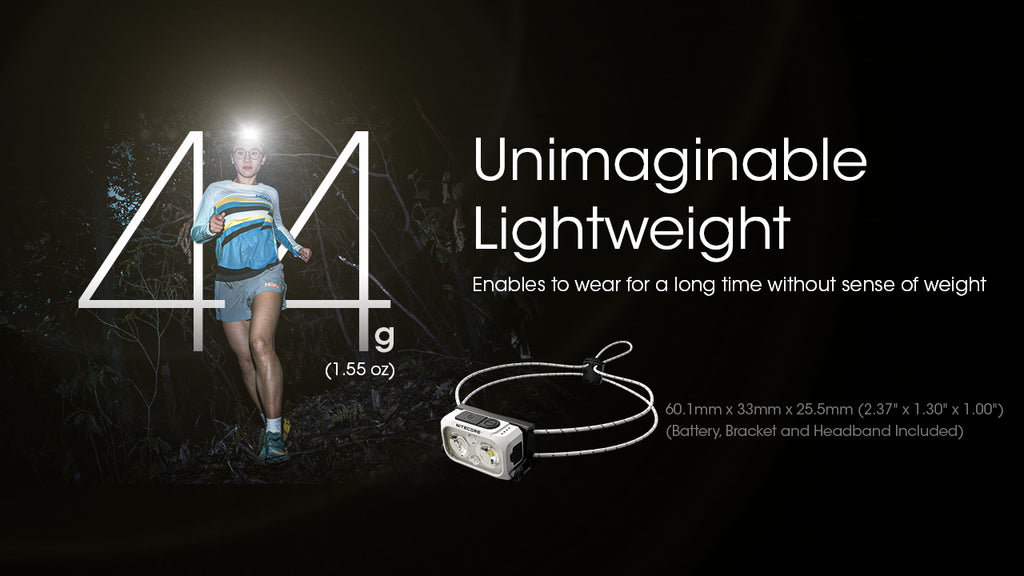 Nitecore NU21 Key Features
> Dual LED White/Red output, with a top level of 360 lumens, and a range of 58m
> 4 Power levels for White LED, 2 specials modes (SOS/Strobe), with Red Static/Flashing modes
> Small and light: 44g (1.55oz) in weight, size of 60.1mm x 33mm x 25.5 (2.37" x 1.30" x 1.00")
> Available in 3 colors: Arctic White, Midnight Shadow, and Speed Yellow
> Up to 37 hours run time (6lm ultra low mode)
> Ideal for running or as an every day carry headlamp
> High visibility slim headband (reflective/glow in the dark)
> Dual button operation makes it easy to operate
> Lock out function for storage/transportation
> Built in 500mAh battery with 4 stage power level indicator
> Type C charging port
> High grade Polycarbonate body – drop tested to 1 metre with IPX66 weather resistance