EDC, short for EVERY DAY CARRY, are things you carry with you every day that will help you deal with small situations, and have evolved into a popular trend that is richer and more diverse than we thought.
In an era when everyone has his own EDC, how can you not have an EDC flashlight that highlights your taste? It can not only help you complete more daily tasks, but also is a quality of life and an art. OLIGHT explores more creative EDC and launches Olight Arkfeld, the first portable square EDC flashlight with white light and green laser dual light sources.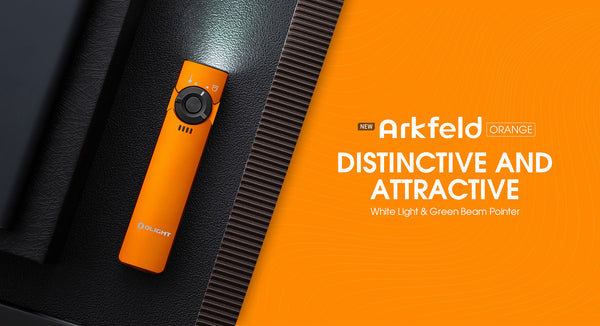 This is a practical high-value EDC flashlight, made of high-strength and lightweight aluminum alloy shell, which is durable. Unique flat shape, square appearance design, without losing the sense of fashion and modernity, EDC flashlight can also play a business style. Package includes magnetic USB charging cable (MCC3), Arkfeld, instruction manual and legend card with instructions.
Ultra-thin body without weight, weight of only 87 grams, thickness of 15 mm, easy to carry in the pocket; With a back clip on the back, it can be easily clipped to a shirt or backpack, saving space and effortless.
Arkfeld has dual light source modes-white light and green laser. The white light uses the OSRAM P9 lamp bead, the highest luminous flux achieves 1000 lumens, the small flashlight explodes the big energy, gives you the absolute sense of security! You can choose one of the two color temperatures (medium white/cool white), and you can choose the appropriate color temperature according to your preferences and needs.
It also uses a green laser module with a power of ≤ 0.39 mW (safety class 1) and a wavelength of 510 nm to 530 nm, which greatly expands your usage scenarios. It can not only be your daily household lighting, but also be used for office, business presentations, outdoor emergency, car repair, and maybe your pet toy!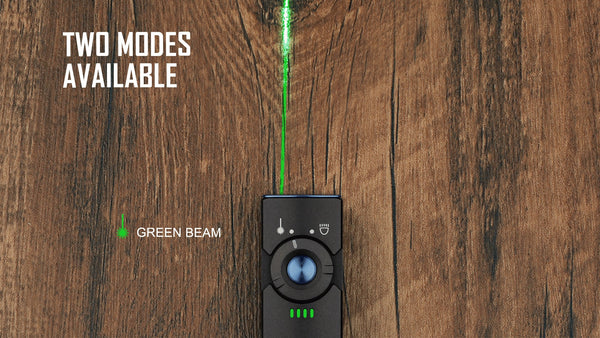 Easy and convenient selection of thumb wheel switch mode
The head is designed with a round thumb wheel switch, which is modern and unique. Rotate the thumb wheel clockwise to select the white light mode. Rotate the dial wheel counterclockwise to switch to the green laser mode, and the two lighting modes can be switched quickly.
Press the middle button to switch different brightness levels, and press the button to turn on or off; In the white light mode, press the key for 1 s to enter the moonlight mode; The driver shifts the gear according to the cycle (medium, high and low gears); Quickly double press the key to enter the extremely bright gear; Three clicks to enter the flash mode, multi-gear output on-demand selection, as well as powerful memory function, so that you can choose the mode you need with one click, always ready.
Know the power status of the four indicator lights like the palm of your hand
In the power-on state, the power indicator at the bottom of the Arkfeld button lights up, clearly displaying the power consumption, so that users can grasp the power consumption situation anytime and anywhere.
Tail Magnetic Charging Endurance
Arkfeld continues OLIGHT's characteristic tail magnetic charging, which can not only be charged by MCC, but also be attached to the metal surface to facilitate lighting and free hands.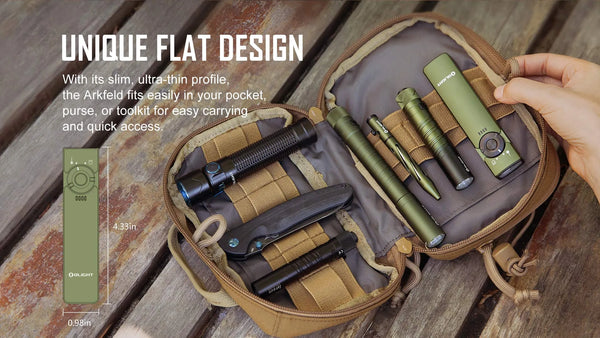 As a positioning portable outdoor EDC flashlight, Arkfeld has enough configurations, such as dual light source + 1000LM output, stainless steel pocket clip and all-metal IPX7 waterproof, five-level white light brightness adjustment, built-in 1050mAh rechargeable lithium polymer battery with a maximum life of 8 days. Arkfeld deserves you.
Specifications
> Body Material: Aluminum Alloy
> Beam Distance: 331 ft (101 m)
> Max Performance: 1,000 lumens
> Charging Type: MCC3 Magnetic USB Charging
> Compatible Batteries: Built-in 1050mAh Lithium Polymer Battery
> Max Light Intensity: 2,560 candela
> Light Source: High-Performance Neutral White LED (4000k~5000K), High-Performance Cool White LED (5700K~6700K)
> Waterproof: IPX7
> Weight: 3.07 oz (87 g)(Battery Included)
> Height: 0.59 in (15 mm)
> Length: 4.33 in (110 mm)
> Width: 0.98 in (25 mm)
> Use: Lighting, Presentation, Pet Toy