A funky looking flashlight design if there ever was one, this new limited edition version of the popular Baton 3 is sure to turn some heads, and will be very appealing for those who collect flashlights.
With a two tone Orange/Blue body is also has a special anti slip black body texture giving superior grip and comfort even when wet.
All of the regular Baton 3 features are still here, the magnetic base, stainless steel double clip.And it has the same magnetic charging system (MCC) using the A1 cable.
A custom 550mAh 16340 battery is supplied, this is capable of delivering the high power 1200 lumens output, but also has 5 power levels in total and a strobe mode. Run times are up to 20 days (moonlight 0.5 lumens mode).
Using Olight's quality aluminum alloy finish, it retains the signature tiny size which the Baton series is known for, at just 63mm x 21mm (length x diameter), and 53g. It's a perfect size for a carry anywhere flashlight or everyday carry. Yet powerful enough to satisfy any users with it's impressive Turbo output.
IPX8 rated for full water and dust resistance, it's drop tested to 1.5 metres.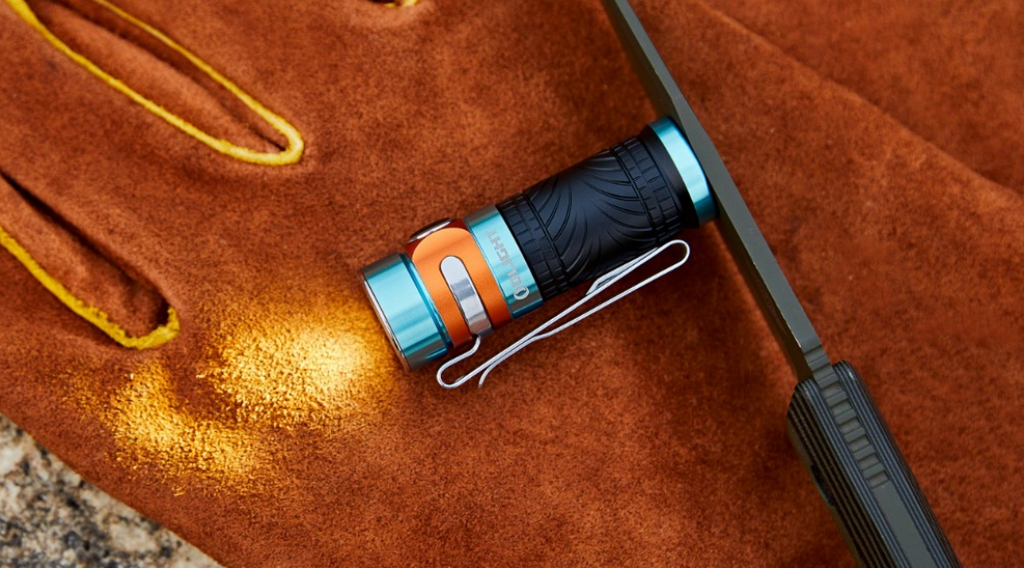 1200 Lumens Turbo Output, with 5 levels and strobe mode
A powerful 1200 lumens is useful for a quick burst in Turbo mode, but you also have 4 other levels too when you don't need as much power including a moonlight mode of 0.5 lumens which is useful for very close use, or when you don't want to disturb others.
Using a TIR optical lens for a blend range and spread, the Baton 3 Roadster is capable of reaching 166 metres in Turbo (1200 lumens) and a candela of 6889cd.
The custom 16340 Li-ion battery is charged via the MCC charging cable which attaches to the base via magnetic means, and is rated to 1A speed giving a quick charge. A battery charge indicator is also build into the side switches.
As the base is magnetic you can attach it to various metal objects giving you more choice over how you can use it. Particularly well suited for a garage or at work.
Quick UI with Lock-out and battery level indicator in switch
Olight's easy UI has won many fans over the years, and here it's still featuring the same simple one click On/Off, Push/Hold to cycle levels (with mode memory) and with shortcuts to Turbo, Moonlight and Strobe modes.
It also has a timer mode with a short (3 minutes) and long (9 minutes) setting, so the flashlight will auto turn off if required. You can of course use it without a timer mode too.
A lock-out is also here to prevent accidental operation. And the 4 stage battery indicator comes on when you turn the flashlight on. With Green/Orange/Red and Flashlight red modes letting you know how much is leff inside the cell.
HAIII type finishing on the body which is made from premium aluminum alloy materials, and a quality double clip is made from stainless steel as is the bezel.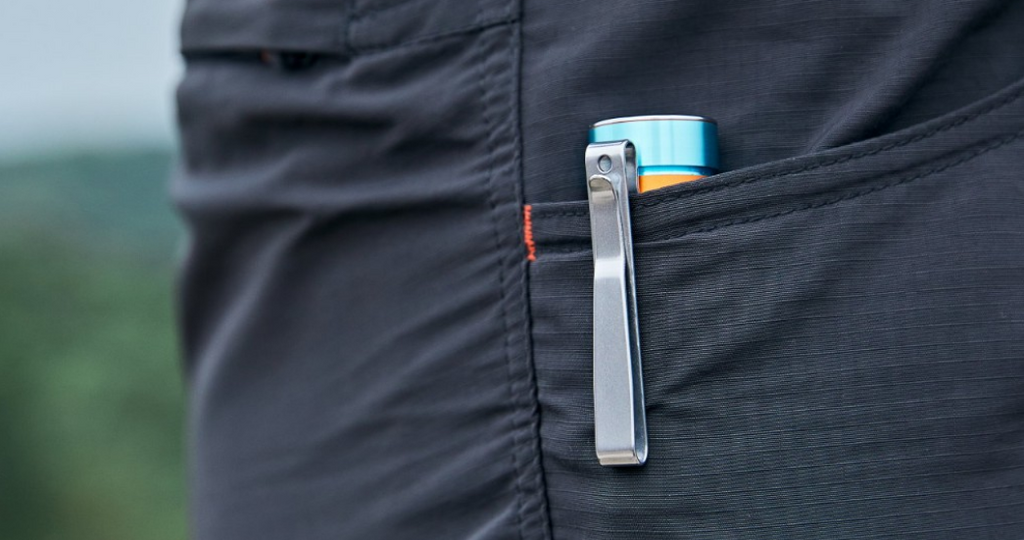 Olight Baton 3 Roadster Limited Edition Key Features
> Special Edition Dual Tone Blue/Orange body with anti slip black textured body
> Powerful 1200 lumens output with 4 lower levels including a moonlight mode and strobe
> Custom rechargeable 16340 Li-ion battery (550mAh)
> Tiny EDC size: 63mm x 21mm (length x diameter), and 53g
> Timer mode setting possible (short and long 3 or 9 minutes)
> Simple UI with shortcuts to Turbo, Strobe and Moonlight
> Dual clip stainless steel
> Magnetic charging cable/system (MCC)
> Range up to 166 metres (1200 lumens Turbo mode)
> Lock-out mode, magnetic base
> 4 Stage battery level indicator, with charge indicators
> Run time up to 20 days (moonlight 0.5 lumens)
> IPX8 water resistant and drop tested to 1.5 metres