Most combat situations occur in low-light conditions, such as dark areas such as warehouses, corridors or closed houses that lack lighting. At this time, law enforcement officers often need to rely on tactical lighting tools to help quickly identify targets and clear dangers.
Tactical lights
with built-in laser sights can assist in aiming and precise attack.
Olight officially launched
Odin GL Mini,
a lightweight long-tube tactical light designed for PICATINNY rail, taking into account both white light and green laser in LEDs.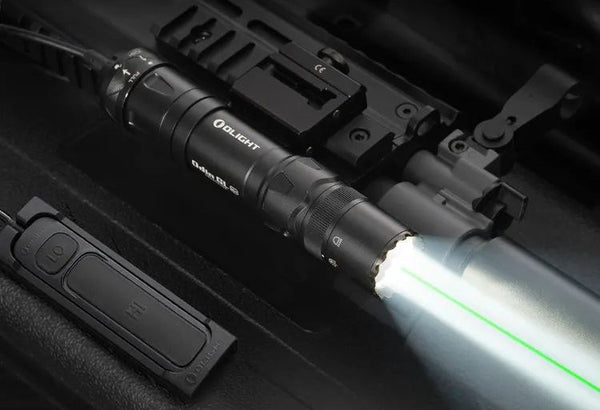 Lightweight design, short and compactTotal length 128 mm, weight 190 G
Compared with most long-tube tactical lights, the Odin GL Mini is more flexible and compact, with a length of 128 mm, a weight of only 190 grams (including batteries and track clips), and a lightweight design to reduce combat loads.
The fuselage is made of aircraft-grade aluminum alloy, which is durable and has strong impact resistance. It has 1.5-meter drop resistance and IPX4-level waterproof capability, and can cope with complex and severe combat environment without being affected.
Medium white LED + green laser, precision shooting1000 Lumens Medium White, 5mW Green Laser Blend
Odin GL Mini supports dual light source output, medium white light output up to 1000 lumens, range up to 180 meters, suitable for exploring the surrounding environment in the dark, home defense and so on.
With the support of 5mW green laser, it can achieve long-distance precise aiming in law enforcement and patrol of military and police forces. Green laser (< 5mW), up to Class 3A safety level, the beam emitted is clear and visible in the dark, with strong penetration.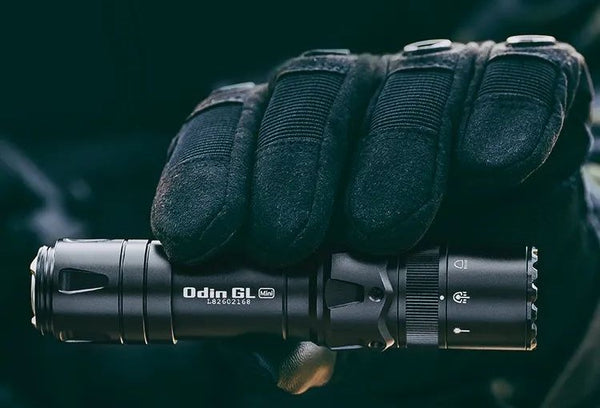 Specially designed for PICATINNY railStandard rail clip with lock, easy to install
The Odin GL Mini is specially designed for PICATINNY guide rail, equipped with PICATINNY rail clamp, mechanical lock slide rail can be assembled with one hand, fast and convenient installation, support instant locking, provide professional users with high-quality and reliable choice; When installing, tighten two screws to achieve effective fixation and reduce laser offset.
Note: The Odin GL Mini cannot be installed on the M-LOK rail. If it is installed on the M-LOK rail, the laser cannot be effectively calibrated.
The head rotates the ring to shift gears
Three light source output modes: white light, green laser, white light + green laser mode. We can quickly switch different modes by rotating the head ring, and the operation is simple and convenient.
Multi-functional tail key, flexible and fast
The tail metal mute switch integrates dual-gear tactical operation, magnetic charging and remote wire control, which improves the flexibility of use and has the function of preventing short circuit from touching by mistake.
Note: When the mode selection is Green Laser/White Light & Green Laser, the power of the green laser is < 5mW regardless of whether the power is started by pressing lightly or heavily.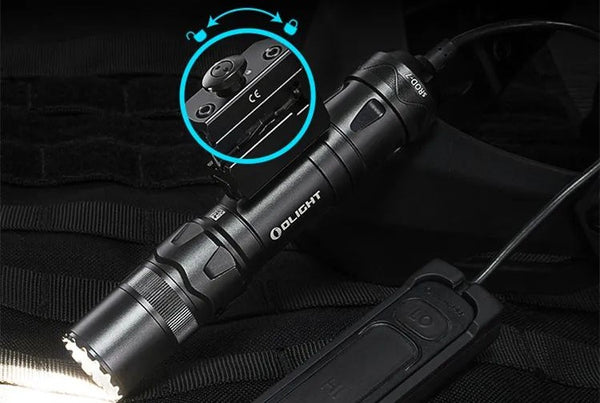 Double-gear magnetic attraction line control switch
GL Mini is equipped with a new generation of double-button ring-lock magnetic wire control switch, which can be connected as soon as it is touched, locked as soon as it is pushed, and installed in one second. The wire control switch can help the user to control the switch quickly and remotely. Two gears can be selected, which is simple and easy, and does not affect the rest of the weapon control.
LO key and HI key respectively refer to two levels of brightness of white light; When the mode selection is green laser/white light & green laser, the power of the green laser is < 5mW no matter the power is started by pressing the LO key or the HI key.
MCC3 magnetic fast charging
Odin GL Mini customized 2040mAh 18500 battery, MCC3 magnetic charging cable supports up to 1.5A charging current, which greatly improves charging efficiency and takes only about 3 hours to fully charge.
Compact and powerful, precise attack, Odin GL Mini this long tube tactical lamp specially designed for PICATINNY guide rail, more portable, fast, reliable, more professional, providing users with a better choice.