This new model from Olight has a number of attractive color options. A Red, Black and OD Green variation. (Black and OD Green have a Cool and Neutral White choice), the Red color is cool white only.
With a small size, the Seeker 4 Mini has an impressive output of up to 1200 lumens (Turbo), with 5 power levels in total, down to a Moonlight of 2 lumens, and a strobe mode. Run time is up to 12 days (2 lumens output).
A 760mW UV LED is also fitted which helps identify stains, marks/fluids, and is useful in a variety of situations. Giving users the convenience of having.
Olight are using an 18350 custom battery which is rated to 1100mAh, and is charged using Olight's magnetic charging system (this can charge the cell from flat to full in 1.5 hours).
The metal side switch features a 4 stage battery level indicator.A specially designed curved body is contoured to give a more ergonomic grip, and reduce the chance of slipping out of the hand. Olight are using their hard anodized aluminum body, with their trademark blue stainless steel bezel, with deep head grooves to improve heat dissipation. It is drop tested to 1.5 meters and is rated to IPX8 weather resistance, and can be used in all weather conditions.
Seeker 4 Mini is a tiny flashlight, with measurements of 87mm x 30mm x 24mm (3.43" x 1.18" x 0.94") length x head x body diameter. And is 112g (3.95oz) without the battery.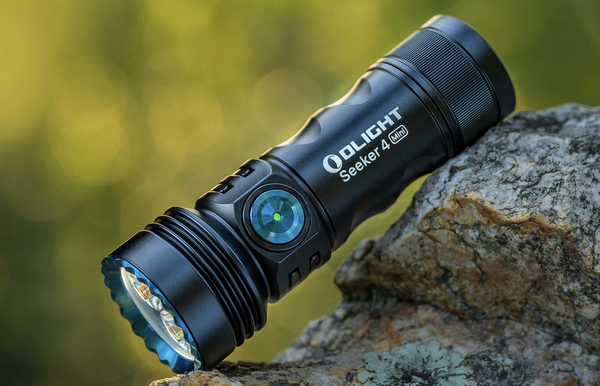 Powerful 1200 lumens main white beam, with additional UV LED
With two variations for the main LED a Cool White option (5700-6700K) and Neutral White one (4000-5000K), Olight are giving users a choice of which type of light tint works best for them. The Cool white has improved range, with the Neutral white offering more realistic color reproduction. It can reach up to 120 metres in range.
5 Power levels are available for the main LEDs (this model is using 2 with a newly designed reflector), output is from a moonlight mode of 2 lumens, up to the Turbo of 1200 lumens. Strobe is present (also 1200 lumens) at 13Hz frequency.
The UV LED is capable of running for 95 minutes, and has a power level of 760mW, with a wavelength of 365nm.
Charging is also fast thanks to the magnetic charge cable (MCC), this USB powered charging is simple and easy to use, with an indicator for charging (red), and completed (green). The custom 18350 cell is rated to a high capacity of 1100mAh.
Metal side switch with easy UI and battery level indication
A step up in quality from many compact flashlights, this one has a full metal switch giving a more premium feel. It also features the 3 colors of LED in the middle, giving a 4 stage battery level indicator (Green/Amber/Red/Flashing Red).
Olight use their very simple UI, which is well liked for it's ease of use. A single press turns the flashlight On/Off, with a Push/Hold cycling through the levels, quick access to Turbo/Strobe, and a lock out function.
A strong removable clip can attach to pockets/jackets and bags/backpacks. It's also double sided, which gives increased versatility.
High build quality is a well known, with type III hard anodized aluminum body, hardened lens glass with anti reflective coatings. With drop testing to 1.5 metre, and IPX8 water resistance, it is both water and dust resistant.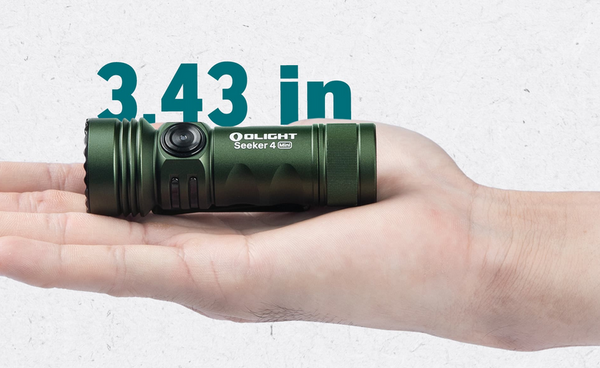 Olight Seeker 4 Mini Key features
> Choice of Cool or Neutral White LEDs with a power output up to 1200 lumens
> Range of up to 120 metres
> Available in 3 colors Red/Black/Green
> UV LED is also built into the main head
> Compact size 87mm x 30mm x 24mm (3.43" x 1.18" x 0.94") length x head x body diameter. And is 112g (3.95oz) without the battery
> Run time is up to 12 days (2 lumens output)
> High capacity rechargeable 18350 battery (1200mAh)
> Two way stainless steel clip
> Ergonomic Body Design
> Metal side switch with 4 stage battery indicator
> USB Magnetic Charging System (1A charging speed)
> Stainless Steel Bezel
> Hard anodized aluminum body, drop tested to 1.5 metres, and IPX8 water resistance rating