This upgraded version of the popular Warrior Mini series has some notable improvements including a larger and tougher metal side switch, and an increased beam distance, with a size reduction on the body.
Whilst the 1750 lumens remains the same as the version 2, Olight have increased the beam distance to 240 metres (up from 220), it still has the same metal tail switch with magnetic attachment, and the built in proximity sensor which will reduce output (in certain modes), if an object is too close.
It features 5 power levels including a moonlight mode, and a strobe mode for self defense.Run times are up to 100 days (moonlight 0.5lm)  giving long endurance with the custom 18650 battery (3500mAh).
It comes complete with an L stand and features Olights well known magnetic charging system (MCC3) using a USB cable you can quickly charge the flashlight just by attaching it to the tail cap area.
Using Olight's premium aluminum alloy body material it's extensive knurling pattern gives a secure and firm grip even when wet.
Rated to IPX8 water resistance it's extensive sealing means it can be submersed in water and is dust proof. Impact tested to 1.5 metres.
Even smaller in size compared to it's predecessor, it's very pocket friendly and perfect for an EDC carry at a mere 111mm length x 23mm diameter, with a weight of 122g (including battery).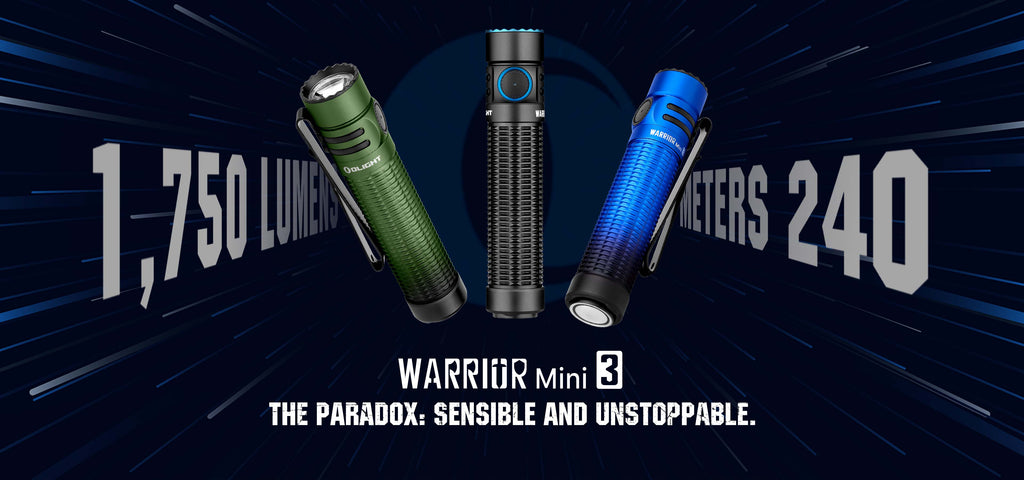 Powerful 1750 lumens beam with 5 levels and strobe mode
With a beam of 1750 lumens (range 240 metres) the Olight is more than powerful enough for compact flashlight, yet it has a wide range of levels, a High of 500 lumens, a Medium with 120 lumens, and two lower modes a standard Low of 15 lumens, and the Moonlight of 0.5 lumens.
Using a specially designed TIR optical lens this Warrior Mini 3 has a mixed beam with a well diffused hot spot and candela of 14,400cd, it's an ideal mix giving a respectable range yet a wide enough beam for closer up use.
Charing the custom 18650 battery is via the MCC3 magnetic charging system, this attaches to the flashlight base and is powered via USB. It only takes around 3.5 hours from flat to full using this system.
Upgraded metal size switch with simple UI
A larger side switch is easier to find by feel, and Olight's well known UI is here too with a push/hold for cycling the levels you also have shortcuts to Turbo, Strobe and Moonlight with a lock-out too.
Using the tail switch can be in 2 different modes a standard and strobe style one giving you instant access to the strobe or momentary.
The side switch also have charge/battery level indicators built into it (green, orange, red, flashing red) for 4 stages of battery indication.
A quality double clip is included and the main body is using the HAIII hardened coating on it to resist marks and damage, a stainless steel low profile bezel using the signature blue Olight colors. As it's rated to IPX8 it's water submersible and can be used even in difficult weather conditions.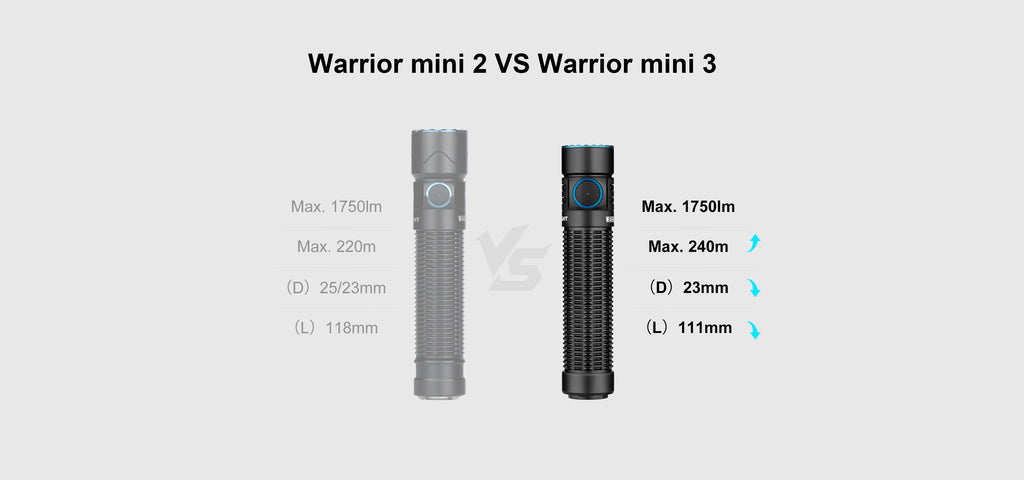 Olight Warrior Mini 3 Key Features
> 5 Power levels up to 1750 lumens output and 240 metres range, with strobe mode
> Smaller size: 111mm length x 23mm diameter, with a weight of 122g (including battery)
> Custom TIR optical lens for optimal beam profile 14,400cd,
> New upgraded larger metal side switch
> Fast magnetic charging cable MCC3, flat to full 3.5 hours
> Simple UI with choice of modes for tail switch with momentary/strobe modes
> Included L bracket for convenient storage
> Lock-out mode, magnetic base
> Stainless steel low profile crenulated bezel
> 4 Stage battery level indicator, with charge indicators
> Durable stainless steel double clip
> High capacity custom 18650 battery (3500mAh)
> IPX8 water resistance, Impact tested to 1.5 metres