The company is well known for their premium quality headlamps, now the Swift RL is a new addition to the range, and idea for users who require a compact and lightweight high quality headlamp.
Available in 3 different colors, Black, Orange and White.
The Swift RL can output up to an impressive 1100 lumens, and a range of 150 metres, with a run time of 5 hours (reactive mode standard level) or up to 100 hours at a lower 10 lumens output, enough to last for many activities. It also has a built in red LED which helps preserve night vision., and a strobe mode for emergency signalling.
Power is supplied via a rechargeable and removable Li-ion battery pack, rated to 2350mAh, it can supply power for long durations, yet with minimal weight. It's USB-C rechargeable for convenience with the port built into the main body.. Additional batteries can be purchased for back up power.
It can be tiled up or down giving you a choice of how to direct the beam. It can also be worn on a protective helmet, and the strap is a secure fit thanks to the split back design which also has reflective markings.
The Swift RL is a mere 100g in weight, and is made from durable high quality materials, with a weather resistance rating of IPX4.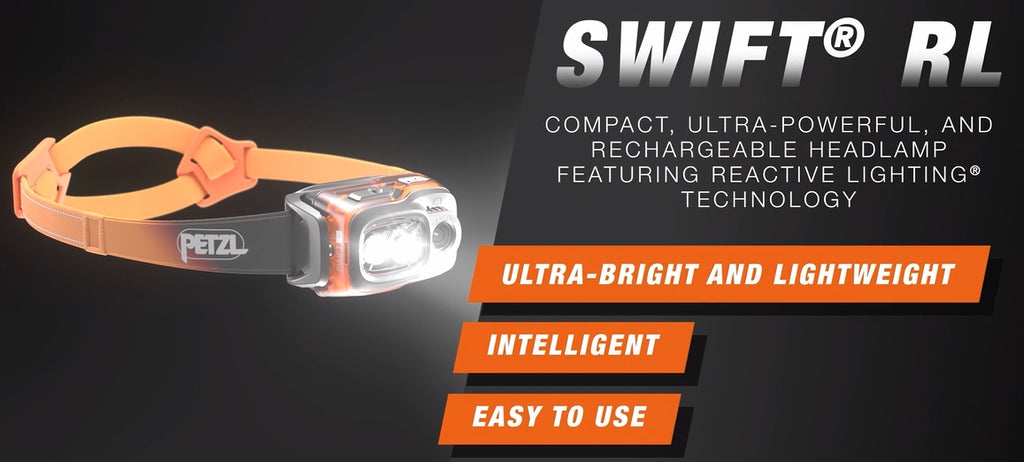 Up to 1100 lumens output, with a choice of Reactive & Standard modes
No doubt the Swift RL is a powerful headlamp, with it's impressive range of 150 metres and top level of 1100 lumens. A minium white light output is 10 lumens.
Many users will find the choice of 2 modes to be even more useful, with a Standard Lighting you can select preset levels, or using the built in sensor on the right hand side to automatically adjust the light output. Very useful in situations where you might have limited use of your hands or don't want to keep changing the output of the headlamp. It will ramp up or down the power as required, for shorter or longer distances. A red light can also be used for up close activities, which is rated to 3 lumens, or an emergency signalling strobe (runs up to 300 hours visible at 150m).
Around the light sensor is a 5 level gauge which shows the battery capacity remaining.
A quick and intuitive UI via the top single switch on the case, makes operation of the Petzl very user friendly.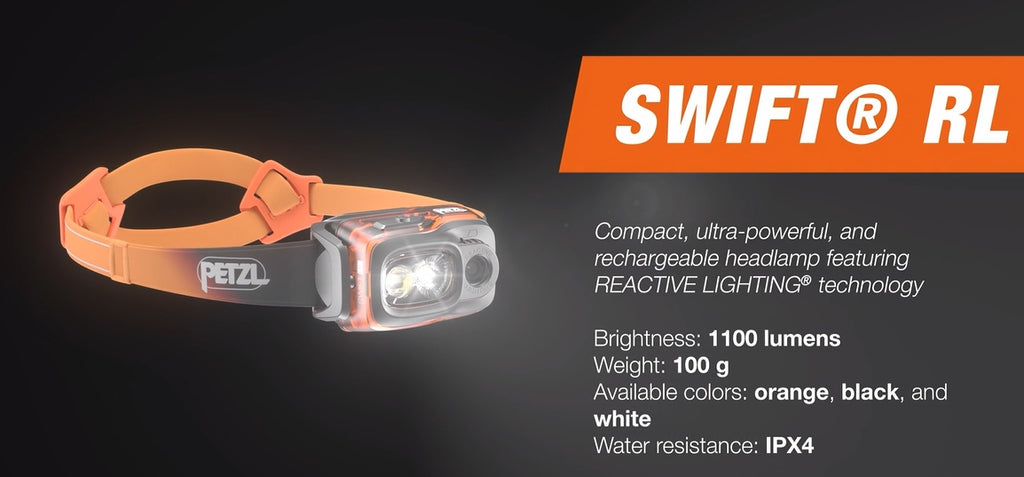 Petzl Swift RL Key Features:
> Powerful 1100 lumens output with a range of up to 150 metres
> Choice of 2 modes of operation, Standard and Reactive
> Red LED continuous and strobe modes
> Run times up to 100 hours (10lm output)
> Reactive mode automatically adjusts output based off of an intelligent light sensor (power ramps down for up close items/objects, and increases when clear line of sight is present)
> Mixed beam pattern for wide and long illumination
> Strong headband with back split for secure helmet fit, and with reflective markings
> Simple UI with single switch operation with lock-out functional
> Can be used as a lantern with the Shell LT pouch
> High capacity power pack 2350mAh, can be replaced/removed
> Type C charging port
> Lightweight but strong body design: Only 100g
> IPX4 weather resistance, for use in all weather conditions