This compact and powerful flashlight from Sofirn is high on power and convenience, yet is able to fit easily into a pocket or jacket.
Thanks to the high capacity 21700 rechargeable Li-ion battery (rated to 5000mAh), the SC33 can run for as long as 300 hours (moonlight 10 lumens) or 11.5 hours at 300 lumens (which is plenty of output/time to run all night). It has a range of up to 327 meters (Turbo 5200 lumens) and 6 power levels in total. Giving users a wide range of lighting outputs to suit their needs.
Another unusual design is the USB – C port integrated into the base/tail cap. It is controlled via an electronic tail switch, and features low voltage protection,  reverse polarity protection and automatic temperature regulation.
Sofirn are using a high quality AL6061-T6 aluminum alloy body, this is a durable material and resists marks and damage. They have also sealed the SC33 water/dust, with a rating of IP68, making the flashlight usable in all types of weather.
It's a small body, with a side of just 131mm x 32mm (length x diameter), and a weight of 110g (no battery), an ideal every day carry and with the higher capacity battery, users are not compromising on endurance.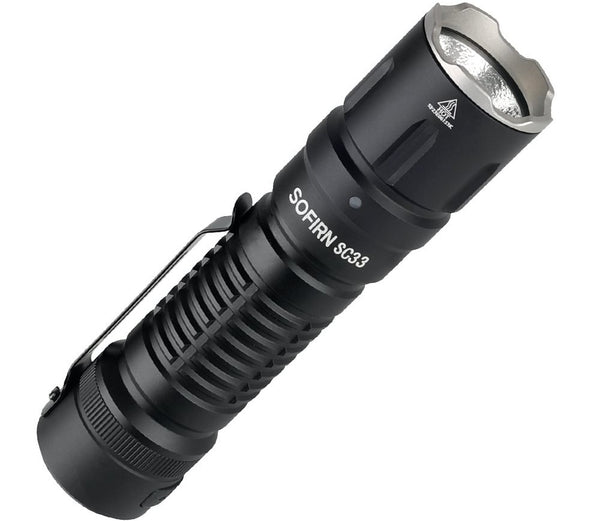 Up to 327 metres range with 6 power levels and a Turbo output of 5200 lumens
Using the popular Cree XHP70.3 HI LED, Sofirm can achieve the powerful output of 5200 lumens, and useful range of 327 metres in Turbo mode. Five more power levels area available, allowing you to balance output and run time. Using a textured orange peel reflector, the SC33 can provide an optimal balance of flood and hotspot to give a uniform and useful beam pattern at all power levels right down to the lower outputs of Eco and Moonlight (50lm and 10lm).
A mode memory is built into the flashlight (for Eco/Low/Med/High).USB -C charging is via the port near the tail of the SC33, this has a cover to prevent dirt/debris from entering. Speeds are quite fast too with a charge rate of up to 2A (at 5 Volts).
Easy UI with a single tail cap E switch
Sofirn know a simple  UI is important for any flashlight, especially an EDC one which tends to have only a single switch. Operation on the SC33 is logical and intuitive for users. With the memory for 5 power levels, and a lock-out function.
An integrated clip is included too and helps to secure fit the flashlight in pocket/jacket or attaching to a backpack.
They have also put a voltage LED warning light into the main body. This LED glows raed when the voltage has dropped to 3.2V, letting you know it is time to charge the battery.
A stainless steel bezel, and hardened aluminum alloy body, with IPX68 weather resistance rating should ensure long term use and endurance. This EDC flashlight should prove popular with Sofirn fans, or users who are looking for a powerful, yet compact and affordable flashlight to carry with them.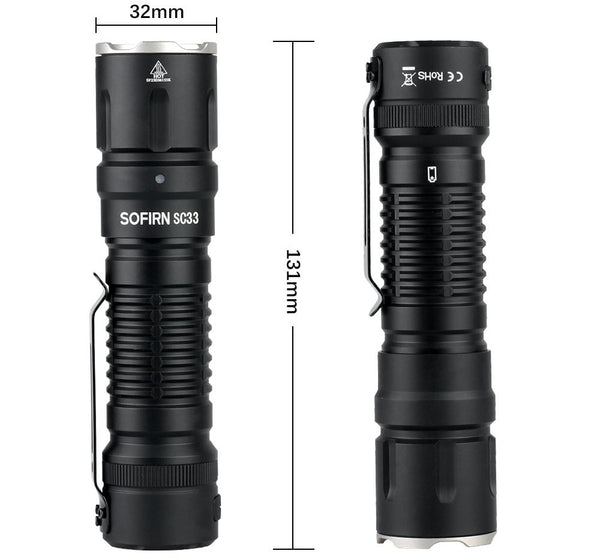 Sofirn SC33 Key Features
> Cree XHP70.3 HI LED with a Turbo output of 5200lm and a range of 327 metres
> 6 Power levels with a run time of 300 hours (moonlight 10 lumens) or 11.5 hours (300 lumens)
> Small EDC size: 131mm x 32mm (length x diameter), and a weight of 110g
> High capacity rechargeable 21700 Li-ion battery (5000mAh)
> Tail cap E switch with simple UI and lock out function
}> Low Battery Level warning LED
> USB – C Charging port with a fast 5V 2A speed
> Stainless steel bezel
> Toughened glass cover with anti reflective coatings
> AL6061-T6 aluminum alloy body, with a weather resistance rating of IP68