The new E20 from Speras has an impressive output and some useful design features, yet it is an ideal size for a pocket carry or EDC.
It's available in several color options, a standard Black, Red, Green/Black (gradient finish), and Titanium (with a stonewash matt effect).
A top level of 2000 lumens can reach as far as 322 metres, with four additional levels including an Eco mode which will last as long as 220 hours! (10 lumens output).
A unique tail switch has not only normal On/Off functionality, but it also incorporates a clever design where you can push the sides to change levels or hit the shortcuts such as Turbo mode.
Using a high capacity rechargeable Li-ion 21700 battery (5000mAh), this cell can be charged in the flashlight thanks to the built in USB C port. It can also be used as a power bank too for recharging phones and other devices.
It has IP68 water resistance, rated up to 2 metres submersion for 1 hours, and it is impact tested to 1.5 metres.
The E21 is also compatible with optional weapon flashlight mounts and a remote pressure switch.
Speras are using quality aluminum alloy body materials, which is using the aero grade 6061 with anodised hardening to increase wear resistance, and it has a crenulated stainless steel bezel.
This compact flashlight is just 128mm x 25.4mm x 25.4mm (length x head x body diameter), with a weight of 135g (including battery).

5 Power levels and a strobe with a long range of up to 322 metres
Using the popular Luminus SST40 LED, this gives an impressive 2000 lumens output, but also excellent efficiency for extened run times.
The 5 power levels range from the Turbo of 2000 lumens, 900 lumens, 350 lumens, with two lower modes of 100 lumens and 10 lumens in the Eco mode.. Strobe mode is also rated to 2000 lumens ideal for self defence or alerting people to an emergency.
Despite it's small size the E21 can reach a longer range distance of up to 322 metres, well above your typical EDC models throwing ability., with a candela of 26000cd. A tighter beam but also plenty of spread for use at closer distances.
Charging is done via USB C port, located on the side (charge time 3 hours). This features a charge level LED indicator and also a battery check shows up when the flashlight is turned on. This is in 4 stages from Green to Orange, Red and Flashing Red. A port cover protects the USB port when not being used.
Tail cap switch with side click UI and 2 modes
Unlike most flashlights the UI on this model is quite unusual, but also very intuitive for the end user. A large dimpled/textured tail switch, it's not just an On/Off mechanism (single full press), but features a side push on this switch, simply push to the side ur up and you can go straight to Turbo mode, change the brightness level, and modes, and activate a lock and unlock function.
Single handed operation and a welcome chance from most flashlights UI.
The E21 also has 2 modes of operation, to cycle the "Tactical" and "Outdoor" modes when the USB C cable in plugged in, simply tap the tail cap switch to the side 3 times. Flashing main LED indicates when the mode has been changed.
This interesting flashlight has much to offer users, and with it's clever UI, good range, and compact size, it's a solid choice for EDC users.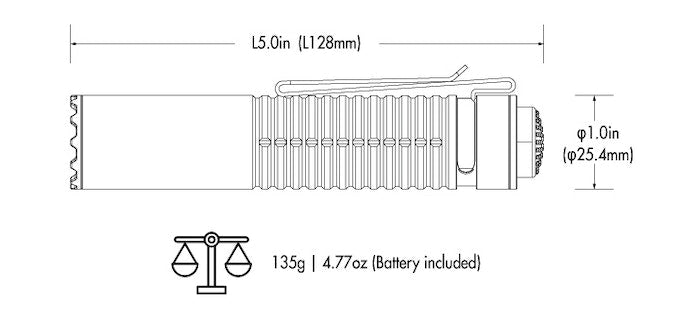 Speras E21 Key Features
> High performance 2000 lumens Turbo output with a range of use to 322 metres
> 5 power levels including a strobe mode, with mode memory, and lock-out
> Large textured tail switch with side push UI for intuitive single handed operation
> Choice of operational modes, "Tactical" and "Outdoor"
> Available in 3 colors and matt finish titanium
> Small size: 128mm x 25.4mm x 25.4mm (length x head x body diameter), weight of 135g (including cell)
> Battery level check (4 stages), and charge level indicator
> Fast charging Type C charging port (3 hours flat to full at up to 2A charging speed)
> Power bank functionality (with OTG adapter)
> Weapon mount/remote switch compatible (in some bundles)
> Up to 220 hours run time (Eco mode 10 lumens)
> Comes with high capacity rechargeable 21700 Li-ion battery (5000mAh)
> IP68 water resistant rated (2 meters submersion) and drop tested to 1.5 metres
> Toughened glass cover with black crenulated strike bezel (stainless steel)
> Durable anodised aluminum alloy body with stainless steel double clip