Here's your next portable camping mini
LED lantern light
, the SuperFire T58.Expertly engineered combining the vintage look of a classic petrol lighter, with the technology of today.
The T58 is suitable for many uses: creating a timeless and cozy atmosphere, providing illumination in a tent, DIY works or for blackouts.The multifunctional camping light offers you endless possibility of illumination, thanks to its built, it can be lifted, hung or rest on a flat surface; it also features several illumination mode that will surprise you.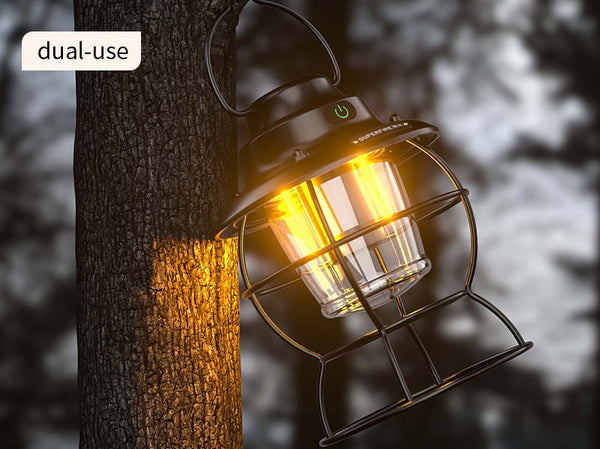 Thanks to the stepless dimming, you will always find the appropriate brightness level, wether you are working on your car or creating a relaxing atmosphere at a party or in your tent.It is so well made, with a timeless design, that will look beautiful even when it's off, resting on your table or on a shelf. The plastic construction flawlessly imitates metal, so you'll have the vintage look without the extra weight of the metal.
No need to stop to refill your vintage lantern with gas or oil, as the T58 is up to date with a USB-C port, that can charge a 18650 lithium ion battery in under 3.5 hours. No more having to carry around a dedicated cable just to charge your flashlight, the USB-C standard is more and more diffused everyday.Wether you use a USB-C cable to charge your phone, your tablet or your headphones, rest assured you are surrounded by USB-C cables and ports... And the T58 even comes with a free
USB-C charging cable
.
Thanks to the battery indicator integrated in the switch, you will always know what's the remaining charge of your battery: Green light (15-100%), red light (5-15%), yellow flashing (<5%).Unlike the vintage lanterns, the T58 is IP44 waterproof, allowing you to bring a romantic light even during rainy days.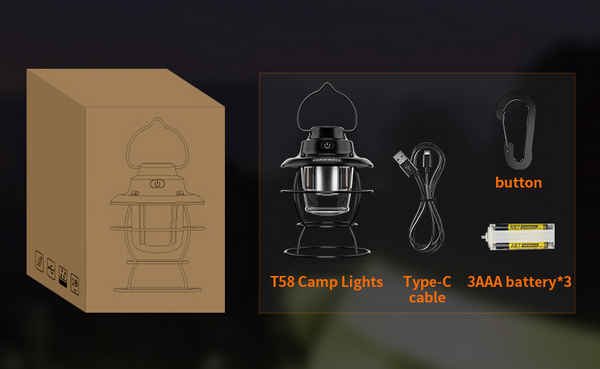 The T58 has a switch that allows you effortlessly to toggle between the 4 LED sources: tungsten filament warm light, SMD warm light, SMD white light and mixed light; illuminating easily 2 meters around you.
4 light modes are not enough for you? No problem, as with a double click the T58 will activate a 3 mode bright red light: constant on, flashing red, and SOS.All this features in a compact form factor, for a size of only 117x157 millimeters. The base of the light is larger, in order to provide more stability when standing, and it keeps the LED part of the light raised from the floor, so it's well protected from water, dust, dirt and mud.
Wether you are gonna use it to create atmospheric romantic light during a cold winter day, a rainy autumn evening, or to see better in your tent, the T58 will be your reliable companion.