Combining the supreme craftmanship and engeneering of Olight team, the I3T EOS is a unique combination of Carbon Fiber and aluminum; obtained by a process that requires so many phases: curing, baking, grinding and other steps, in order to deliver to you the unique and futuristic look of
the I3T EOS Carbon flashlight
. Carbon Fiber is such a beautiful material, but also features remarcable wear resistance proprieties, as well to corrosion resitance proprieties, yet light and great looking.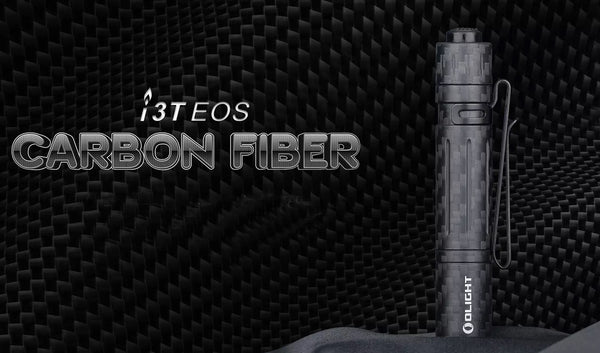 We could go on at lenght, telling you how great and unique the I3T Carbon looks, and how the pictures can't make justice of how it looks in person, but you'll have to try yourself.
So what else can we say about the I3T? It's the perfect size for a
EDC flashlight
, with a bright 180 lumens of max output, achieved by a single, readily available and unexpensive AAA battery. The I3T is compatible with all kinds of AAA batteries: Alkaline batteries, lithium non rechargeable batteries, nimh rechargeable batteries) to offer you the most freedom in your choice of electrons for your I3T EOS Carbon.
The beam is perfect for EDC uses, thanks to the TIR lenses applied on the Philips Luxeon TX CW LED emitter.Always have the output under control, thanks to the no nonsense user interface: the light always turns on at low mode, half press the switch on the back again to toggle between low and high mode, in loop. As an EDC, you'll love to not have any SOS or Strobe modes annoy you during your daily task.
With a max runtime of 16 hours, the I3T EOS will last months at normal EDC use, or even more than a night of continuous use: the perfect choice for EDC and emergency use. The I3T EOS Carbon is lightweight and compact, but tough enough to face your daily situations at your side, with a IPX8 waterproof rating.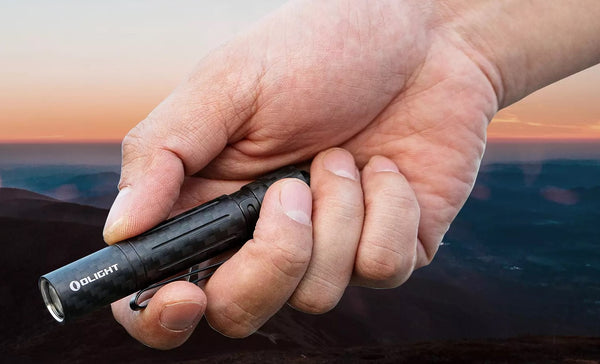 Already a conoisseur and fan of the Carbon fiber? Pair your I3T EOS with you other Carbon Fiber gadgets (cellphone case, knife, keychain, wallet) for a Carbon Fiber only EDC.New to the carbon fiber world? This is the chance to experience the toughness, sleekless, light weight and unique look on Olight's I3T EOS Carbon interpretation of Carbon Fiber on a flashlight.
Measuring just 89 mm in lenght, with a diameter of 15.5 mm and a weight of 41.5 grams (battery included!), the I3T Eos Carbon is so light and compact that you'll forget to have it on you, and remember only when you need to make light... or just want to admire how beautiful it is at the light of the day.