The
Sofirn SP35T
is an updated tactical version of the best seller SP35. The increased output of the SP35T now reaches an astonishing 3800 lumens, with 280 meters of throw! The beam is well balanced between close and further objects, thanks to the new improved output and the orange peel reflector; obtaining a spot of 26° and a spill of 82°. Everything in your way will be illuminated, both close and fare objects.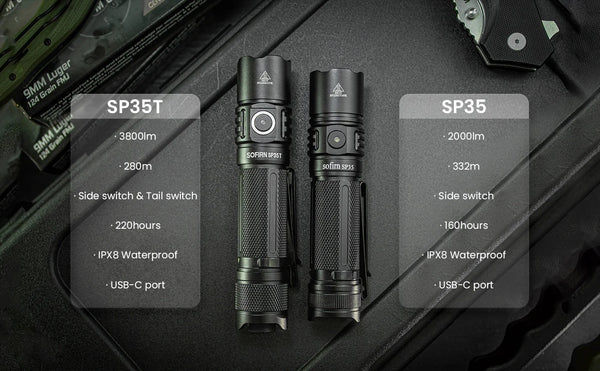 The perfect light for rapairing, dog walking, hiking, camping and especially tactical applications.
The Sofirn SP35T features a SFN43-3V Led, powered by a
21700
lithium ion rechargeable battery.
The Battery is rechargheable via the built in USB-C port on the head of the light.
Thanks to the large capacity and power of the 21700, not only the max output reches 3800 lumens, but also the SP35T is able to maintain the constant output of 500 lumens for almost 7 hours.
Now with the rapid charge of the USB-C, the 21700 lithium ion battery can be recharged in few hours (approximately 3 hours for a 4000mAh 21700).The maximum runtime with the SP35 was 160 hours, and has been significantly improved by 60 hours, reaching 220 hours with the Sofirn SP35T.
The SP35T is sturdy and waterproof with IPX8 standards, and the aluminum body is anodised to protect the material from oxidisation, so the SP35T can widstand falls from 1 meter.
The Sofirn SP35T is now suitable for tactical uses, thanks to the Tactcial Tail Switch that now accompanies the electronic switch positioned at the head of the light, allowing for easily access to the light.
The SP35T will remember the last used mode (Eco, low, medium and high levels only), so you will always have the output you used on the SP35 the last time; furthermore you have direct access to the eco and turbo levels, as well as the strobe mode.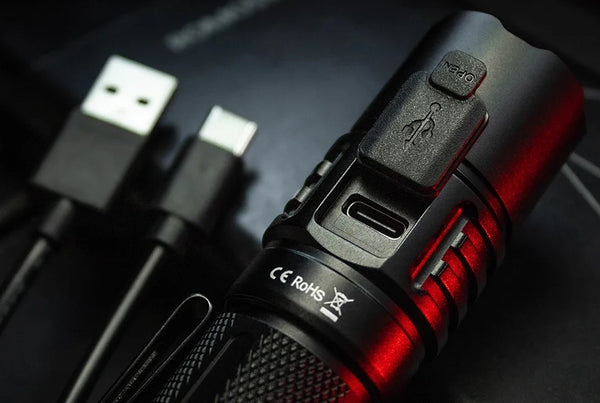 The crenelated bezel allows the light to illuminate even when the light il standing on its head, and can be used as a striking tool.
The deep two way pocket clip, with deep carry now available, allows you not only to easily bring the light with you at all times, but also can be used to clip the light to a baseball cap as an improvised headlamp, so all your light needs are filled by the SP35T.
Thanks to the 5 modes, spacing from 5 to scorching 3800 lumens, you can find the more appropriate output to your needs.No need to worry about the heat generated at high outputs, since the SP35T has an ATR, a system that regulates the output based on the temperature of the internal components.