Latest model from Wurkkos, is the TS30S Pro, and update of the TS30S. This offers a number of improvements over it's predecessor; longer range, a more powerful output and an improved body design, which has been developed to ensure a superior grip and better user comfort.
It is powered via a single 21700 Li-ion battery (with reverse polarity protection on the flashlight), and has a top output of 6000 lumens, with a range of 1086 metres.
Wurkkos have designed a new body for the TS30S Pro, with deep heatsinks to help dissipate the heat, and an enhanced grip. It can be used in all weather conditions, and is rated to IP68, and impact tested to 1 metre ensuring reliable operation.
The TS30S Pro is relatively small for it's high power output and range, a size of 157.2mm (length) x 61mm (head diameter), and a weight of 265g (no battery).
Running the Anduril 2.0 UI, this has a high degree of customization, or it can be set to a simple UI for ease of use. It also features a type C charging port, and has a power bank function.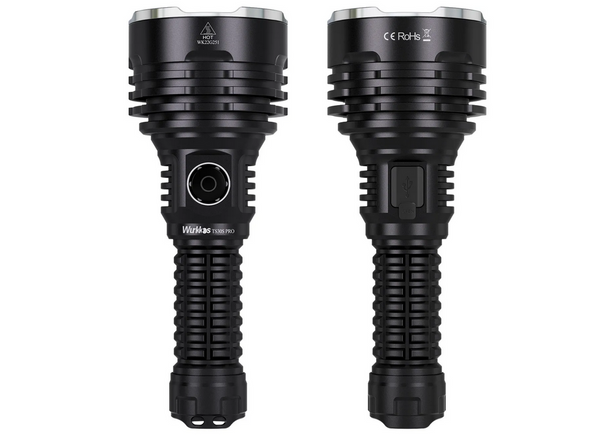 Powerful 6000 Lumens Output, with a Range of 1086 metres
Wurkkos are using an SBT90.2 LED (with a color temperature of 5700K),This allows a powerful beam up to an impressive 1086 metres at the top level of 6000 lumens, with a candela of 295,000. Using the stepped modes the output can range from H1 (1 lumen), to H8 for Turbo. This gives a very wide spread of power levels, so you can adjust the intensity as required. Even at the High level (1700lm), the TS30S Pro can reach as far as 617 metres range. An automatic step down from Turbo to High prevents overheating, thanks to the ATR (advanced temperature regulation)
Power is supplied via a 21700 battery, which is charged in the flashlight via a Type C connector. Charging speed is fast at up to 5V 3A, and it also features a build in power bank function, useful for charging a phone of other devices.
Single Side Switch With Anduril 2.0 UI
A large well places side switch provide perfect placement for easy operation of the flashlight. Wurkkos have also use the open source Anduril 2.0 UI; this has some advanced features including ramping modes, lock out functions, thermal regulation and many more custom functions, importantly to note though is that it can also be set for a simple UI for an easy user experience too.
The TS30S Pro has a quality finish and build. Featuring the Aerospace grade heat treated 6061 aluminum alloy, for a rugged resistance to marks. It is also tested to IP68 to resist dust and water submersion – and features a stainless steel bezel. Deep grooves on the head and body act as heatsinks to help remove heat from the flashlight.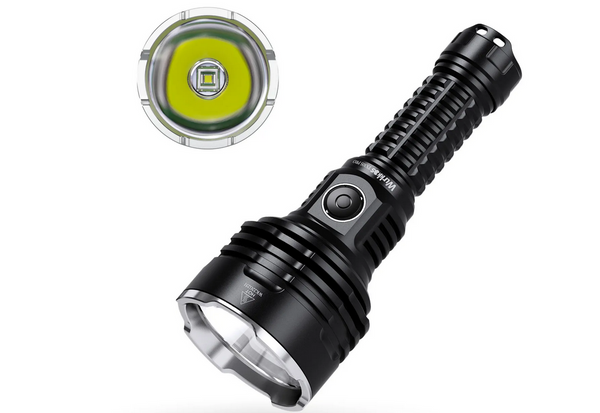 Wurkkos TS30S Key Features
> 6000 lumens output (Turbo) with a maximum range of 1086 metres and a candela of 295,000cd
> LED: SBT90.2 ,(5700K)
> Anduril 2.0 UI: Deep customization and functions, with simple and intuitive UI available too
> Size: 157.2mm (length) x 61mm (head diameter), and a weight of 265g (no battery)
> Deep head heat sink design for better heat dissipation
> Up to 40 days run time (moonlight mode – 1 lumen)
> Fast Type C charging (5V 3A), with additional power bank function built in
> High capacity 21700 battery
> ATR Temperature Regulation for safe thermal control of the flashlight
> Reverse polarity protection
> Stainless Steel Strike Bezel
> High Quality Type 6061 Aluminum alloy body – drop tested to 1 metre with IPX68 weather resistance