Featuring a small body at just under 90mm length, the new TS11S from Wurkkos is a powerful and affordable "pocket thrower".
Using a rechargeable Li-ion 18350 battery it features a built in type C charging port which can quickly charge the battery at 5v 1A speeds. Run times are up to 275 hours (moon 1 lumen mode).
Power levels range from moonlight (1 lumen) up to turbo (2000 lumens), with 3 special modes featuring Strobe, SOS and Beacon.
At the top 2000 lumens Turbo the TS11S has a very good range of 529 metres, for such a small flashlight the Wurkkos packs quite a punch.
Users also have a choice of stepped or ramping modes giving them even more flexibility on the output.
Despite it's small size the TS11S is a well made flashlight, using premium grade materials the body is constructed from Aerospace quality aluminum alloy (6061), and features water and dust resistance of IP68, you can use this in difficult weather conditions without concern. Drop tested to 1 metre.
With a size of 89.5mm x 40mm (length x head diameter), it's small enough to slip into any bag/backpack or pocket, and it won't weigh you down as it is only 90g (without battery).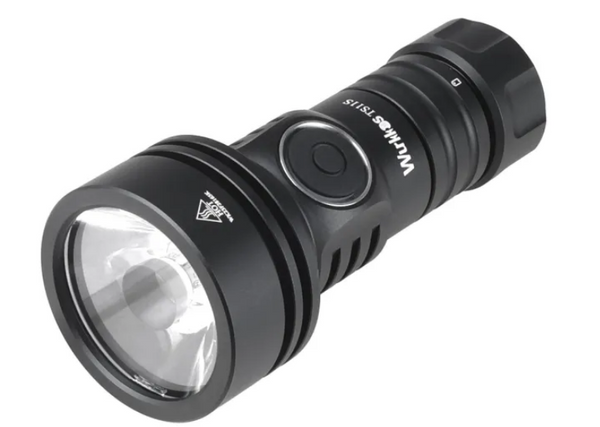 Powerful 529 metres range beam
In the stepped mode there are 5 well spaced power levels ranging from 1 lumen in the moon mode, 10 and 300 lumens in the Low and Mid. High level is 900 lumens with the top Turbo at 2000 lumens.
Candela is 70025 in Turbo mode (2000 lumens), and this tigher hotspot gives the Wurkkos it's 529 metre range, using the cool white (6000-6500K) SFT40 LED.
The 18350 battery has a good capacity of 1100mAh, and is charged in the flashlight with the type C charging port (5v 1A speed).
Thermal management is controlled by advanced temperature regulation, provide safe and reliable run times, and it also have electronic reverse polarity protection built in.
The 3 strobe modes are ideal for emergency use or for alerting others to a hazard. Strobe and Beacon run at 2000 lumens, with SOS rated to 300 lumens output.
Easy UI with a choice of Ramping or Stepped power levels
In stepped mode users have a choice of 5 pre configured power levels, this makes it quick and easy to jump through the modes.
However there are times when more control can be desired, and for this the ramping UI mode is ideal. It lets users pick a level between the highest 2000 lumens and lowest 1 lumen output. And has a mode memory so you can instantly go back to that level, or use shortcuts to get to the Turbo/Strobe modes. The large side switch is very easy to find even wearing gloves.
Despite the affordable price, Wurkkos have kept the build quality to a high level with IP68 water resistance, and anodised aluminum alloy body for strength. This model is a great option for those looking for a very compact, yet powerful longer range flashlight, and is ideal for EDC carry or camping.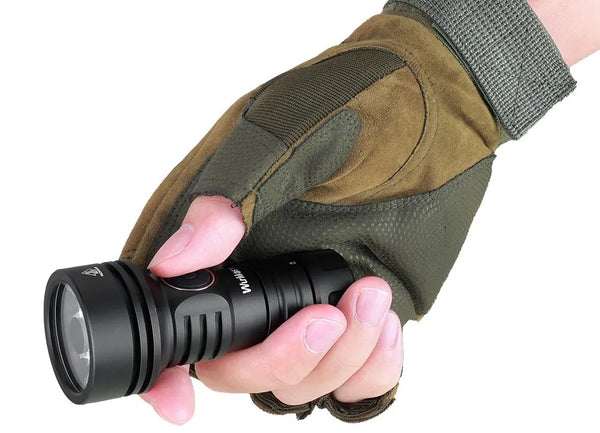 Wurkkos TS11S Key Features
> SFT40 LED with 2000 lumens output in Turbo mode
> Cool white emitter for maximum range (6000-6500K)
> Long range up to 529 metres, with a candela of 70025cd (in Turbo mode)
> 3 Special modes: Strobe, SOS, Beacon
> Choice of Stepped (5 levels) or Ramping modes
> Moonlight mode (1 lumen)
> Compact size: 89.5mm x 40mm (length x head), weight 90g (no battery)
> Large side switch with memory and lock-out function
> High capacity rechargeable 18350 battery (1100mAh)
> Run time up to 275 hours (1 lumen output)
> USB C charging port
> Advanced thermal management with reverse polarity protection
> Aero grade 6061 aluminum alloy body
> IP68 weather resistant, drop tested to 1 metre