The WK05 offers users the option of 2 power sources, it's powered via 2 x 14500 cells or 2 x AA (1.5V). With an impressive output up to 900 lumens in Turbo mode (14500) or 350 lumens (AA).
Fortunately there are 4 more levels which offer power levels which are more appropriate for up close activities. Right down to an ultra low of 1 lumen. Run times are up to 133 hours or 140 hours (14500 and 1.5V AA).
Nichia are supplying the LED which has a high CRI and a natural tint of 5000K (similar to sunlight), and the orange peel reflector gives a smooth even beam profile.
Body has a removable clip which is useful for attaching to a bag or pocket. And Wurkkos is using high quality aluminum alloy materials for the body, Aero grade 6061 with a hard anodized later to protect it from damage and marks. It's a comfortable flashlight to hold thanks to the styling and design.
The WK05 is rated to IP68 for dust and water resistance, up to 2 metres underwater and it has been drop tested to 1 metre.
It's a nice compact size with a modest weight of just 70g (without batteries).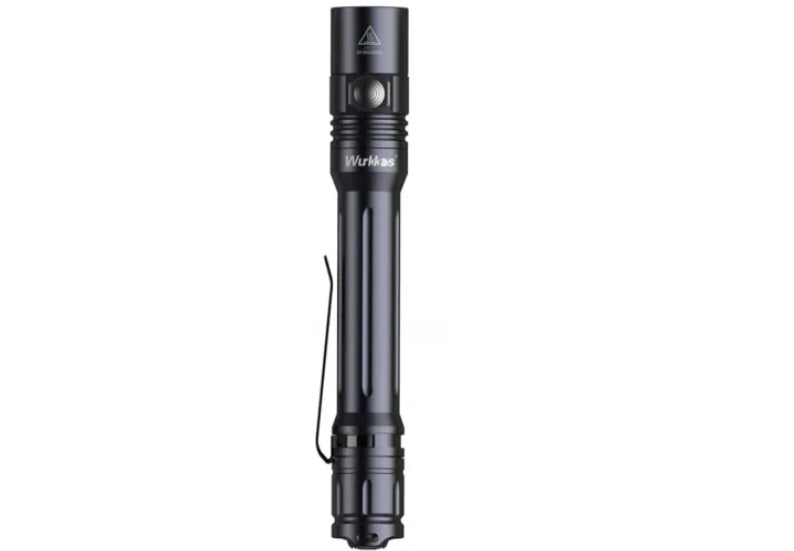 Dual power source with 5 power levels and 3 special strobe modes
It's great for the end user to be able to pick the power source they need. 14500 gives the highest output and a lightweight cell. But the commonly used AA batteries (Ni-MH or Alkaline) give you a very easy to find source of power.
Highest level of 900 lumens (14500) can reach up to 141 metres range, with a top level of 350 lumens for AA cells (range of 88 metres). 4 more power levels and the 3 strobe modes a normal Strobe or SOS/Beacon.
Beam has an excellent profile with a mix of spot and flood, 16 degrees hot spot and 70 degrees flood. Useful for medium distances and closer up too.
A dual switch UI makes operation simple, On/Off tailcap switch, with the side switch for power and mode selection.
Wurkkos WK05: Key Features
> Up to 900 Lumens power with a range of 141 metres (14500 battery)
> Choice of 2x 14500 Li-ion rechargeable battery or normal AA's (Ni-MH, or Alkaline)
> Nichia 5000K LED with a textured reflector for a mixed beam pattern
> 5 Power levels, including an ultra low Eco (1 lumen) with 3 strobe modes: Strobe, SOS, Beacon
> Dual switches (tail and side switch)
> Mode memory and reverse polarity protection
> Lightweight: 70g (no batteries)
> IP68 weather resistance with water submersible 2 metres. Impact tested to 1 metre
> Tempered glass cover with anti reflective coating
> Aluminum alloy body with hard HAIII coating, removable stainless steel clip