Another addition to the SC range from Zebralight, this new model has some notable improvements which result in an improved bean and tint. It also features a smaller size (0.5mm shorter), and newer more efficient driver.
The SC65c has a Nichia 719A (domeless) LED, with a high CRI output of 90+, for a more accurate reproduction of colors, and combined with the warmer tint (rated to 4000K); some users might find this more suitable and pleasant to use over extended periods of time.
Power is via one 18650 battery (unprotected), and the flashlight has voltage and battery level checks built in to quickly see how much power is left in the cell.
Zebralight also have their popular and well liked, "sub levels", giving you a choice of output which is more extensive than many makers and gives increased flexibility over the 3 main ones.
The company is using heat treated aluminum material made from premium stocks, they are also given a HA III anodized finish to help prevent marks and increase longevity. IPX8 rated (up to 2 meters submersion), for 30 minutes ensures reliable running even in harsh weather conditions.
An ideal EDC compact size of just 92mm x 24.5mm (length x diameter) with a weight of just 38g without battery.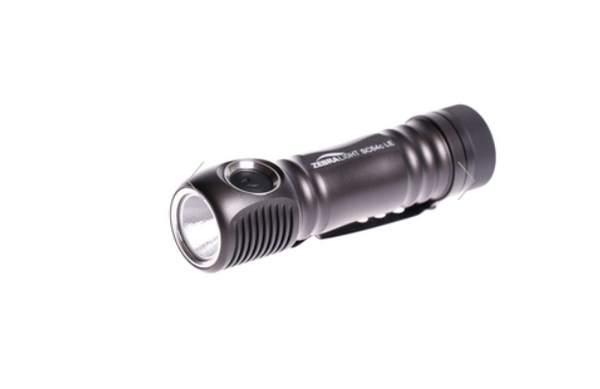 Improved beam profile with a Nicchia 719A LED with custom UI
Zebralight are using a new design for the beam profile, this includes a textured orange peel reflector, a flat domeless Nichia 719A LED, and a high CRI 90+ output.
The result is an improved beam gives a combination beam pattern, mixing range and spread. Which has a wide spill of 80 degrees, and a hot spot of 8 degrees.
Coupled with the comprehensive UI which gives users the choice of simple or advanced customisation, including a selection of sub levels and groups in addition to the 3 main outputs. This model also has the recessed soft touch switch for reliable operation.
Beacon and strobe modes are also present.
With low voltage protection (2.7V), reverse polarity protection, and sophisticated temperature regulation to ensure stable and safe operation. A special heat sink bonding design also helps with heat dissipation.
The IPX8 rating for water submersion (30 minutes 2 metres) ensures robust operation, a high quality tempered glass cover protecting the LED and reflector, which also features anti reflective coatings.
Zebralight SC65c HI Key Features
> De-domed Nichia 719A LED, with textured orange peel reflector for a superior mixed beam pattern
> High CRI output of 90+ with a color temperature of 4000K, ensures better color reproduction
> Compact EDC carry size: 92mm x 24.5mm (length x diameter) weight 38g without battery
> Advanced or Simple UI: Use either a basic UI or program the flashlight with custom sub levels and outputs. With reset option to default to factory settings
> Sealed/Potted LED Driver
> Powered via a single unprotected 18650 Li-ion battery (not supplied)
> Soft touch recessed electronic switch switch
> Battery capacity and voltage check
> Minimal parasitic drain
> Beacon & Strobe modes
> Advanced temperature regulation prevents overheating, reverse polarity protection, low voltage cut off for optimal battery safety.
> High grade aluminum alloy HAIII hardened for high durability
> Tempered lens cover with multi layer anti reflective coatings
> IPX8 rated for 2 meters submersion (for up to 30 minutes)