If you are a tasteful
EDC Flashlight
enthusiast, now you must be looking for some distinctive personal equipment, which not only has excellent performance, but also can highlight the user's high-level aesthetic in appearance and material, in addition to titanium alloy, carbon fiber and other high-end materials. Copper materials can be quickly distinguished from the black coating or steel natural color equipment commonly sold on the market. The golden yellow or red luster of copper will make your equipment have unique charm, and with the growth of time, the surface of copper products will produce oxide layer and wrapped slurry. This unique metal characteristic will also add elegance to your equipment. The patina and wear and tear on the equipment will also be added. It also shows the fetters and growth of the users in these years, and records the traces left by the years in the user's body and mind.
Today, we will introduce 10 kinds of small portable flashlights made of copper, hoping to help you choose to buy equipment.
1. Olight S2RII
The Olight S2RII flashlight uses a magnetic USB charging cable for charging, is IPX8 waterproof, uses a 18650 lithium battery, has a maximum brightness of 1150 lumens, weighs 98.4 grams, and is 9.906 cm long.
The Olight S2RII is probably one of the best compact EDC flashlights available. It's small, lightweight, and bright. What's more, it uses a magnetic USB charging cable to charge the flashlight. Users don't even need to take the flashlight apart and take out the battery. They just need to attach the round magnetic charging interface to the tail of the flashlight to charge it.
Olight
also released this model of copper limited edition flashlight, with TIR lamp head, the maximum direct distance can reach 135 meters, less than 10 cm in length, can be easily put in the pocket.
2. RovyVon Aurora A9
Rovy Von's key chain flashlight
can use two kinds of lamp holders, and the maximum brightness is also different, 650 lumens (XP-G3), 450 lumens (Nichia). The flashlight has an integrated 260 mAh lithium battery, weighing 68 grams and 5.74 cm in length. With flash mode, moonlight mode of 2 lumens, the maximum working time is 30 hours.
This should be what you're looking for, a small, lightweight, high-brightness copper keychain flashlight that can use the CREE XP-G3 LED light head with a maximum brightness of 650 lumens, or the Nichia 219C LED light head with a maximum brightness of 450 lumens if you want to choose a high-color light output. The tail of the flashlight also reserves the installation slot of the luminous tritium tube, which can install different colors of luminous tritium tubes. I know this is very attractive to some EDC enthusiasts.
3. Foursevens Preon P2 MKIII
IPX8 waterproof, high color rendering CRI Nichia 219C 5000 K LED head, maximum brightness 210 lumens, 2 NiMH No.7 batteries, weight 90.7 G, length 12.95 cm.
If you want to choose a flashlight for close lighting and observation, such as in the medical environment, the output of the flashlight should be highly colored to restore the original color of things to the greatest extent. The P2 MKIII uses an led lamp holder with a high color rendering value of 92 +. The slender pen-shaped barrel is made of pure copper, which is very suitable for medical worker. It is powered by two AAA batteries, which are convenient to buy. You can also choose a rechargeable No.7 battery, which can last for up to 1 hour.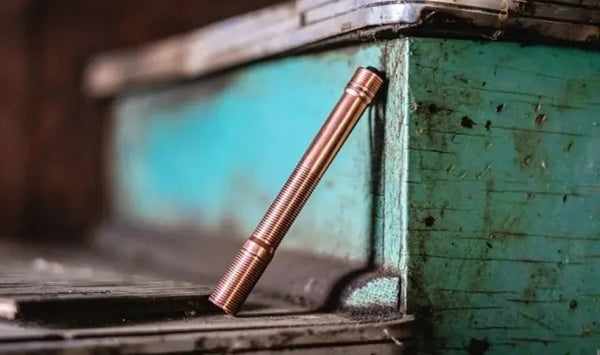 4. Nitecore TINI Copper
Nitecore TINI key ring flashlight, IP54 waterproof, maximum brightness 380 lumens, built-in integrated 280 mAh rechargeable lithium battery, weight 13.3 grams, length 4.3cm.
TINI was originally the kind of very low-key style of
keychain small flashlight
, after the material was replaced by pure copper, the style was also changed. The length is only 4.3cm, which can be easily hung on the key ring, but the built-in large-capacity rechargeable lithium battery. The FREE XP-G3 LED emits up to 380 lumens and can last for more than 60 hours if used at low brightness.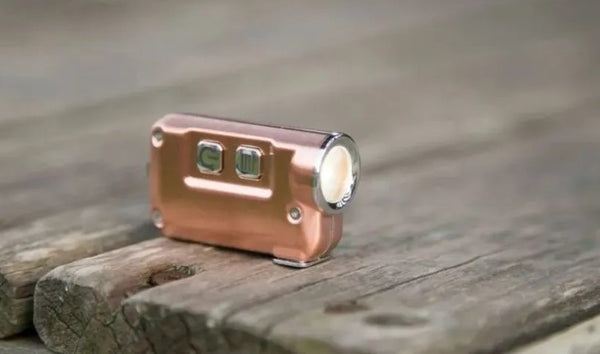 5. 
Prometheus Beta QR V2
The flashlight uses a CRI Nichia 219C 4000K LED with high color rendering. The flashlight is turned on when tightened and turned off when loosened. The maximum brightness is 90 lumens. It is powered by a No.7 battery. It weighs 56.7 grams and is 7.5cm long.
Prometheus's "Caterpillar" flashlight has a high degree of convenience, which can be hung on the key ring for emergency lighting, or removed as the main lighting tool to use alone. At the end of the copper shell, there is a unique quick-release mechanism, which can connect the flashlight to the key ring, or quickly remove it in a very short time. The LED module with high color rendering is used, and the color reproduction degree is very high.
The imitation "Caterpillar" flashlight has made some improvements on the basis of the original product, with changes in size and weight, more kinds of materials and colors, and more connection methods or accessories, which is very suitable for personalized modification of EDC.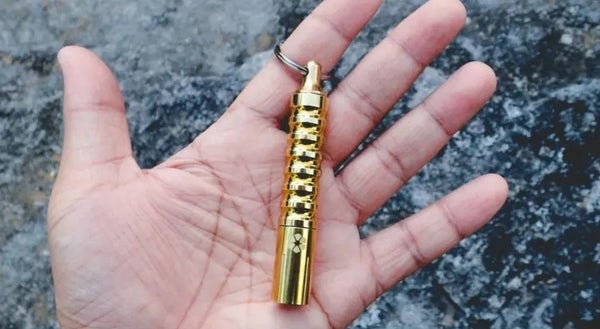 6. Reylight LAN V3
This flashlight has a brightness memory function. The tail switch adjusts the brightness. The maximum brightness is 470 lumens. It is powered by a 14500 lithium battery or a No.5 battery. It weighs 104.9 grams and is 9.65 cm long.
As a famous brand of EDC lighting equipment, Reylight has made EDC flashlights into works of art, which are small in size, but slightly heavier because they are made of pure copper. Two kinds of LED lamp beads can be used, which are powered by No.5 and 14500 lithium batteries. When using the XPL version of LED, the flashlight emits warm white light. When using No.5 batteries, the maximum brightness is 220 lumens, and when using 14500 lithium batteries, the maximum brightness is 800 lumens.
The flashlight emits a warm yellow light when using the Japanese and Asian version of LEDs, with a maximum brightness of 130 lumens when using a No.5 battery and 470 lumens when using a 14500 lithium battery. A mounting groove for mounting the luminous tritium tube is reserved at the lamp holder and the tail of the cylinder body.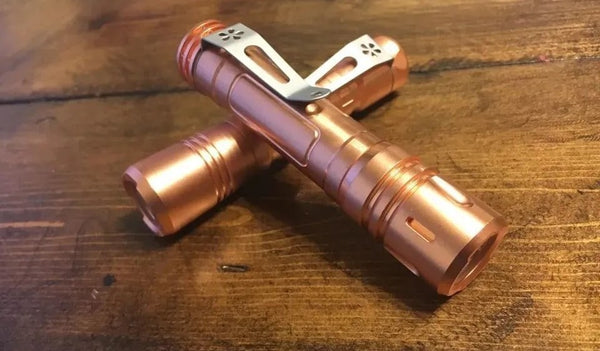 7. MecArmy X35
The flashlight can be charged using the Micro-USB charging port, with an LED life of up to 50000 hours, a maximum brightness of 130 lumens, a built-in 10180 rechargeable lithium battery, a weight of 17.9 grams, and a length of 4.65 cm.
You can call this flashlight COOYOO "Quantum Series" mini LED flashlight, which can basically meet all your requirements for this kind of mini flashlight, pure copper shell, USB direct charging port, extremely light weight, extremely small appearance size, but it has two levels of brightness adjustment, up to 130 lumens of brightness output, the longest illumination distance is more than 50 meters.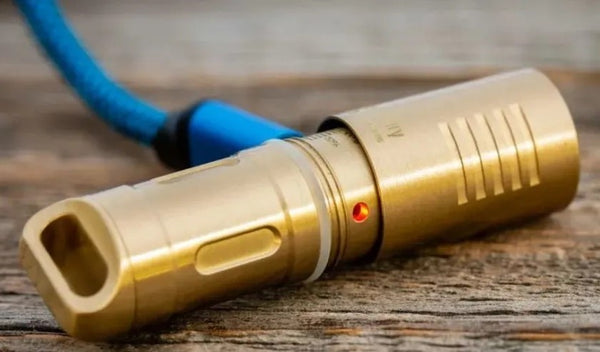 8. Maratac Copper AAA Flashlight REV6
The flashlight uses an orange peel reflective bowl with a clear spot image. It has an alloy copper body with a maximum brightness of 180 lumens. It is powered by a No.7 battery. It weighs 27 grams and is 6.6 cm long.
Many flashlights can use either high-capacity lithium batteries or ordinary alkaline batteries. In most cases, in order to obtain better lighting effect and continuous working time, it is recommended to use lithium batteries for flashlights. Alkaline batteries are only used in emergencies. However, this flashlight is designed for alkaline batteries, which makes it suitable for use as a backup flashlight or emergency flashlight. The battery is convenient and easy to obtain. Despite the lower voltage output design, the maximum brightness can still reach 180 lumens. The copper barrel is more attractive.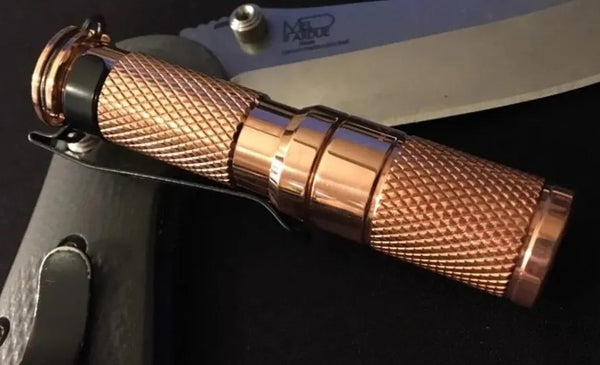 9. AceBearn TK18
This flashlight uses three Samsung LH351 LED lamp holders. The copper cylinder body is processed with anti-skid knurling. The maximum brightness reaches 3000 lumens. The weight is 125 grams and the length is 10.5cm.
If you are looking for a high-brightness flashlight made of pure copper, the TK18 is worth paying attention to. The flashlight is powered by a 18650 lithium battery. Three LH351 led lamp holders can output up to 3000 lumens of brightness. Of course, two CR123A lithium batteries can also be used to power the flashlight. The tail switch is used to select the operation and mode of the flashlight.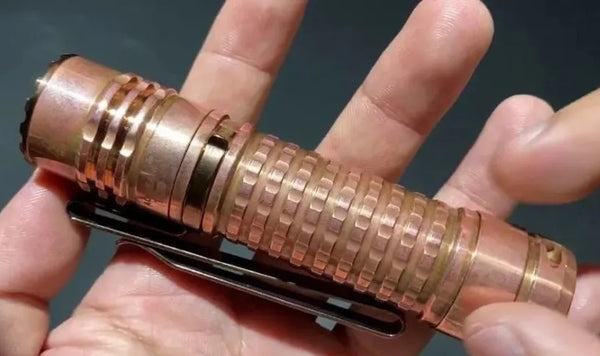 10. DROP AAA Copper Flashlight
The flashlight uses CRI 219C LED with high color rendering, all-copper barrel, titanium alloy tail switch, maximum brightness of 110 lumens, powered by a No.7 battery, weight of 43 grams, length of 7.37 cm.
This is a small all-copper EDC flashlight designed for flashlight enthusiasts. When designing this flashlight, the opinions of all kinds of equipment enthusiasts and users are fully taken into account. There are three brightness modes, from the lowest moonlight brightness, medium brightness to the highest brightness of 110 lumens. The titanium alloy switch on the tail can be used to switch the flashlight and adjust the brightness mode. Every function and every small position of the flashlight has been carefully designed, which is very suitable for EDC to use.