Acebeam is a global leader in producing flashlights with outstanding lumen and beam range. And the Defender P16 being the first Tail-dual Switch Flashlight from Acebeam, isn't anything less. It features dual tail switches and can deliver a maximum output of 1,800 lumens. On a full charge, the flashlight can operate continuously for up to 22 hours, making it suitable for extended emergencies. The Defender P16 runs on a 18650 Li-ion battery, but what puts it ahead of the pack is the compatibility with two CR123A batteries, which gives the user an optional power supply.
Being water and impact-resistant, the P16 is suitable for emergency responses in any environment. It best serves during assault operations, patrols, self-defense, and maintenance checks. 

Dual tail switches 
The Defender P16 features two tactical switches on the tail. The intuitive and tactical dual switches are more valuable than the traditional side switches. Being on the tail, the user can efficiently operate the flashlight, especially in emergencies, with one hand without any readjustments. Single-handed functionality in emergencies means the user can attend to other chores using the other hand and save a lot that wouldn't be possible if both hands were on the flashlight. 
Up to 1,800 lumens
Capable of reaching 1,800 lumens in turbo mode, the Defender P16 is ideal for all kinds of tactical operations and can serve all daily flashlight needs. And in full charge, it runs continuously for 22 hours without going off.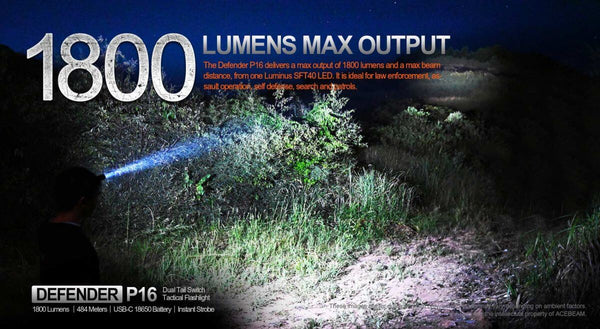 Small and lightweight
The Defender P16 is designed to fit inside your pocket comfortably. It's small in size, relatively shorter than a dollar bill, and very modest even in weight. It's mobile and always versatile. Also, the flashlight comes with a clip that is used to hold it in the pocket so that when you're in a hurry, you don't have to be worried about the safety of your P16.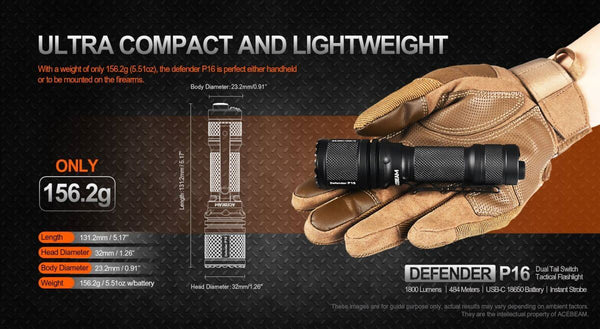 Water and impact resistant
The body of the Defender P16 has been made using anodized aluminum; thus, it's capable of resisting any impact that comes from a distance of 1.5 meters. Then the head is made using stainless steel that provides protection for the Luminus SFT40 LED and is also ideal for self-defense - no wonder it's called a defender. Furthermore, a UO68 weather rating means the P16 is waterproof and can survive a fall in any water body whose depth is not more than 6 feet. 

USB Rechargeable 
The flashlight is charged using a USB cable mounted on a power source. It comes with its cable. 
Other notable features
Low power indicator; the flashlight vibrates when power is low, so you know it's time to charge, so you do not remain in the dark. 

Two CR123A batteries; the P16 is compatible with two CR123A batteries, which gives you an alternative way of powering the flashlight in case your 18650 is not functioning or in any similar circumstance.

TIR optic technology; emits a brilliant concentrated light making it suitable for finding your way in the dark.