Annhiliate the darkness, even further than you can see with the 5000 lumens of the Acebeam P18
tactical flashlight
. Not only is the P18 insanely bright, thanks to its 4 SFT40 emitters, the P18, like its smaller sister, the P17, has an intuitive dual tail switch, allowing you to customize its interface between 3 settings, to better fit your needs.
Wether you use it as a bright and throwy EDC, by setting the Daily Mode, or you pick one of the 2 tactical modes, you will take full advante of its dual switch interface.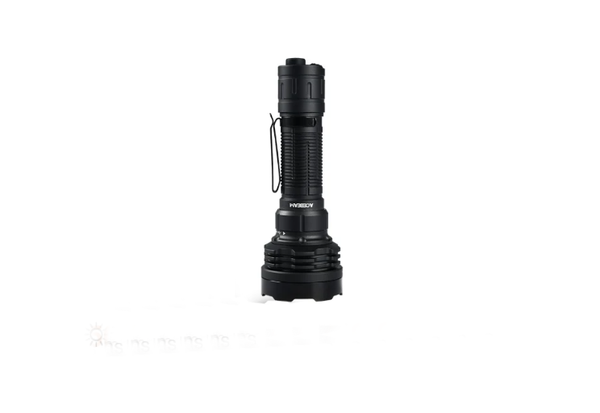 The P18
is powerful, yes, with its 5000 lumens, but also has an even greater throw than other flashlights, with 629 meters of illumination distance.
The P18 manages to be compact enough for its stunning performance, measuring just 145 mm in lenght, with a head diameter of 50 mm, a body diameter of 26 mm, and weighting in at just 185 grams (without the battery).
Powered by an Acebeam 21700 lithium ion rechargeable battery, with a long lasting capacity of 5100mAh, the powerful and energetic dense battery allowsthe P18 to have a max runtime of 22 days at ultra low mode. Wether you like to use very low modes to preserve your night vision, or not make yourself seen, or just to save battery in case of an emergency, you'll love the ultra low mode of the P18 with just 1 lumen.
The battery also has a USB-C port integrated, to allow quick and practical charging. No more having to bring a separate charger, or a special cable to recharge your light, thanks to the P18 you can take advantage of any of the USB-C cables to charge your battery, at any time, so you and your light will always be ready for the darkness.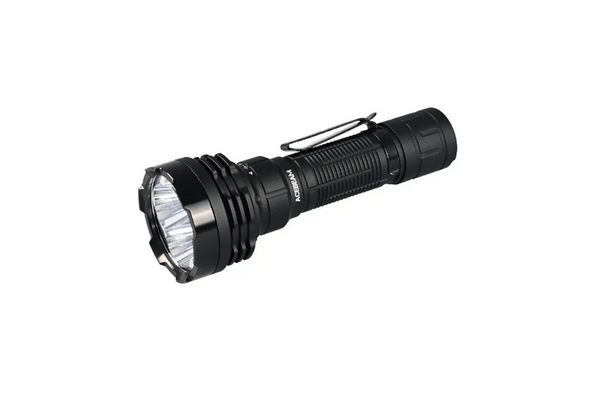 The P18 is not only built like a tank, thanks to its rugged premium A6061-T6 aluminum grade construction with black hanodisation, and a ultra tough AR coated lens, but also features a stainless steel blacked bezel, with 3 silicon nitride ceramic beads, embedded in it, to shatter glasses effortlessly in the blink of an eye.
The P18 will be your trusty light provider even under the rain, thanks to the IP68 waterproof rating.
The daily mode has 5 constant output modes (Ultralow 1 lumen, Low 90 lumens, Med 580 lumens, High 2200 lumens, Turbo 5000 lumens) and SOS mode; the first tactical Mode has 4 constant output modes (Low 90 lumens, Med 580 lumens, High 2200 lumens, Turbo 5000 lumens) and a blinding 4900 lumens Strobe mode; the second tactical mode has only 3 constant output modes (ultralow 1 lumen, low 90 lumens, high 2200 lumens).
Take advantage of the dual switches on the P18, both located at the tailcap, one allows instant activation of the light, the other gives immediate access to strobe mode.
The easy and intuitive, customizable, one hand use is ideal not only for your daily EDC tasks, but also for tactical situation for Law Enforfement personnel, security and defense environments.
Get the P18 and destroy the darkness!