In recent years, KLARUS has launched many excellent
tactical flashlights,
represented by XT series, which have won unanimous praise from users. Compared with ordinary flashlights, tactical flashlights often need to be used in various service or combat environments. They are very demanding on performance and generally have stronger waterproof and dustproof capabilities. And is far bet than a common flashlight in brightness, lighting time and heat resistance. In addition, most tactical flashlights will be equipped with flash function and attack head, which can play a powerful defensive role in dangerous moments.
KLARUS has launched
all-new upgrade XT21X PRO flashlight
, which is specially designed for personal defense and military and police duty. Whether the machine is turned on or off, the flash will enter instantly, one key will be extremely bright, the strong light will be suppressed, one key will flash instantly, and the frequency will change. It is difficult for the eyes to adapt and win the winning opportunity.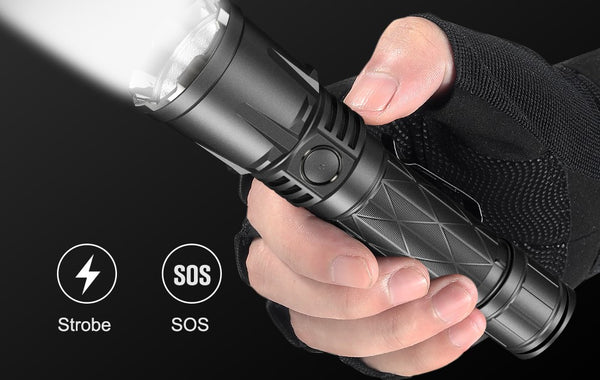 KLARUS XT21X PRO uses hard oxidized aviation aluminum, which is hard and wear-resistant. The attack head is darkened to prevent reflection in combat scenes and better hide the body shape. Shark gill cooling slot and anti-roll cut tube head design, lamp beads using CREE brand, single P70 lamp beads, so that this flashlight has a long service life, but also has the ability of 4400 lumens plus 336 meters long-range.
A new generation of ITS intelligent temperature control system, to protect the LED and internal circuit, more secure and reliable, while enhancing hand comfort, real-time intelligent monitoring of temperature changes, effectively protect the safety of components, to achieve a good balance between performance and safety; The palm-holding part of the tube body is about 12 cm. The prismatic pattern design of the tube body increases the friction of the holding part. It will not slide easily whether it is held forward or backward. The large area of heat dissipation groove makes the heat dissipation more efficient.
XT21X PRO is a multi-switch system designed with the patented SLT signal transmission technology developed by KLARUS. The tail dual-switch patent started in 2011, and the multi-switch patent started in 2016. Side press switch, one key low light, switch on and off, shift, flash, SOS, lock function, memory gear;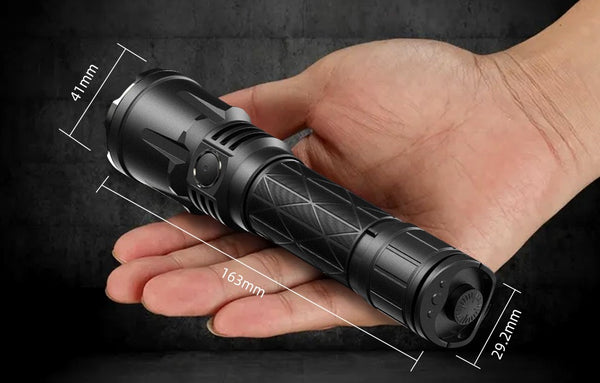 The standard package of XT21X pro includes flashlight body, 21700 battery, Type-C charging cable, holding clip, hand rope, sleeve, adapter, waterproof ring, etc. Standard 21700 5000mAh imported high-quality high-reliability batteries, compatible with a variety of 18650 batteries;
XT21X PRO is designed for outdoor use, with one button extremely bright, one button low bright, SOS, memory function. IPX8 waterproof grade, can be used normally in water depth of 2 meters, without fear of harsh environment, the product is resistant to high temperature and cold, suitable for the environment of -20 ℃ to 60 ℃.