Designed to be an ideal EDC for users, the P10 from Cyansky offers the convenience of being powered via the widely used and easy to find AA batttery type. Both Alkaline and rechargeable Ni-MH cells can be used (1.5V).
Despite using just a single AA cell, the P10 has an impressive and useful 300 lumens maximum output, which can hit a distance of 60 metres. It's small size of just 20.55mm x 17.5mm x 89.3mm, and weight of just 31.5g (minus battery and clip), it's the small flashlight you can carry with you anywhere, in a pocket or bag, always at hand.
Cyansky didn't hold back with the build quality, this compact flashlight is rated to IP68 (2 metres submersion), and drop tested to 2 metres. The durable hardened aircraft grade aluminum, should enure years of reliable service in all conditions.
The P10 is available in color options: black, red and green
3 power levels, with an output up to 300 lumens

Using an OSRAM Duris P9 LED, made in Germany. This LED has excellent power efficiency, and a long lifespan of up to 50,000 hours. In addition Cyansky has incorporated a TIR optical lens which provides an even beam pattern and minimal loss of light.
The high mode reaches 300 lumens, an impressive output for a single AA cell. Range is quoted at 60 metres, medium brightness is 50 lumens (34 metres), with a lower level of 3 lumens (4.6 metres range), for up close activities. There is also a memory mode, so that you instantly go back to the last power level selected, and the output is constant current, with no flickering making the light source more comfortable in use.

With a run time up to 168 hours in the low mode, you will have a long lasting light from this model. Even at the highest 300 lumens you can get 2 or 3 hours output, or 14 to 17 hours in medium (depending on cell Alkaline or Ni-MH). Due to the wide availability of AA batteries, you can carry multiple spares, or use rechargeable cells. Reverse polarity protection is also a feature of the P10.
Simple single switch design

Using a single tactical style switch has the advantage of ease of use, a full press for On and Off, and a half press cycles through the 3 power levels. Memory for last setting, it's never been as easy to use.
The P10 also has a strong and durable double clip, not only can you attach this to a pocket or back pack. It also fits conveniently onto a cap or hat.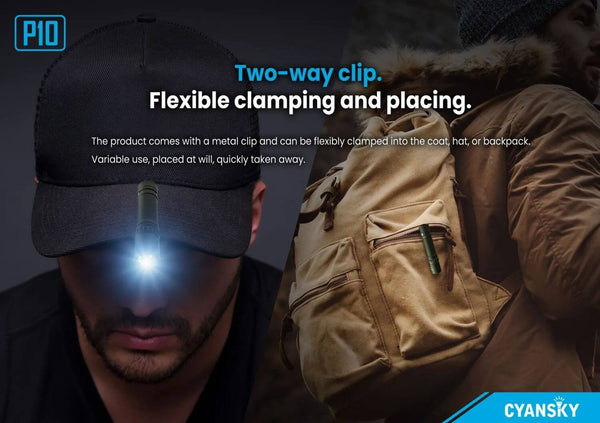 Water resistant to IP68 (2 metres) and drop proof to metres, made from a durable aluminum body which resists marks and scratches.
Unlike some models the P10 also comes with spare O rings, and a lanyard. It's your every day carry in a compact form factor with the convenience of a widely used AA power source.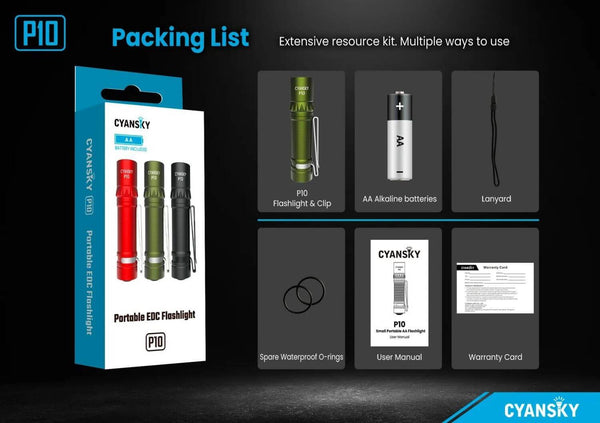 Cyansky P10 Key Features
Compact EDC form factor with a size of just 20.55mm x 17.5mm x 89.3mm, and a weight of 31.5g
OSRAM P9 LED with 3 power levels and a maximum output of 300 lumens, with a range of 60 metres and a run time up to 168 hours
Supports common AA battery type Ni-MH and Alkaline (1.5V only)
Reverse polarity protection
Anti roll body design
Aircraft grade hardened Aluminum alloy
IP68 Water and drop resistant to 2 metres
Single switch design, with memory for last setting
Comes with double clip, lanyard, and spare O rings