OLIGHT launches Javelot series of new products.
Javelot Mini
is a handheld long-range flashlight featuring EDC, while
Javelot Tac
is a long-range small hanging lamp specially designed for long-tube equipment, which helps you to open up the momentum on the battlefield, bring strong long-range and clear vision in the dark, and accurately lock distant targets.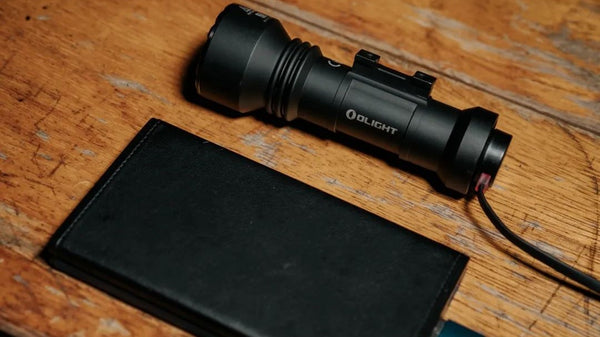 Specially designed for long tube equipment, 600m super Long distance irradiation
Javelot Tac is OLIGHT's first long-range mini tactical hanging flashlight designed for long-tube equipment. It has a projection distance of up to 600 meters and a luminous flux of up to 1000 lumens. It has made continuous breakthroughs in performance and provided better choices for professional users.
This product is also the first time to use round led lamp beads, with metal glossy reflective cups, combined with finely polished glass lenses, to output uniform and soft light, super-strong light beam like a lightsaber out of the sheath, sweeping the darkness.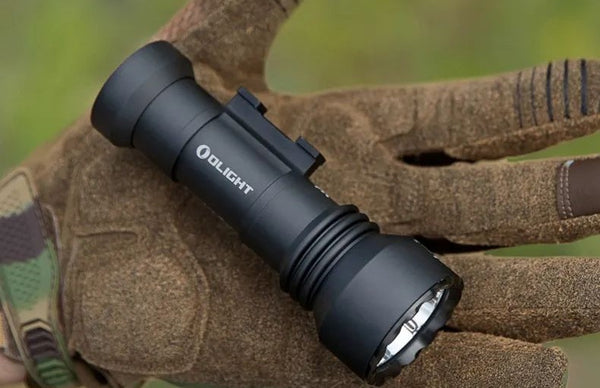 Widely compatible with Picatinny and M-LOK rails
Javelot Tac has enriched the tactical accessories, redesigned the Picatinny and M-LOK track clips, and installed the main engine by adjusting the knob locking lever on the track clip, which makes the installation more stable and reliable. Users can choose different models according to their own needs, Javelot Tac M for M-LOK guide rail, Javelot Tac P for Picatinny guide rail.
At the same time, Javelot Tac is compatible with Odin series track clips and tactical rings to meet more tactical operations.
New ID design for enhanced reliability and integration
Upgrading from inside to outside, Javelot Tac also has many highlights in detail design. The integrated design of the tail cover and the tube body is more harmonious and consistent in the overall aesthetic feeling, with smooth lines and orderly black. At the same time, the design of the tail part is strengthened, which has better protection for the tail key and the wire control switch, and enhances the reliability of the wire control switch connection.
The slider and lamp body of this new product are integrated and die-cast, which is different from the split design of the slider fixing the host with screws. This integrated design is more solid and enhances the reliability of the tactical lamp.
Tail switch three-in-one: tactical button, remote wire control, magnetic charging
Following the characteristic tactical design style of OLIGHT, the tail switch integrates the switch button, charging port and magnetic wire control interface to meet the realization of different functions.
The tail button can be pressed lightly or heavily with one hand to output low and high gears; Quick single press and long press to realize constant lighting and tactical lighting (instantaneous lighting) operation. You can also use the standard double-button ring lock type magnetic line control mouse tail, which can be connected and locked at a touch, and remote control can be carried out in combat, making the operation more confident.
The tail switch is also a charging interface, which can be charged by adsorbing the standard MCC1A magnetic charging cable. The indicator light on the charger is red for charging and green for full charge. (When the flashlight is not used for a long time, it should be fully charged.)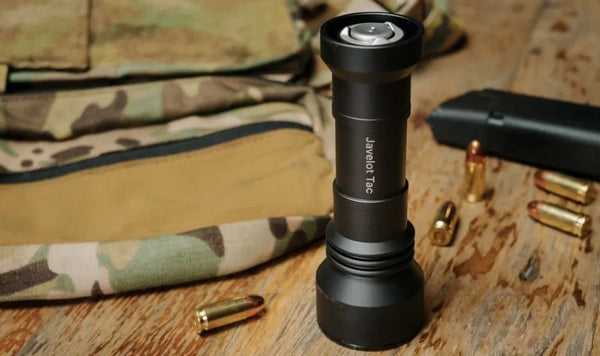 Sufficient battery capacity, low battery alert
Javelot Tac is equipped with a 3.6 V 2040mAh 18500 rechargeable lithium battery, which can last up to 297 minutes under low light after full charge. There will also be motor vibration when the battery is low, reminding you to "return blood" in time, so that you have no worries on the battlefield.
Strength Assembly Conquers Battlefield
Hard stainless steel attack head, aviation aluminum alloy shell, three-level hard oxidation on the surface, 1.5 meters drop resistance, IPX8 waterproof ability, strong fuselage, top assembly, enough to withstand all kinds of harsh environments.