Whether the bicycle is a vehicle, a competitive cycling tool or a decompression tool, when riding at night, a professional and stable mobile lighting tool is needed to illuminate the road ahead and ensure safety at all times. Recently, Fenix officially launched
BC21R V3.0
, which is a portable high-brightness front
bicycle light.
Portable highlight, experience speed and light
Fenix BC21R V3.0 has a brightness of 1200 lumens and a projection capacity of 142 meters, which can easily cope with mountain roads, highways and gravel roads. Click the metal button of the bicycle light to switch four brightness gears to easily cope with various riding environments. In the lighting mode, double click the button to enter the flashing mode to effectively remind the vehicle ahead.
In addition, BC21R V3.0 weighs only 157 grams (including batteries), is light and convenient, and with its fashionable appearance, fashion will catch up with your car. Every element of the fuselage can be seen full of design details: the sunken metal keys can effectively prevent accidental touch, the multi-groove design can accelerate heat dissipation, and the finger-shaped cutting surface can fit the finger pulp for easy disassembly.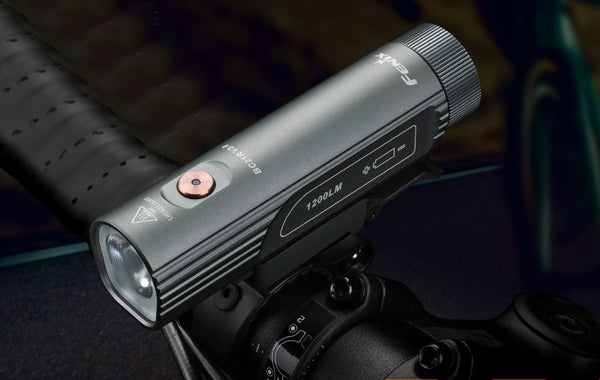 Large floodlight design, panoramic view of the front
BC21R V3.0 adopts wide-angle floodlight design, with large area of light spots covering the road surface, clear vision and more leisurely turning. The light is even and soft, and riding for a long time is not dazzling, which ensures the safety of riding.
TYPE-C charging, both lighting and charging
BC21R V3.0 adopts Type-C high-current charging interface, which supports lighting while charging in case of emergency, so as to meet occasional needs. When charging, only low light/medium light is supported.
Charge for 2 hours, battery life for 33 hours
BC21R V3.0 is powered by a 18650 2600mAh rechargeable lithium-ion battery, which can be replaced to ensure the endurance of long-distance riding. After charging for two hours, 50 lumens of low brightness can last for 33 hours. BC21R V3.0 is also designed with a power indicator, which displays the power status at all times when lighting, so that you can have a good idea and ride in a more planned way.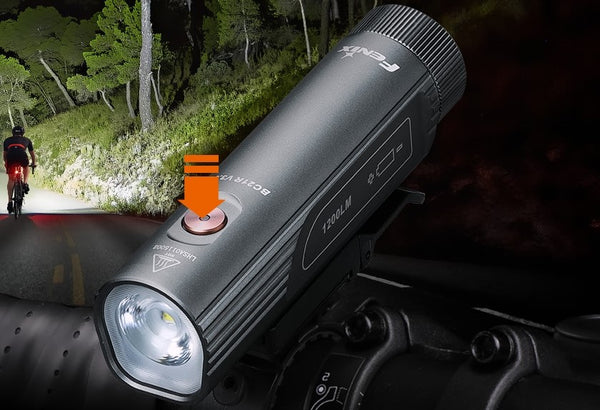 One lamp for three purposes, two-step disassembly
With Fenix ALD-08 helmet bracket, BC21R V3.0 bicycle lamp second change helmet lamp, when you need to check potential safety hazards and repair tires, it is a helmet lamp lighting tool. After disassembly, it can also be transformed into a comfortable flashlight, which is a satisfactory flashlight when walking in the dark corridor after riding.
BC21R V3.0 adopts quick disassembly design, which can be disassembled and assembled in two steps by pressing and pushing. When the vehicle needs to be parked for a long time, it can be packed or taken away by removing the bicycle lamp. The bicycle clip is made of nylon and glass fiber, which has been treated with anti-aging treatment, can resist the sun and rain, and is durable.
Matches the stopwatch stand for easy and secure installation on a stopwatch stand with a GoPro universal interface.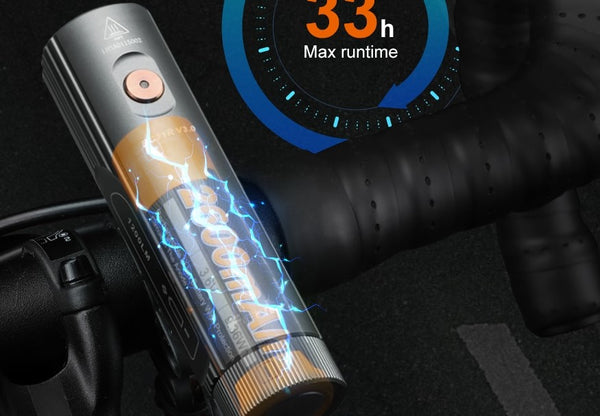 Multiple protection for harsh environment
BC21R V3.0 is made of all-metal body, which has passed the anti-drop test of 1.5m cement floor, and is wear-resistant and anti-falling. After 10000 seismic tests, it can still maintain stable lighting under severe vibration. In addition, IP 68 level protection capability completely prevents dust and soil from entering, and is not affected by rainy or humid environment, and can still be used normally in harsh environment.