Aimed at users who want a sturdy, yet compact headlamp, the HM65R-DT is also ideal for trail runners in part due to it's mix of normal and warm white spotlight beam patterns.
It's available in 3 attractive color options, Black, Dark Purple and Nebula.Fenix have 2 built in LEDs , the first is the cool white LED with power levels from 1300 lumens to 130 lumens, the warm white LED has a high output of 400 lumens down to a low mode of 5 lumens. Range is up to 170 metres (cool white LED) and a run time of 300 hours (warm white 5lm output). Combined output is 1500 lumens (cool and warm white).
Power is via the high capacity ARB-L18-34-- 18650 battery (3400mAh), this can be recharged in the headlamp via the type C charging port.
Fenix has upgraded the headband, it's wider (36mm), perforated which improves ventilation, has reflective markings and features their rotary sport headband system – for rapid fitting and adjustment.
The body of the headlamp is made from the strong yet light magnesium alloy, with a compact size of 80mm x 47mm x 39mm, and a weight of 91g (without battery).
It has a weather resistance rating of IP68 and drop tested to 2 metres, and is temperature resistant to -35 degrees Celsius up to 45 degrees Celsius.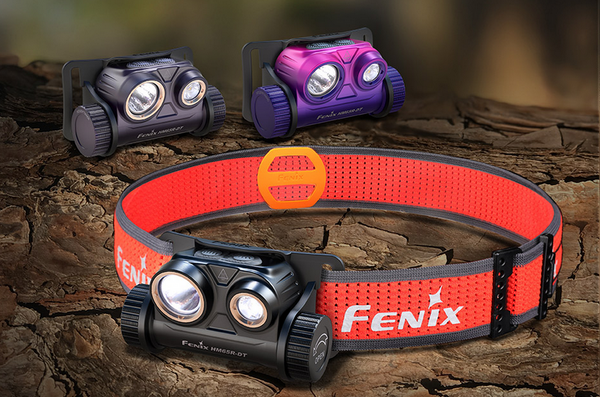 Cool and Warm White Beams with 3 power levels for each LED
Fenix are using 3 power levels for the main white beam from the highest level of 1300 lumens, a mid of 400 lumens and a low of 130 lumens. Range is quite impressive at up to 170 metres (high mode). A warmer white LED (3000K), also have 3 levels a high of 400 lumens, mid of 130 lumens and a low mode of 5 lumens useful for up close activities. Range is up to 92 metres with the warmer  white LED. Some users find the warmer output to be better in poor weather conditions (improved visibility) and easier on the eyes for longer term use.
A secure tilt mechanism offers adjustment up to 60 degrees tilt, letting  you position the light to where you need it. It's a comfortable solution thanks to the shape of the bracket.
A built in 4 stage battery level indicator clearly shows how much power is remaining.A lip partly overhangs the controls giving a physical lock-out protection from accidental activation, or level adjustment.
Charging the 18650 battery is via the build in Type C port, and offering long run times due to this common battery type. It takes only 3 hours to have the cell fully charged from flat.
Dual Switches with an electronic lock-out
Fenix are using two large top buttons, each one controls a separate beam pattern Cool White and Warm White. Making the operation of this headlamp very simple and quick. In addition to the physical overhand on the body design, an electronic lock-out is also possible, Making it impossible to accidental activate when storing or travelling with it.
A high quality Magnesium Alloy body for strength and durability, this light but strong metal is in many ways a better choice than aluminum. The Fenix is full weather resistant to IP68 water and dust proof, and drop tested to 2 metres and temperature resistant too.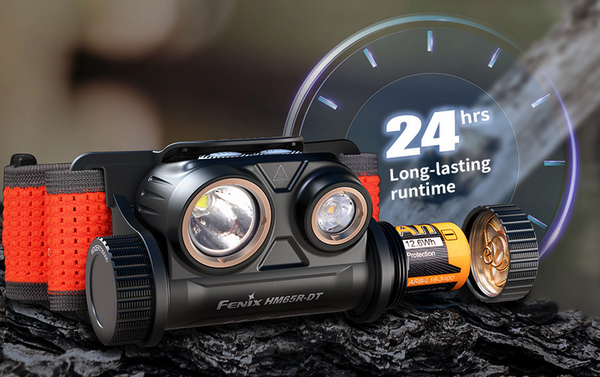 Fenix HM65R-DT Key Features
> Dual LED output (Warm and Cool white) with up to 1500 lumens power
> Range of up to 170 metres (cool white 1300 lumens)
> 3 Power levels for each LED with electronic and physical lock-out
> Wide perforated headband with reflective markings and sport system quick adjustment
> Small and light:   80mm x 47mm x 39mm, and a weight of 91g (no battery)
> Up to 300 hours run time (warm white low mode 5 lumens)
> Dual switches for individual beam control and easy operation
> 4 stage battery level indicator build into the body
> Ideal for trail running, or at work or home use
> Choice of 3 colors
> Lock out function for storage/transportation
> High capacity rechargeable Li-ion 18650 battery (3400mAh)
> Type C charging port, quick charging speeds, flat to full in just 3 hours
> Rugged Magnesium Alloy body – drop tested to 2 metres with IP68 weather resistance
> Temperature resistant to -35 degrees Celsius up to 45 degrees Celsius