As we all know, the white laser flashlight is obviously different from the LED flashlight. The white laser flashlight has a small luminous angle, high collimation, high light density, almost no floodlight, and a very long range when lit in a beam shape. The
LED flashlight
has a large luminous angle, and has a certain floodlight angle in addition to the central light spot.
After Fenix launched the TK30 white laser flashlight, it has been supported by many friends. Recently, it launched the second
Fenix HT30R white laser flashlight
 with a brightness of 500 lumens and a range of 1500 meters!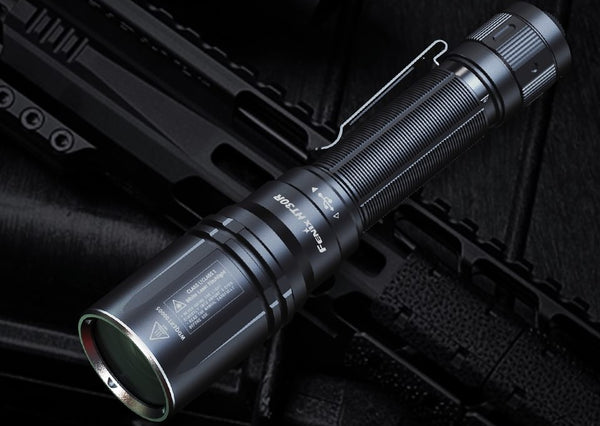 1500 meters long shot, a line between heaven and earth
Fenix HT30R uses white laser light source, which can emit 500 lumens of broad-spectrum white light similar to led spectrum. It not only retains the high collimation characteristics of laser, but also eliminates the harmfulness of monochromatic laser. It is safe and reliable (Laser Class 1). HT30R has a brightness of only 500 lumens, but its range can reach 1500 meters. It has a super focused beam, which can cope with distant positioning, signal transmission, target locking and precise attack. It can also improve the efficiency of operation and search.
The powerful flashlight function also needs a battery with excellent performance to assist. HT30R is equipped with a Fenix ARB-L21-5000 V2.0 large-capacity battery to ensure lasting endurance. The HT30R stays on for 7 hours and 15 minutes in 100 lumen low-light mode.
Double tail as designed, instant response
HT30R is designed with tactical double tail buttons. The big button is a tactical switch, which lights up when touched lightly and lights up when pressed heavily. The small button is a function switch. In any state of the flashlight, press the button for a long time and it will flash. If you let it go, it will go out. In the power-on state, you can click to shift gears. And its tail button position is obvious, even in the dark environment, it can quickly find the switch, touch the light, simple operation, to meet the needs of rapid response and efficient decision-making.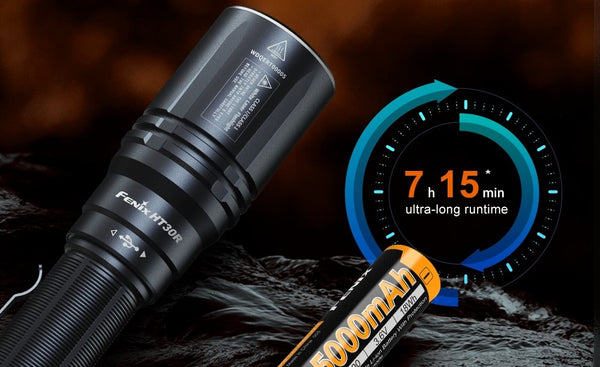 Concealed TYPE-C charging port, practical and beautiful
HT30R adopts knob-hidden TYPE-C charging mode, which can not only ensure waterproof, but also prevent sand and dust from entering the flashlight when tightening, so as to ensure practicality and beauty at the same time. On the left side of the charging interface, there is a power indicator, which can display the real-time power of the battery, so as to have a good idea.
In addition, it can also be compatible with a variety of accessories, such as Fenix AOT-M traffic stick, ALG-16 quick-release flashlight clip, ALG-00 gun clip, etc., to meet the needs of traffic order, the use of long weapons and other scenarios.
Professional protection for harsh environments
The body of HT30R is made of A6061-T6 aluminum alloy (A6061-T6 is a high-quality aluminum alloy product produced by heat treatment and pre-stretching process, which is widely used in aerospace, shipping, subway transportation, communications, electronics and precision instruments and other fields). After the drop test of six drop surfaces of 1.5 meters, it is as strong as usual.
In addition, the internal battery compartment of HT30R adopts double-spring structure design, and the spring and battery always keep elastic fit, effectively resisting external impact and avoiding instantaneous power failure.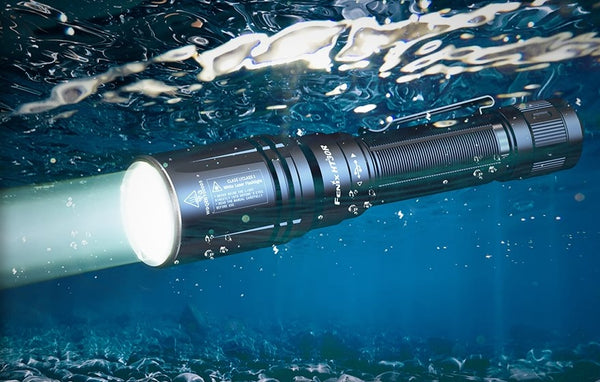 The protection grade of HT30R can reach IP68, which completely prevents dust and soil from entering, and is not affected by rainy or humid environment. It can still be used normally in high temperature of 45 ℃ above zero and low temperature of 35 ℃ below zero.