Ultra-bright
search flashlight
is a necessary equipment for outdoor patrol, search and rescue, and cave exploration. Dark nights in unfamiliar environments are more unknown, and
Fenix LR80R
is a
search flashlight
that can make dark nights as bright as day, with a maximum brightness of 18000 lumens.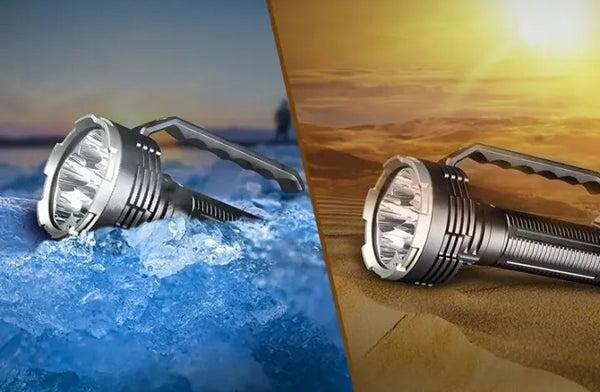 01 Super light energy, illuminating thousands of miles away
Fenix LR80R is equipped with 6 Luminus SST7OLEDs, and its ultra-high brightness is enough to cover 16 football fields (under ideal conditions, the results are calculated by publicity), which can effectively ensure the orderly conduct of patrol, search and rescue, and emergency repair. In addition to ultra-high brightness, it also has an ultra-long range of 1130 meters, which can search targets from a long distance and improve the search efficiency effectively.
02 45W fast charging + ultra-long endurance to cope with various search and rescue missions
Type-C is charged with large current, and it can be fully charged in 4 hours. Also designed a USB power port, which can be called a mobile power bank! The large battery capacity of 7.2 V/12000mAh can be used for one iPhone 12 to be fully charged for 8 times continuously. With 25 days of endurance, you can cope with a wide range of difficult search and rescue missions.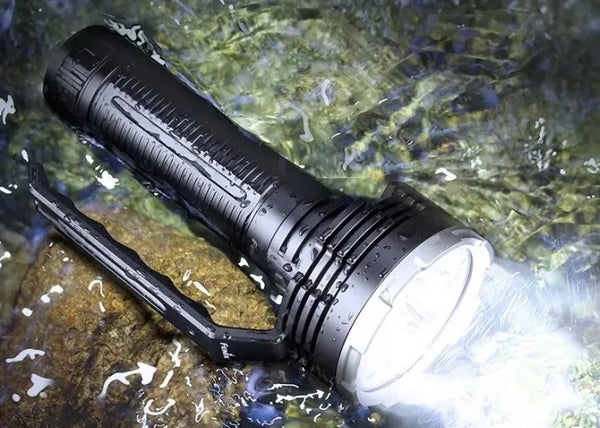 03 Double intelligence, give you visible safety
LR80R has built-in intelligent sensing circuit, which can automatically measure distance and downshift to avoid burning objects at close range (the effective distance is 60mm, and the sensing distance will be different for objects of different materials and colors). In addition to the intelligent induction circuit, there is also an intelligent power display, the remaining power can be known by pressing, and the supply can be arranged reasonably to give you visible safety.
04 The operation design is portable, practical and reassuring.
1. Double button design, which can freely switch two modes of low brightness/high brightness. Low brightness mode: moderate brightness, suitable for indoor, caves and other narrow spaces. Highlight mode: Extremely bright, suitable for mountain forest, ruins, shore and other scenes.
2. The electronic anti-touch design can effectively avoid the battery power consumption due to the lighting of the flashlight by touching the switch by mistake. There is no accident in attendance, and it is more comfortable to carry.
And 3, that machine body is design to be labor-saving and easy to carry. The use of the braided shoulder strap allows the user to hang the LR80R directly in front of the chest. In addition to holding and carrying, the handle can also be disassembled and installed into spare holes at different angles according to personal habits.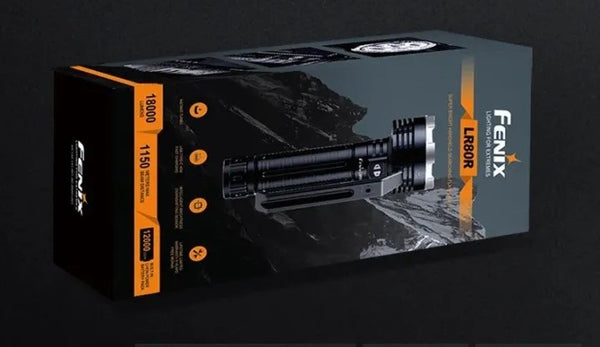 Fenix LR80R uses high-performance industrial components with advanced circuit design to ensure that it can still be used in the -35 ° C to 45 ° C environment. The protection grade of IP68 can not only completely prevent the entry of dust and soil, but also resist the invasion of moisture, even if it is 2 meters underwater, it can still work normally. In addition, the body of LR80R is made of A6061-T6 aluminum alloy, which can work normally even if it falls carelessly. It withstands the drop test of 6 drop surfaces and 1 meter, and is as strong as usual.