What gadgets do you often carry with you?
EDC flashlight
can not only give you practical help at the critical moment, but also highlight your personal style and taste.
With the popularity of EDC equipment, the appearance of portable mini flashlight has different styles. The pen flashlight is one of them. The body is as thin as a pen, and there are many fashionable and avant-garde design elements. It is not only necessary for professional outdoor enthusiasts, but also favored by more and more urban white-collar workers. It has become a unique portable lighting tool.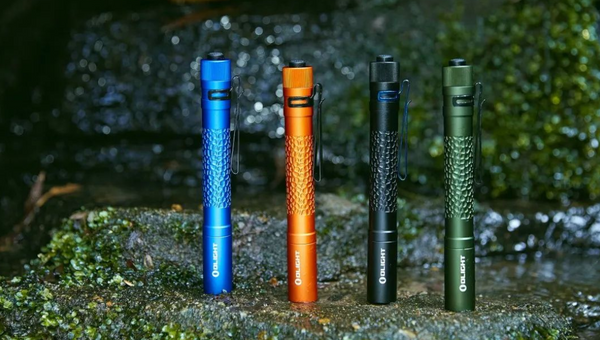 OLIGHT launch i5T Plus dual-range pen flashlight
, a tail-button EDC flashlight with two levels of brightness (15/550 lumens) using two AA batteries. The i5T Plus is available in a variety of colors, two textures, and two color temperatures. Choose what you love!
Pen-shaped body, stylish and portable
OLIGHT
i5T Plus has a pen-shaped body with a length of only 145mm and a diameter of 17.8mm, which is more portable and concealed and does not occupy space. Weighing only 89 G (including battery), it is more suitable for daily use and reduces the physical consumption of users. The main body is made of AL6061-T6 aluminum alloy, which is durable and not afraid of severe outdoor environment.
The flashlight is equipped with classic two-way holding clip (stainless steel), which supports positive and negative holding, pocket holding, backpack hanging, rope hanging and other ways, so it is more comfortable to carry daily.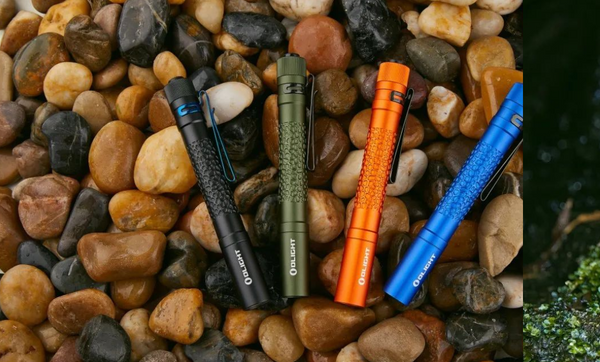 Colorful, choose what you love
OLIGHT
i5T PLus introduces two new tube body textures for you to choose from: double spiral texture and cobblestone texture, which enhance the holding stability and bring a unique and wonderful artistic sense. You can experience the geometric aesthetics on the double spiral texture and the natural charm on the cobblestone etching texture.
Not only the texture is optional, but also the color temperature is different: cold white light (5700K-6700K), medium white light (4000K-5000K). The ambient perception rendered by different color temperatures is also different. Cold white light is brighter, making it easier for people to concentrate. White light is comfortable and soft, will not cause eye fatigue, you can choose according to different needs!
OLIGHT
i5T Plus also comes in a variety of colorways, classic black/Klein blue/vibrant orange/army green. Choose what you love.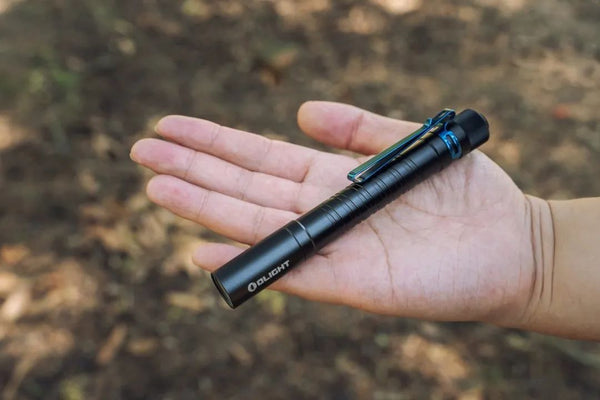 550 lumens for daily lighting
OLIGHT i5T Plus uses an OSRAM P9 LED light source combined with an optical-grade PMMA lens for soft and uniform light output, with two output levels: 15 lumens for low brightness and 550 lumens for high brightness. The rear button control switch integrates two operations of tactical lighting and fast gear switching.

Powered by two AA batteries, it is economical and easy to obtain, and can last up to 54 hours, which can meet the use of household emergency/outdoor lighting and other scenarios.
Specifications
> Max Output: 550 Lumens
> Max Runtime: 34 Hours
> Peak Beam Intensity: 1, 900 Candela
> Beam Distance: 87 Meters
> Impact Resistance: 1.5 Meters
> Water Resistance: IPXB
> Switch: Tail Switch
> Length: 5.75"
> Head Diameter: 0.70"
> Body Diameter: 0.70"
> Material: Aluminum
> Color: Orange,Blue,Green,Black
> Weight: 3.00 oz.
> Model Number: I5T Plus
> Best Use: Everyday Carry
> Battery Type: 1.5V AA (X2)