With an attractive and unique body design, Lumintop have made a multi battery compatible long range outdoor flashlight. It has an impressive range of up to 650 metres, punching into the distance with ease.
The AD01 flashlight can be powered via three battery types: A single Li-ion 18650 battery, 1 x D cell, or 3 x AA cells (Ni-MH or Alkaline). This offers a degree of versatility few flashlights can thanks to some clever thinking from Lumintop accommodating the different battery options.
Power levels range from a 1 lumen moonlight up to a powerful 1200 lumens in Turbo (18650), with AA Ni-MH able to provide a top level of 950lm, AA Alkaline 750lm, and a single 1.5V D battery with 165lm.
Using high quality aluminum body with deep grooves to help heat dissipation, the AD01 is rated to IP68 for use in all weather conditions, drop tested to 1.5 metres. Size is well suited as a general purpose flashlight, with a modest footprint of 42mm x 39mm x 116mm, and a weight of 165g (no battery)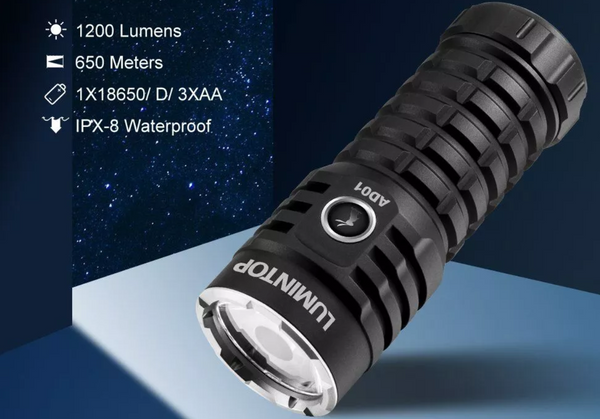 Long Beam Distance Of 650 Metres, with 5 Power Levels and 3 Strobe Modes
Lumintop are using a special optical lens in the AD01 with an Osram KW CULPM1.TG LED; this new lens is a smooth 35mm diameter design, and it's made to ensure a clean and powerful output with a candela of 104,625cd it slices into the darkness up to 650 metres distance (Turbo 18650 battery). Even the D cell battery can hit 230 metres distance , with the AA ones reaching 510m and 550m (AA Alkaline/Ni-MH)
The 5 power levels give an even spread of power ouptut, from the 1 lumen moonlight, top to 1200 lumens (18650 battery). With a run time up to 15 days (moonlight output). A mode memory is also present to remember your last setting.
3 Strobe modes are the standard rapid flashing for self defense, SOS for emergency signalling, and a Beacon mode.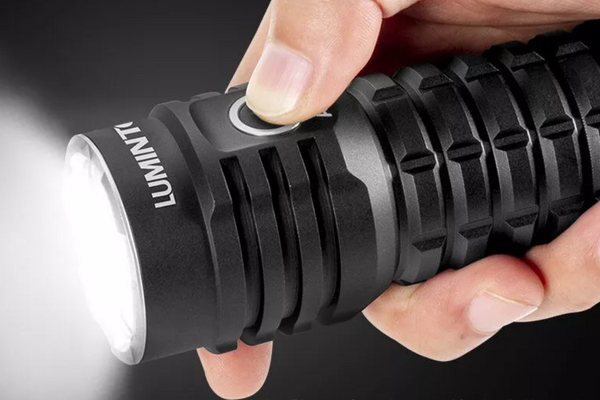 Single Side Switch Operation with Lock Out
AD01 has a well placed side E-Switch, which allows you to control all the modes via this single button, with an intuitive user interface operating the flashlight is easy for the user. A useful lock out function is provided too, so that accidental operation can be avoided. It is also possible for the user to turn On/Off the Switch LED
The rugged body design is also very comfortable and secure to hold, with deep grooves on the head, and large knurling patterns for secure grip. Using the Type -III HA hardened aluminum ensures a long lasting durability. At the top a strong stainless steel strike bezel, and the supplied lanyard can be attached to the base.
The AD01 is capable of being submersed under water for 2 metres for 30 minutes, thanks to it's IP68 rating, for dust and water protection. Lumintop also drop tested it to 1.5 metres. This is a strong flashlight which despite it's small size, is very well made and has a surprisingly long range beam profile. This makes it an ideal flashlight for those who need to see far into the distance, yet without the bulk of a larger traditional long range model...with multiple battery options – it could be an invaluable tool to take when camping/hiking.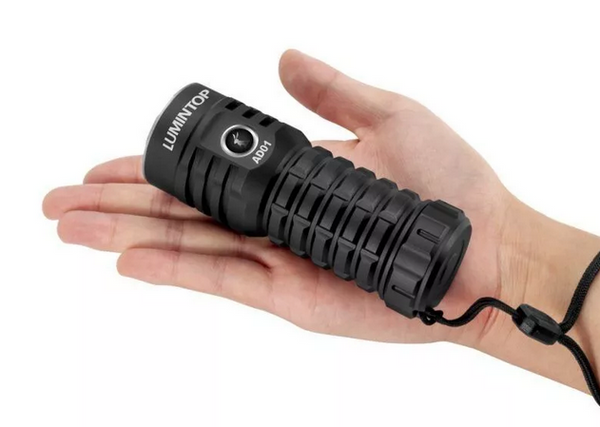 Lumintop AD01 Key Features
> Compact size: 42mm x 39mm x 116mm, weight 165g (no battery)
> Accepts 3 Battery Types: 18650, 3 x AA (Ni-MH/Alkaline), and 1 x 1.5V D cell
> 1200 lumens with 5 power levels and a maximum range of 650 metres (with 18650 cell) and a candela of 104,625cd
> Special Optical lens for a powerful long range beam
> Enhanced heat sink design for improved heat dissipation
> 3 Strobe Modes
> Intuitive user interface with single side switch with lock-out mode
> Up to 15 days run time (moonlight mode 18650 battery)
> High Grade Type III HA Aluminum alloy body – drop tested to 1.5 metres with IPX68 weather resistance
> Stainless Steel Strike Bezel
> Bundle includes Flashlight, Lanyard,18650 Battery Sleeve, AA Battery Adapter, User Guide