Spotlights or also called thrower torches are lights that produce a narrow and powerful beam, very focused and which can reach very long distances. These lights are often characterized by a very large head if compared to the rest of the body, by deep and mirror-polished reflectors and by LED sources with a very small surface per square millimeter. The field of application of these lights is often in search and rescue, but they are also used in hunting and tactical applications. Often these lights are very large and not very comfortable to carry due to their rather large diameter head. However, the Lumintop GT Nano is an exception because it is a shooting torch with a narrow and focused beam but its dimensions are extremely small. It is so small that it disappears inside the palm of a hand and can be kept in a pocket comfortably.
This light takes the design of the GT series flashlights produced in the past but in a much smaller size. Lumintop has in fact created different models marked with the initials GT: one of the first was the BLF GT light (equipped with a CREE XHP35 HI LED) created in collaboration with the BLF forum and capable of reaching with its 2000 lumens of power bright the 2km distance corresponding to about 1,290,000 candles with power supplied by 4 or 8 18650 cells, which was followed by the large and powerful GT94X with 24,000 lumens and 2,950 meters of maximum reachable distance equal to a maximum luminous intensity of 2175,000 candles and powered by 4 or 8 21700 cells. Subsequently Lumintop began the process of miniaturization of the GT series lights by producing much smaller models but which still had high shooting qualities and therefore capable of reaching very long distances: the GT mini or a torch powered by an 18650 cell and with an output of 1200 lumens and with a maximum range of 750 meters, then the GT micro powered by a 14500 battery and capable of an output of 1000 lumens and 400 meters of maximum reachable distance, the GTA powered by a 14500 cell or an AA capable of reaching 585 meters, to then move on to the smallest model ever made or the GT Dwarf.
This small torch is therefore the smallest LED shooting torch in the world. It is powered by a single rechargeable 10180 lithium cell but is able to reach very long distances: in fact, it reaches much further than other EDC torches that are on sale and which have much larger dimensions. The dimensions of the Lumintop GT Nano are those of a small keychain, and in fact this light was mainly designed to be used as an EDC torch to be attached to a set of keys, for example. Its maximum power is 450 lumens when used on the highest output level but using special extender tubes it is possible to increase its maximum power.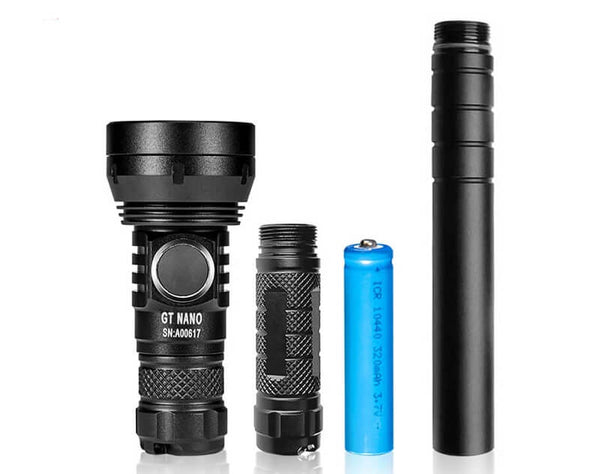 The Lumintop GT Nano is a very small, very light and extremely compact shooting torch. It is equipped with a wide and deep dish compared to the total size of the body which allows it to have a very directive beam and able to reach great distances. The Lumintop GT Nano is equipped with the powerful and performing Osram NM1 LED capable of delivering the Turbo 450 lumens when the flashlight is powered by a 10180 cell and 730 lumens when the flashlight is powered by a 10440 cell. It also reaches a maximum range of 306 m corresponding to 23400 candles when used with a 10180 battery while it can reach the maximum distance of 370 m equal to 34225 candles when powered with a 10440 model lithium-ion cell.
The lens of the Lumintop GT nano is made of mineral glass and is ultra-clear and with anti-reflection and anti-scratch treatment. There is no problem when you put this flashlight together with your keys or put it inside a backpack: the lens is really very resistant and will not tend to scratch even if it rubs with keys and metal objects.The body is made entirely of aluminum and guarantees perfect resistance to wear and scratches. The small millings under the head and the particular knurling process guarantee whoever uses this light always a perfect grip in any condition even if their hands are damp or wet.Waterproofing is given by the IPX-8 standard. This means that the torch is submersible up to 2 meters deep even if it is not a diving torch. It is therefore not afraid of splashes and rain: you can safely use it even in muddy environments. To clean it, you can wash it directly under running tap water. The switch is on the side and allows you to fully manage the interface and all the functions made available by the driver of this model. It is electronic and is very responsive: a little pressure is enough to activate it. It is also rubberized so it always offers an excellent grip and when pressed it emits a ringing click which indicates when it has been clicked. The switch protrudes slightly and is easy to activate. Below the switch is a small status LED that lights up to tell the user the capacity status of the cell and to let the user know when it's time to charge the battery.
Near the switch there are a series of dissipation fins that disperse the heat produced by the torch when the Turbo is on. Thanks to the presence of these small dissipation fins, the torch can cool down faster and the high levels can be kept active for longer. The Lumintop GT Nano has an electronic temperature control which automatically decreases the output when a limit threshold temperature is reached: in this way, if the light becomes very hot, the output is decreased, avoiding possible damage to the internal circuits and the battery due to excessive overheating.
In addition to the control against overheating, this torch also has polarity reversal control which protects the internal circuits if a careless user inserts the battery inside the light incorrectly.
The dimensions of the Lumintop GT mini are really extremely small: they are in fact 54 mm x 24 mm x 14 mm while the weight is just 18 g including the battery.
The battery is recharged via a small adapter that screws onto the body of the flashlight via a classic USB-C cable. On the charger there is also a nice status LED which lights up red during the recharging phase or green when recharging is complete.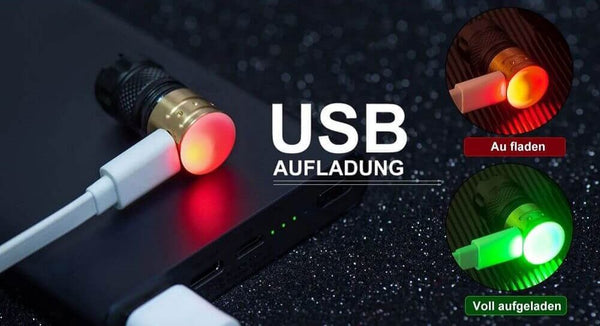 The materials with which this light is made are of excellent quality: the thicknesses are abundant. The anodization is perfect on the whole body, there is no manufacturing defect, everything is extremely accurate and perfect in the details.
The Lettering is present under the switch with the writing "GT Nano" and with the serial number, it is well done, well centered and has no smudges.
The tail of this torch is flat so this light can also be used tailstanding as if it were a candle and therefore as a light point.
Using a special extender tube it is possible to make the most of the power of this light, bringing it to an output of 730 lumens when a 10440 cell is installed to replace the basic 10180 one.
The small Lumintop GT Nano is a perfect flashlight for everyday use. It fits perfectly inside a set of keys and given its weight it is very convenient to always carry with you. When you put it in your pocket you forget you have it, but it's always there ready to be used. Its great Turbo power allows you to illuminate at great distances. The user interface is very easy to use. There are 5 output levels divided as follows: Moonlight of 1.5 lumens, Low of 30 lumens, Med of 170 lumens, High of 365 lumens and Turbo of 450 lumens.
This light is also available for sale in different materials and colors: it is in fact made by Lumintop in black or red aluminum, but it is also made with more precious materials such as copper and titanium. In short, a product that is certainly rich in qualities that those who love torches must certainly have. Also excellent as a useful gift to give to relatives and friends.
The GT Nano may look like just a small flashlight, but it's actually a real powerhouse of technology. It is enough just to mention the firmware that gives life to its user interface or NarsilM v1.3 which, in my opinion, is one of the most complete (together with Anduril) firmware available. The most interesting functions implemented in the GT Nano UI are the following: Possibility to choose between two completely different interfaces, one based on the "Ramping" and a more conventional one based on the "Mode Set", Direct access to the turbo, Direct access to the Moon mode, Selection of the preferred Moon level [1–7], 5 different strobe levels that can be deactivated at will, Memory Mode, Momentary On, Electronic Lock-Out, Battery Status, Driver,,, Temperature Mode, Firmware Version Mode, Factory Reset, Possibility to choose (in "MODE SET") between 12 sets of predefined levels, advanced functions of the status LED, thermal or timed Auto Step Down function (choice of 60s, 90s, 2m, 3m, 5m, 7m). Nothing to say about the build quality, good materials, precise and flowing threads, lettering, knurling and anodization well done. The switch is responsive and needs a good press to activate. Every now and then it misses a few hits but nothing transcendental. After a little use it softens and no longer gives problems. Given the very small size of the flashlight, using the switch for those with very large hands may not be so easy.